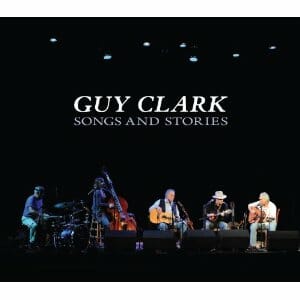 Guy Clark's always been charming, and that easy graciousness can obscure the exacting quality of his writing. Few can split a moment open with such exquisite detail or emotional nuance, and, in the brevity of his language, the 69-year old Texan can take your breath away.
Those two realities oppose with delicious juxtaposition on Songs and Stories, the 13-song/nine-story collection recorded live at Nashville's Belcourt Theatre. With a warm vitality, Clark unfurls tales of landlords cutting down grapefruit trees, good friends, the creative process and the definitive souvenir of his father's life—sucking you into a world far more Hemingway than modern.
Beguiling though the tales are, it's the songs that move with a gentle life force that makes them harbors of love and dignity in a world gone mad. Classic Clark moments("LA Freeway," "Homegrown Tomatoes") merge with his latter-career scene-capturing precision and pragmatism ("Maybe I Can Paint Over That," "Out In The Parking Lot," "Stuff That Works") for a tenderhearted core sample of one of America's most honest poets.
"Dublin Blues" is almost a prayer for the stoically broken-hearted, a travelogue of memories, moments and desires that remain, while the post-elegiac "The Randall Knife" triangulates a boy's complicated emotions for his father through the knife he took to World War II. Lean, fingers-on-strings playing and a voice that's worn by time, but still solid as oak, Stories and Songs is music at its core.
Indeed, Clark is generous with the spotlight. Beyond allowing his band room to inhabit the songs, he turns the stage over to compadres mandolinist/guitarist Shawn Camp and guitarist Verlon Thompson. Each sing two songs, expanding the idea real men who know strength and sentiment can mix really do exist.
Clark's writing is elegantly simple, capable of squaring its shoulders to face the moment or embrace someone in need. "The Cape," a wide-eyed tale of an impossible dreamer who does the impossible on grit and believing, is the kind of happy ending you can believe in.
With the talking and sound of the stage creaking beneath them, Stories is what the guitar-pull would be like if it was in your living room. Sonically resonant, the presence envelopes you and Clark's slow drawl offer evidence the friendship one would imagine with the iconic writer already existed.
Then again, isn't that the point of well-written, well-sung songs like common bonds that didn't need to be expressed? In a world of machined beats, tuned vocals and committee songs, this is what honest living sounds like.