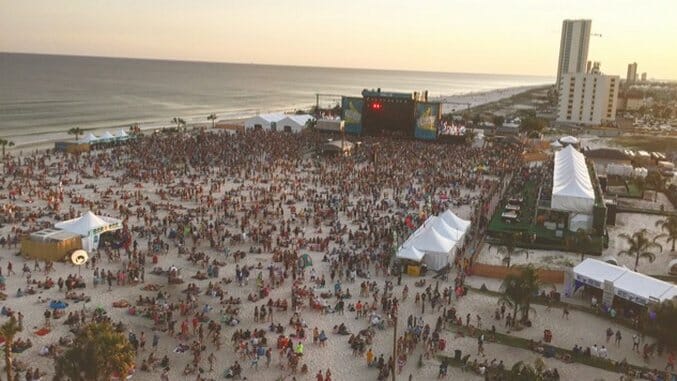 Festivals are never just about the music. I mean, obviously the lineup is Priority Number One, but location plays a huge role in the overall experience. I've been to festivals on concrete lots, in the woods, in fields, in the middle of an urban city, and I love them all…but this was my first festival on a beach. Next. Level.
Hangout Festival in Gulf Shores, Alabama is basically a giant adult playground, complete with rides, live music, beach access, beer and summertime cocktails, and an absurd amount of delicious food (anyone else go HAM on that seafood platter?). Even minus everything else, the two key ingredients — beach and music — are enough to make this the perfect festival.
Day One
Day One got off to a pretty rocky start. We woke up to high winds and a torrential downpour, knowing immediately that we were in for some serious delays if not a total cancelation of the entire day's shows. Sick of sitting in the condo staring out the window, we packed up the car at around 2:00 p.m. and headed to the festival grounds to scope out the situation.
The situation was that everyone was doing the same thing, with no luck. The gates were packed out with girls taking pouty-faced selfies in their ponchos and dudes "stealthily" chugging beers, with the line stretching far down the road. We decided to park (after, yes, indulging in a beer) and grab a bite to eat down the road, but as we headed out, we were stopped in our tracks when the entire gate crowd starting whooping and stampeding forward. Gates were open. Schedule was updated, with the first show was starting in 30 minutes. Time to haul ass.
Silversun Pickups
It's been almost 10 years since I saw Silversun Pickups in concert (how is that even possible?), and my expectations for them my second time around were unrealistically high. I'd built it up in my head as one of the best live performances in my ever-expanding memory bank of past shows, and I was a little worried that they wouldn't live up to my idealized hype. Thankfully, they proved me fantastically wrong. Nearly a decade after seeing them in a giant stadium in Atlanta opening for Modest Mouse and The Shins, SSP blew me away all over again. The band took Hangout Stage at 5:00 on Friday evening, throwing the audience right into the deep end of this Day One of rocking, making us all forget about the delays and the less-than-optimal beach weather. Playing a good mix of the old (obviously everyone lost their chill during fan favorite and finale "Lazy Eye") and the new, the Los Angeles-based band fulfilled all of my expectations and then some. Go see them on this tour. Seriously. If you don't want to listen to me, watch and weep to their recent Paste Studio session. That should be enough to persuade you.
BØRNS
Even though he's been a festival staple since his breakout hit "Electric Love," I've somehow managed tragically to miss seeing BØRNS at every fest until now. That said, I dashed over from SSP, running straight Baywatch style to catch Garrett Borns on the AXS TV Stage. I got to the stage midway through his killer single "Seeing Stars," joining the shrieking crowd and belting along to every word (there might have been some air drumming thrown in there, too). Serenading us with songs mainly off of his debut full-length Dopamine, BØRNS brought the sounds of summer and sunshine to the beach with him.
Moon Taxi
Nashville's Moon Taxi is one of our festival favorites. Fully into the groove of Hangout bliss and starting to get some sun as the clouds cleared up, I wandered back over to the Hangout Stage in time to catch the last half of the band's set. The five-piece band, who released its fourth studio album Daybreaker late last year, has carved its way from indie street cred to main stage magnet in a matter of just a few years. And for good reason. MT brings the energy, loves its fans and definitely isn't intimidated by noise ordinances.
Walk the Moon
Sunset struck the coast on Night One of Hangout fest, and the romantic ideal of my surroundings was fully sealed. I love this festival. What's more glorious than sunset on the beach? Sunset on the beach with alt-rock superstars Walk the Moon, obviously. The Ohio-based pop-tastic quartet brought some serious dance vibes to the main stage, setting the soundtrack to a giant, over-the-top beach bash with 40,000 of my closest friends. No one can keep a party going like these guys, and all of us were grateful for the adrenaline shot to get us through the rest of the night.
Day Two
The big news about Day Two was, of course, Calvin Harris' serious car accident, rendering him unable to headline the festival that night (still wishing all involved a full and speedy recovery).
Another day, another lineup switch, as Panic! At the Disco was moved into the final show slot. Shout out to the Hangout crew for juggling set times all weekend.
Now here's some advice for me: lather up on sunscreen, and reapply every hour. Maybe it was the lack of sun the majority of Day One, but I got a little careless here. None of that SPF 15 crap. Go big, or go home and slather aloe all over your lobster red body. Also, drinking water all day long is a must. One water bottle is not enough. Hydration is cool, guys. Embrace it. Lessons learned and backpack full of water bottles in tow, I launched into Hangout Day Two with The Record Company over at the Mermaid Stage.
The Record Company
The Record Company is about to hit it big. If you haven't jumped on this train, you're going to want to. Since the release of their debut LP Give It Back To You in February of this year, we've been all over these guys, though so far I'd only gotten to witness them stripped down in our studio. As much as I adore their session, I've gotta say – these guys shine on a full blown stage.
Bear Hands
Brooklyn's Bear Hands never cease to surprise or disappoint. They're a rare breed in that they refuse to get stuck in a sonic rut, always subverting expectations in favor of a delightfully fresh wow factor time and time again. Their stage presence is no exception, as the foursome took the Surf Stage at 2:30 on Saturday afternoon, blasting their upbeat tunes at the crowd with reckless abandon. This is a band that can never be accused of phoning it in.
The Griswolds
The Griswolds, hailing all the way from Sydney, Australia, are clearly right at home on the beach. The four-piece kept the sunshine alive with their relentlessly rocking synth pop tunes and cheeky as hell stage presence. These guys are better than coffee for keeping the blood pumping.
Cage The Elephant
The energy seriously didn't stop at Hangout on Day Two. No downtime to chill, catch my breath or gather my thoughts. And I'm so okay with that. Worn out with no chance of slowing down, I watched Cage The Elephant take the stage as the sun went down and the crowd lost their cool. If anyone thought the day was winding down, they were sorely mistaken. Cage took no prisoners, and by 15 seconds in the entire audience was headbanging and screaming along without reserve. These guys certainly know how to spark a rager.
Day Three
This festival needs to be about three days longer. I guarantee you, no one was ready to pack it in and head home at the end of this weekend. Yes, we were all exhausted to the point of taking brief naps in the sand, but all in all, Gulf Shores is a paradise, and the thought of going back to desk life so quickly was frankly a little hard to swallow (cue the world's smallest violin, please).
Grimes
Gonna be honest — Grimes was my number one this weekend. I've waited years to see her, and I've had Art Angels on repeat since its release date, and Visions, Halfaxa and Geidi Primes before that. That said, this was a hard one for me to keep my cool during, and I arrived about 45 minutes early to get up front at the Boom Boom Stage. As Grimes, a.k.a. Claire Boucher, stepped out on stage during Art Angels intro track "laughing and not being normal," I became an obnoxious woo girl, taking cues from her stage dancers and flailing around like a wacky-waving-inflatable-arm-flailing tube man. She treated us to all the greats off of her latest album, highlights being "Flesh Without Blood," "Venus Fly," "World Princess part II" and set closer and all-around kickass track "Kill V. Maim." Never one to follow the crowd, she also released a horde of giant inflatable cockroaches on the audience in lieu of the traditional beach ball. Overall, it turned into an early-evening rave and was the highlight of my weekend.
Courtney Barnett
Courtney Barnett is a seriously gifted songwriter, and about the chillest true rocker out there. It was my third time seeing the Aussie Grammy nominee, and it won't be the last. Barnett's talent lies in her clever lyrics and her ever-so-casual ability to jam your face off without looking like she's trying even a little bit. This girl has a huge gift. If you haven't seen her, she's one of the greats. If you've seen her, once is not enough.
Florence and the Machine
Florence was the final act of Hangout Fest. What a way to close a festival. The sun had set, the crowd was massive, and the earth angel that is Florence Welch stepped out on stage in a sheer billowing sky blue dress that reached all the way down to her (of course) bare feet. With a voice that could stand alone in an amphitheater, Welch serenaded a transfixed crowd, some to the point of tears. The singer never stood still, ballet dancing and leaping back and forth across the stage in glorious theatrics. Welch was the perfect closer to an epic weekend, her performance haunting the entire crowd as we all packed it in and headed for home.