Australian Sensation Hatchie Reveals Fun Visual for New Song "Sugar & Spice"
Images via Alex Wall, Double Double Whammy
Music
News
Hatchie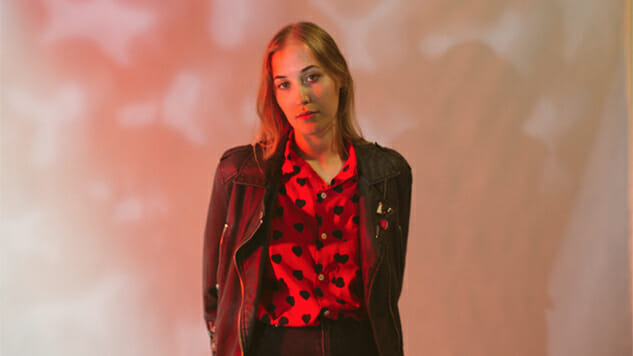 After making back-to-back splashes with "Try" and "Sure," and making a big impression at SXSW, Australian rising artist Hatchie is giving music lovers a touch of her fun side in the video for her new single, "Sugar & Spice."
Hatchie's latest single continues her straightforward indie-pop sound while adding some power pop to the mix. In a music climate dominated by streaming, Hatchie's catchy hook and shimmering guitar could turn the song into a summer hit. Hatchie evokes Liz Phair-meets-Shirley Mason with her biting lyrical content as she sings, "Maybe you should take a lesson / From the moon on how to handle / all eyes on you." She follows it up with the first chorus, singing, "But you don't call me baby anymore / No, you don't call me baby anymore."
The fun, yet biting lyrics are matched by a handcrafted video, directed by Joe Agius, and filled with still images and construction paper backgrounds. The video acts as half-performance, half-lyric video, in which Hatchie and her band are seen performing the song as black-and-white photos with construction paper letters spelling out the lyrics. At points in the video, viewers only see cutouts of Hatchie's mouth floating as she sings the lyrics.
Of the video, the artist herself stated:
Joe and I spent about an hour filming with the guys and two days drawing for the video. It's such a fun short song, so we wanted something simple and colourful, and less serious than our previous videos. Joe came up with the concept and we took inspiration from our old school scrapbooks.
With the release of three songs, the Aussie sensation is ready to unleash her debut EP, named after her latest single, on May 25 on Double Whammy Records. The EP is available for preorder here.
Having played in bands across her native country, Hatchie (born Harriette Pilbeam) seems ready to make her solo debut: "I feel like I'm only just beginning to really assert myself in the world and the Hatchie project has forced me to reassess and make so many positive changes," she said.
Along with the release of the new song and album, she will embark on a summer tour of the U.K. and Australia starting on May 5 in Leeds. She will be joined by two fellow up-and-comers, Australian band DMA's and Detroit singer-songwriter Anna Burch, on select dates.
With such catchy songs and an old-school feel, Hatchie is poised to be a breakout star in 2018. Watch the "Sugar & Spice" video below and see the dates for her upcoming tour further down.
Hatchie Tour Dates:
May
05 – Leeds, U.K. @ Live At Leeds
05 – Manchester, U.K. @ Sound City Festival
06 – Salford, U.K. @ Sounds of the Other City
07 – Birmingham, U.K. @ Hare & Hounds
08 – Glasgow, U.K. @ The Hug & Pint
10 – London, U.K. @ Shacklewell Arms
16 – London, U.K. @ The Social
17-19 – Brighton, U.K. @ The Great Escape
22 – London, U.K. @ Sebright Arms
June
01 – Brisbane, Australia @ The Tivoli
02 – Adelaide, Australia @ Thebarton Theatre
03 – Fremantle Australia @ Metropolis
09 – Melbourne, Australia @ The Forum
10 – Sydney, Australia @ The Enmore
July
12 – Melbourne, Australia @ Worker's Club
13 – Sydney, Australia @ OAF Gallery
14 – Brisbane, Australia @ Black Bear Lodge