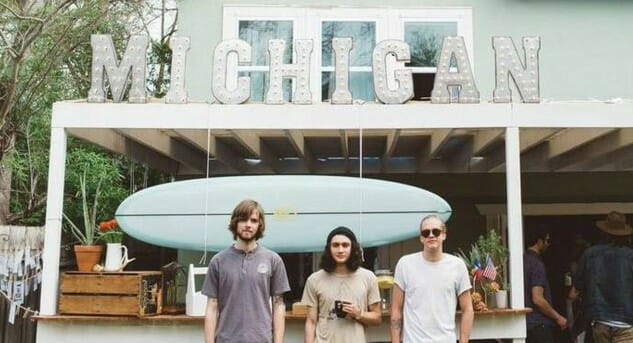 Heaters came home at the end of last summer and found out they had less than a week to find a new spot. Their original home, the one they'd been renting, had just been sold. The Grand Rapids, Mich.-based trio had been living together through for their first year of existence, leading up to the release of their second album Holy Water Pool in late September.
This band has written and recorded a hefty amount of material and covered a lot of touring ground in less than 800 days. They've also gotten quite used to living in (and out of) a van for most of their calendar year, so they're very roll-with-the-punches type dudes. They've since set up a new base of operations in Grand Rapids, a place that bassist/singer Nolan Krebs considers to have "…the most opportunities for musicians, as far as cities in Michigan."
Krebs and lead guitarist Andrew Tamlyn first forged this fruit-bearing musical camaraderie when they were in high school together and kept in touch during their respective college runs (Saginaw Valley State for Tamlyn and Northern Michigan University for Krebs).
The duo first bonded over older surf styles and garage rock records. The songs you'll hear on Holy Water Pool are imbued with the swirly sweetness and delayed distortion of those flavors of rock, somewhat vintage-inflected vibes that have a shimmying groove but can also kick it up to a more frenetic punk spasm tempo.
"Yeah, it's hard to try and attach words to your sound that are appropriate but also haven't already been used a million times," Krebs said. "'Psych' can be a helpful reference point, but that's still such a broad genre. I don't think it's necessarily important for us to be able to 'describe our sound…' It'd be limiting, I think, if we were able to sum it all up in just one sentence. I suppose that's the writers' job…"
Right, and the writer should just spring from the specific-yet-vague evocations wrung from Heaters latest batch of songs that could also be a universally shared pseudo-hallucinatory sensation when one really takes that deep dive into the headphones. Snaky guitars layer a deceptive sound, and yet over the horizon at the same time come vocals sounding like garbled communiqué crackling from a dented transistor radio inside of convertible Cadillac Eldorado sidelined off Route 66, baking in the sun, or rhythms as propulsive as fiberglass boards jettisoned through the peeling pipelines of an indifferent tide.
I just like that Heaters music makes me feel surrounded (in a non-ominous way,) or, encircled … by a beautifully gritty and melodic clamor, a caustic and cool boogie that doesn't just run, punk, kick and then quit, but fills the soundscape with a purple-tinged haze and suggests a feeling of being in the room with the guys, in their home, whichever home, down in their basement with amps all around you.
"….but if a family member or someone asks me what type of music we play…?" Krebs admits, "…that I usually just say: "'…meh….it's kinda like Pink Floyd-type o' thing.'"
But first, a bit more exposition: Krebs said the heat was truly on for Heaters once they added drummer Josh Korf and began to hit the road as a power trio. The band put out a super-sized EP called Solstice on Dizzy Bird Records back in October of 2014. In 2015, they started touring like monsters and released a 7" (Mean Green) on Beyond Beyond Is Beyond Records, which began bending more and more ears at music zines around the internet.
For the independent musician, an accommodating, proactive (and just nice) label is crucial for that first level-up. "Dizzybird is a newer label our friends started in Grand Rapids," said Krebs. "And Beyond Beyond Is Beyond, I believe, is one of the best indie labels in the country. And the nicest, no-bullshit people you could ever hope for."
Then came Holy Water Pool. "There were a lot of different ideas floating around when we started this record," Krebs said. "We tried to incorporate as many of them as we could without sounding too scattered. But, really … that was almost a year ago (when we recorded) and we were still a young band at that point." The newer songs, Krebs said, have founded an ideal "balance between rippers and more delicate songs." The focus has come into sharp relief for this trio: "Try not to write songs that aren't fun to play in live setting…"
The band recorded this breakout album with a couple of local friends and wound up mixing most of it themselves. That won't be the case for Holy Water's follow-up, Krebs said. There's the double-boost of having wrapped an album in a proper studio (this time,) and getting ready for a European tour at the end of January.
But let's go back to "nice, no-bullshit-people." The band counted the Austin Psych Fest as one of their most amazing experiences of 2015. "Yes, we felt very much at home there," Krebs said, "with the, as you'd phrased it, 'weird rockers.' But there was nothing about that experience that wasn't overwhelmingly positive."
Heaters are also stopping in Detroit to play a festival called The Secret Friends Fest, which has several similarly-situated "just on the cusp" touring bands (like Leggy out of Cincinatti or L.A.-based Mild High Club). The fest is sort of a shot in the arm for a small batch of bands who represent a surfeit of bands out there—each wholly familiar with the whole Van Life experience.
Krebs looked at Secret Friends Fest like this: "There's a really cool kind of brotherhood that develops when you tour with another band for a bit. We've traveled all over the country with The Moonwalks, who are a Detroit band, and we're great friends, now. The life of a touring musician is a strange existence, so when you get to a venue and you're 2,000 miles from home, it's usually like an instant connection with the other bands, there. Now, I'm thinking of that Kinks song, 'Strangers.' 'Strangers on this road … we are not twoooo … we are one!' Also, any time a stranger opens up their home to us while we're on the road, we feel extremely grateful."
And winter is here, strangers, so if your heat(er) works, that's a bonus!