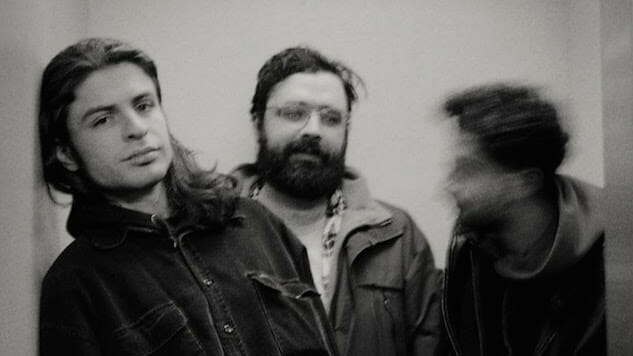 Boston slowcore trio Horse Jumper of Love have shared "Nature," the third single from their forthcoming second album So Divine, out June 28 via Run For Cover Records.
Horse Jumper of Love formed in 2013 out of Boston's DIY house scene, and their 2016 self-titled debut album established them as one of today's hardest-hitting slowcore bands. They signed to Run For Cover Records for their new album, which finds frontman Dimitri Giannopoulos, bassist John Margaris and drummer Jamie Vadala-Doran pondering the seemingly random nature of memories. While they begin to piece through the rubble of those memories, they also leave a code for listeners to crack.
Giannopoulous is known for his cryptic lyrical collages of intimate moments, and So Divine is no exception. Think of this album as the inexplicable chemistry between two people or an eye-opening lucid dream—you don't fully understand it, but it triggers intense emotions that will regularly resurface in your mind. Though at times sedating, their downtempo guitars have an unsuspecting might, luring you into unforgiving quicksand and slowly engulfing you in tar-like sonics.
"Nature" is a bit of an outlier in the HJOL catalogue. It's the closest they've ever come to penning a blues rock track, but its vivid lyrics and guitar stupor will remind you why it's so easy to find solace in Horse Jumper of Love's music.
"It kind of started from some joke riff we had," Giannopoulous says. "There's that bluesy, bended note in there, and we all made it into a real song. We were all like, 'This is the most fun song we have.' Then I get to do a solo at the end, which I don't usually do. I don't really know how to play guitar like that, so it's basically just me turning on all my pedals and making a bunch of noise. I think we had a song from when we first started playing that I took a bunch of lyrics from and put it into this song. It took a few years to write. It's one of the more enjoyable ones for me to listen to on the new record. Not that I listen to my own album too much, but every once in a while, I just check on it. Like, 'Am I sure I want to put this out into the world and have people hear it? It's not too late to cancel, right?'"
Listen to "Nature" below, and read Paste's chat with Giannopoulous about their forthcoming album So Divine. We discuss aliens, his Night At the Museum-like job and how drawing helps him as a songwriter. This conversation has been edited for clarity and length.
Paste: You often piece together songs with old and new lyrics. How does that work?
Dimitri Giannopoulos: It depends. Usually, when I have a solid idea for a song, it will all come together in one take almost. If there's a riff I'm working on or something I have a melody for, it usually takes a lot longer. I've started songs two years ago and just finished them a few weeks ago. It's not totally random. I feel like it's kind of recurring thoughts that are little things I piece together where I'm like, 'Oh that makes sense with that line I wrote a year ago.'
Has songwriting made you a more perceptive person?
I think so. I think the reason I started writing songs was because I felt like I was pretty perceptive. I'll just be walking down the street and see something that's aesthetically pleasing to me. A lot of the songs on this record are pretty old. And I wrote a lot of them when I was working as a security guard at a museum. I would basically just stand for hours and watch people do their thing and I wasn't allowed to have my phone on me or a book or anything. We couldn't even sit. We just had to stand in these contemporary art installations. Sometimes I'd pick up things people said or did. I think that job helped me be really perceptive.
Did you memorize the lines since you couldn't have your phone with you?
We were allowed to carry pencils on us to give to people at the museum. We could have pencils, but no paper. So, I would sneak little pieces of paper in my shirt pocket. That makes it sound like a really shitty job. It wasn't that bad.
Do you ever see yourself writing songs with a more typical narrative arc?
Recently I've been doing that. But it definitely is harder for me because I feel like my brain's all over the place all the time so I tend to do more collage-y type lyricism as opposed to straightforward.
You've played several of these songs in a live setting for a long time, but they've changed since then. How did those evolve?
For example, "Airport" had a whole instrumental intro when we first started playing it live and when we went to record it, I was like, 'Holy shit this song is so boring. It's too long. It's my own song and I'm not even interested.' We literally just cut it out and started with the lyrics right away. We also tried to speed up some of the songs a little bit. I think the reason our music is so slow is that all three of us are pretty lazy. In the studio, I was just like, 'No, we have to play them faster. We have to be more into it.' And even now, they're not that much faster.
Was it difficult to not get lost in these songs that you've had for a long time?
We were in the studio and we just wanted to try so much stuff, even using different guitars or different amps. Being like, 'Oh I need to have three guitars on this track.' And we'd record three guitars and then we'd be like, "Oh that sounds like shit. Let's go back to one guitar.' Just a lot of back and forth. Recording a second record, we felt a little more pressure. I was like, 'Oh no. We're going to record the second record, and it's going to suck. Everyone's going to hate it unless it's perfect.' And now I'm just ready to let it out to the world.
Has drawing helped you as a songwriter?
If I'm not writing songs, I draw or do stuff like that to keep me activated in that way. It's definitely way easier to draw than to write. Especially because I know my drawings are super shitty, so I don't feel like they have to be anything, and I do it totally for myself and that helps a lot with writing lyrics.
The original album cover depicted Jesus with the head of chicken and the arms of a squid, and the actual album cover contains a dark figure with a halo. Is there a religious or spiritual aspect to this record?
I guess there's sort of some kind of spiritual aspect to it. I know it's kind of douchey, but writing and playing songs with Jamie and John feels very spiritual.
You have a new song called "Aliens." Do you believe in aliens?
Yes, but I feel like people who hardcore believe in aliens would call me a poser. I like the correlation between the sleep paralysis stuff and abduction stories. I have this cousin who swears he was abducted by aliens, but when he describes the story to me, I'm like 'That just sounds like sleep paralysis.' I like that stuff and I've experienced sleep paralysis a few times. It was very scary, but afterwards it was like, 'Holy shit woah.'
In your new song "Poison," you imagine yourself as a dad with a dead-end job, and in the song, "Stray Dog," you express a desire to be someone's stray dog. Which would you rather be?
Probably a dog with a dead-end job.
The record revolves around memories and nostalgia. Does it scare or intrigue you how much memories change over time?
It definitely intrigues me, and I guess it is scary. A lot of the songs come from these really minor details or memories. Like, 'Why the hell does this still resonate with me now?' Maybe a memory that I had when I was like 14. Like, 'Are these memories even real?' I have no other recollection of that time in my life other than these few sparse moments. Maybe it's just my memory's really bad, and that's why I write a lot of these songs.
Do you sense a difference in the songwriting between the first album and this new one?
I feel like the first record is way more emo and mopey. I feel like this one's maybe more loose. The songs from the first one are from a time in my life where I was romantically involved with someone, and the ones on this record are not from that mindset.
Is there a lyric from this record that has an interesting backstory?
There's a line in "Volcano" that I think is my favorite line I've ever written. It's the one that goes, "I spilled yogurt on the plants outside and the dishwasher goes infinitely backwards."
Did that actually happen?
I was eating some yogurt outside and some yogurt dropped on the leaf of a plant. I was like, 'Woah that's fucking weird!' It's a strange image, and I was like, 'I wonder if that's ever happened in the history of ever.' If anyone has ever spilled yogurt on a plant, please come forward.
So Divine is out on June 28 via Run For Cover Records. You can preorder the album here. Scroll down for upcoming tour dates.
Horse Jumper of Love Tour Dates:
July
05 – New York, N.Y. @ Trans-Pecos
06 – Middletown, Conn. @ MAC Gallery
07 – Portland, Maine @ Sun Tiki Studios
10 – Phoenix, Ariz. @ Lunch Box
11 – San Diego, Calif. @ Soda Bar
12 – Los Angeles, Calif. @ Ei Cid
14 – San Francisco, Calif. @ Thee Parkside
15 – Sacramento, Calif. @ Momo
16 – Reno, Nev. @ Holland Project
17 – Portland, Ore. @ Paris Theatre
18 – Tacoma, Wash. @ Real Arts Tacoma
19 – Spokane, Wash. @ Lucky You Lounge Bsmt
20 – Seattle, Wash. @ Vera Project Gallery
21 – Missoula, Mont. @ Zootown Arts CC
23 – Boise, Idaho @ Neurolux
24 – Denver, Colo. @ Laramir Lounge
30 – Boston, Mass. @ The Sinclair^
August
02 – Washington, D.C. @ Black Cat^
03 – Philadelphia, Pa. @ Johnny Brendas^
04 – Asbury Park, N.J. @ Asbury Park Brewery^
(^ – supporting Duster)