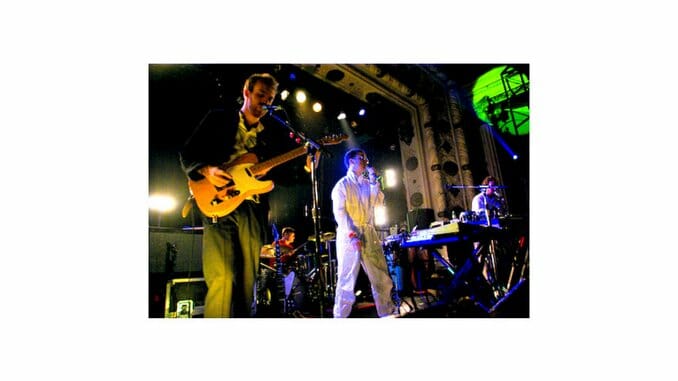 There is an inherent, if not unspoken, risk in electronic-tinged outfits performing live. On one hand, they could turn out to be soulless programming presentations; on the other, studio wizardry can fail to produce any real electricity in concert halls, and could even fail to translate at all. Thankfully, such was not the case on the second evening of Hot Chip's two-night stand at the Metro, where the band took the stage to a comfortably full room of attendees in rapt attention.
Throughout the evening, the U.K. six-piece offered a range of selections from their three studio albums, often injecting them with new life in the live setting. On record, they achieve memorable results with danceable numbers alongside more mellow, soulful fare. This was also the case live, but ratcheted up to the nth degree, as on "Shake A Fist," which came alive with extra muscle thanks to added percussion and blending keys and guitars, alongside a wealth of tweaks and glitches.
Hot Chip was most notable when celebratory: The anthemic "Over And Over" mixed a driving, horn-laden intro with bass and spastic lighting, resulting in a wave of fist-pumping from the entire main floor crowd, and "Out At The Pictures" was one of the most infectious, sing-along points of the evening. During "Ready For the Floor," the band released dozens of oversized white balloons into the crowd, which the crowd batted around throughout the remainder of the set, some audience members absconding with them as souvenirs.
But not everything was strictly a party Monday night. The sway-inducing "Wrestlers" employed layered vocals and a healthy dose of soul; Hot Chip took the big-band approach further with a low-key tease of a "Nothing Compares 2 U" cover that led into "In The Privacy Of Our Love." It was so mellow and subtle as to be nearly stillborn, but was the perfect ending for the night, and left the crowd wanting more. Whether electronic or otherwise, other live outfits would be lucky to provide an experience nearly as memorable, or half as engaging, as Hot Chip.
Related Links:
Review: Hot Chip: Made in the Dark
News: Amidst busy and tour-filled year, Hot Chip unloads new EP's
News: Hot Chip announces U.S. tour dates