Interpol Announce New Album Marauder, Share Lead Single "The Rover" and Tour Dates
Images via Jamie-James Medina, Matador Records
Music
News
Interpol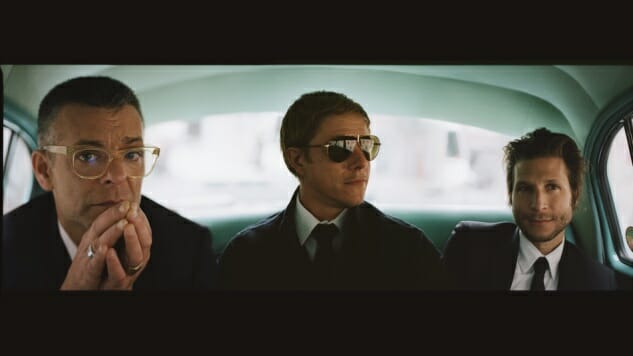 We're nearly halfway through 2018, but Interpol might still be able to shape it into their year: The band is dropping a new album, Marauder, via Matador Records on Aug. 24, their first full-length since 2014's El Pintor.
The rush has already begun for the band, having been tucked away in rural upstate New York, with recording starting last December and finishing in April, although it's likely that having the cops called on them while practicing down in the city was more of an annoyance than a thrill.
But for those of us who didn't get to hear Interpol through the walls or down the street, it really all starts today. And that begins with "The Rover," a shattering first look at the band's forthcoming record. The song's title leans into the album's name—the roaming air of a marauder directly links to roving and wandering, which are captured in the song's lyrics. The brash line, "You can stick to the highways and suicide," is wrapped in the lawlessness of a marauder.
On Marauder, Interpol turn to producer Dave Fridmann for the first time; Fridmann has worked with the likes of Spoon, The Flaming Lips, MGMT and numerous others. The new record's focus of capturing the band's live energy is felt strongly on this first track, as the drums pound forward and the sharp guitar pierces through it. You can listen to the band play the song live on The Late Show with Stephen Colbert on Friday, June 8.
Recent hints appearing on the band's social media have also been explained: The mural begun in Mexico City has now been unveiled to feature the band's new album art. Mexico City is also where Interpol are streaming from as they hold a press conference to discuss their new record. The livestream begins today (June 7) at 12:30 p.m. EST (now)—you can watch by heading to Interpol's website or Facebook page.
The band will be roaming across the globe on their tour and will reach the massive Madison Square Garden in February of next year. Listen to "The Rover" here and see Interpol's tour dates, plus the Marauder art and tracklist, below.
Marauder Tracklist:
01. If You Really Love Nothing
02. The Rover
03. Complications
04. Flight of Fancy
05. Stay in Touch
06. Interlude 1
07. Mountain Child
08. NYSMAW
09. Surveillance
10. Number 10
11. Party's Over
12. Interlude 2
13. It Probably Matters
Marauder Album Art: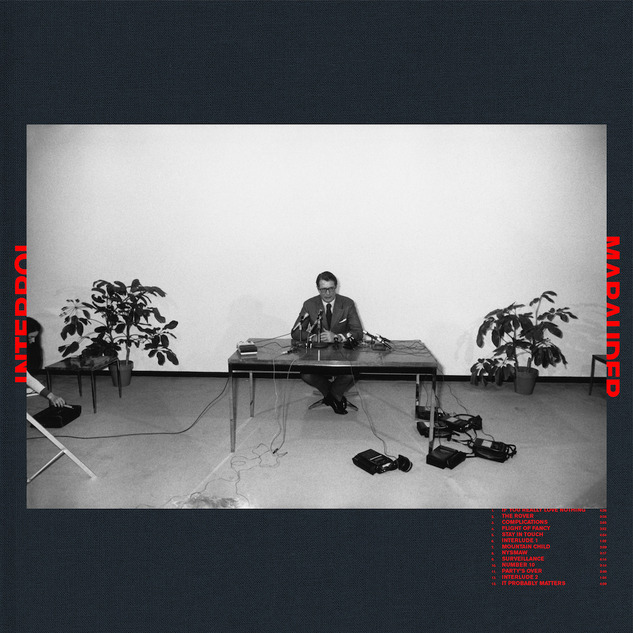 Interpol Tour Dates:
June
25 – Wien, Austria @ Arena Wien Open Air
26 – Sesta Al Reghena, Italy @ Sexto Nplugged
27 – Zagreb, Croatia @ INmusic Festival
July
01 – Glasgow, U.K. @ TRNSMT festival
05 – Roskilde, Denmark @ Roskilde Festival
07 – London, U.K. @ Hyde Park (w/ The Cure)
August
24 – Brooklyn, N.Y. @ House of Vans
14-16 – Chicago, Ill. @ Riot Fest
October
04 – Los Angeles, Calif. @ Hollywood Bowl (w/ The Kills, Sunflower Bean)
06 – Berkeley, Calif. @ Greek Theater (w/ The Kills, Sunflower Bean)
November
06 – Tokyo, Japan @ Akasaka Blitz
14 – London, U.K. @ Royal Albert Hall
24 – Copenhagen, Denmark @ TAP1
29 – Paris, France @ La Salle Pleyel
February
2/16 – New York, N.Y. @ Madison Square Garden (w/ Car Seat Headrest, Snail Mail)