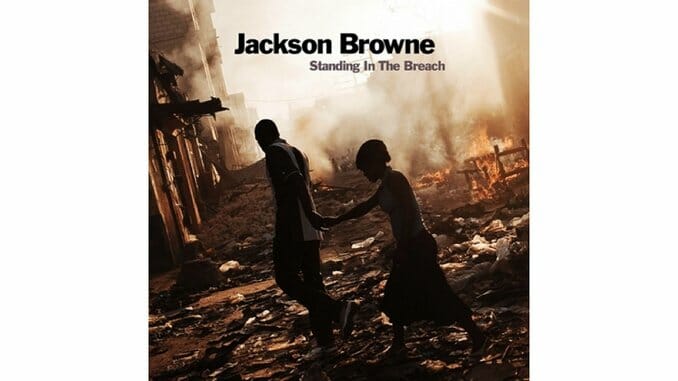 "It's never been that hard to buy a gun/Now they'll sell a Glock 19 to just about anyone," muses Jackson Browne midway through "The Long Way Around," balancing America's pursuit of freedom with the notion of consequence. Even in what the singer/songwriter can't embrace, he seeks compassion as piano chords fall like soft rain, ultimately offering, "With all we disagree about/The passions burn, the heart goes out…"
Browne has always led a double life: sensitive singer/songwriter and committed activist. During his 40-year career, there's been a tug of war between the romantic poet and the surging outcry. On Standing In The Breach, his first album since 2008's Time The Conqueror, the Southern California soft rock icon seamlessly reconciles the two.
Drawing on touchstones from his past, most notably The Pretender, Late for the Sky and For Everyman, he embraces his past without getting mired in the temple of who he used to be. His past is vibrant, but the shimmering melodies and tracks' spaciousness lends Breach immediacy.
Browne also reinvents Lou Reed—taking the changes of "Sweet Jane" and writing a forged-by-mingled-lives love song "Yeah Yeah"—and Bob Dylan—recasting the churning "Gotta Serve Somebody" in a more personal reckoning/invitation "Which Side?"—in far more hopeful terms. He even invokes "Take It Easy," Browne's co-written '70s Eagles anthem, with the train-beat rootlessness of "Leaving Winslow."
He understands the chambers and echoes of the heart. The haunted "Here" embodies the numb vertigo of a lover's absence, while the mythic "The Birds of St Marks," begun in 1967 and played sporadically live but never recorded, weighs the costs and loss in love from a young man's eye.
That idealism permeates the twang of "You Know The Night," a song of desire realized through the prism of awareness—drawn from 15 pages of Woody Guthrie's journals. The same ardor infused with seeking a higher world entwines Carlos Varela's "Windows + Doors," Varela providing plangent echo vocals as the song finds a hushed climax.
Unlike Pete Seeger, Browne's activism never drowned the lover inside. For Breach, the two merge with an intoxicating sense; the personal elevates the political. "Breach" delicately offers optimism beneath its reckoning, while "If I Could Be Anywhere" tackles hard truth, love and the notion this is where he chooses to make his stand.
But it's "The Long Way Around," where his misspent youth and our cultural mandates merge in a wake-up call as he name-checks Citizens United and the Gulf oil spill. Here acceptance isn't acquiescence, but the suggestion coming together is the only chance we have. For Browne, Breach is the best of all worlds.