Last Friday marked the 25th anniversary of the death of legendary electric bass player and composer, Jaco Pastorius. Pastorius, who played with Pat Metheny, Weather Report, Joni Mitchell, Herbie Hancock and many others, is known for his intricate solos and for his innovative use of harmonics on the electric bass and is one of the most influential bassists of all time.
Here, six bass players—Oteil Burbridge, Victor Wooten, Todd Smallie, Esperanza Spalding, Chris Wood and Chris Stillwell—discuss the life, music and enduring legacy of Jaco Pastorius.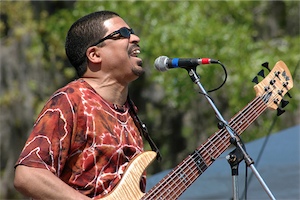 Oteil Burbridge (The Allman Brothers Band; Tedeschi Trucks Band)
Burbridge first heard Pastorius when he was over at a friend's house for a jam session. "I remember my big brother Kofi telling me to sit down and check out 'Donna Lee' and not really believing what I was hearing," he says. "Since it was a duet with percussionist Don Alias, there was really no room for studio tricks."
Burbridge thought to himself, "Man this is impossible." "Right then I knew that the only limitations on the bass were self made. That meant they could be totally remade or destroyed altogether."
Burbridge was a teenager when saw Pastorius perform live with Weather Report at Constitution Hall in Washington, D.C., in 1977. What heard that night motivated him to become a professional musician: "It impacted me so hard that it altered the course of my life. The synergy between Jaco, Wayne [Shorter], [Joe] Zawinul, [Peter] Erskine and Robert Thomas Jr. was pure magic living at its peak. I thought if I could reach a mere shadow of what I saw that night, it would be worth whatever trials I would have to face. Nothing tops inspiration and that is what you usually got with Jaco."
When asked with what song he would introduce someone to Pastorius who had never heard him, Burbridge suggests, "Havona" or "A Remark You Made," but he can't choose one for himself. "God, how could I possibly pick one song of his to be my favorite? 'Three Views [of a Secret]?' 'Continuum?' Everything he did with Joni? Every single song on Bright Size Life?"
For Burbridge, Pastorius' legacy is "to do what you hear in your head regardless of whether or not someone says it's 'allowed.' Things are only impossible until someone proves them otherwise. Let history be the judge. Roles can be expanded, changed, or completely discarded. He didn't care if beboppers didn't like electric bass. He didn't care if rockers didn't like jazz. He took a derogatory term like "Punk Jazz" and made it legit."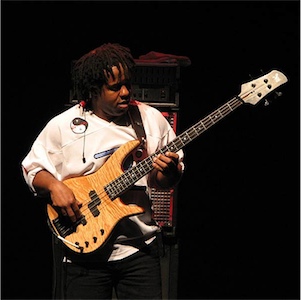 Victor Wooten (Bela Fleck and the Flecktones)
Wooten recalls being introduced to Pastorius' music by a neighbor—his "jazz connection"—who lived around the corner from his family in Newport News, Va. "He played some stuff for me and it just blew me away," Wooten says. "It was a new way of playing the bass, and I remember having to learn it. I would stay up all night until I learned whatever Jaco was doing. It was really amazing."
Specifically, Wooten recalls hearing the song "Birdland" for the first time and finding out that was Jaco playing the opening melody with harmonics: "I had no idea it could be done like that." But it was Pastorius' self-titled album that had the biggest impact: "What really, really knocked my socks off was when Jaco first came out with his first solo record. I think that was really the main thing that really captured all of us bass players."
That album not only influenced bass players. According to Wooten, that album changed all musicians: "That was one of the first solo bass records that everyone, not just bass players—every musician, had to recognize. In my mind Jaco is like the Muhammad Ali of bass," Wooten says. "He would tell you he was the greatest, and then he would go out there and prove it. But, like Muhammad Ali, Jaco had flaws, and Jaco knew that. He knew he had some flaws in his character and his playing, but he knew how to draw your attention away from that and have you focus on what he was great at… It made it exciting."
Wooten believes without a doubt that Pastorius' contributions changed the course of the bass. Wooten states, "And even bass players who don't know who Jaco is, they are influenced by him, whether they know it or not."
However, the aspect of Pastorius that Wooten admires the most, and tries to capture in his own performances isn't just about technique: "The thing I really loved most about Jaco was his energy—the energy he brought to the music and every time he stepped on the stage. He kind of broke the mold of what a jazz musician was supposed to be. At that time, it was supposed to be cool, no show-boating, playing serious music. It was all about being serious. He was about making it a performance. He would go on stage and put baby powder in his shoes so that when he jumped off of his amp when he hit the ground there would be a little powdery explosion. I love that kind of stuff. That guy was thinking beyond the music. He wanted to create an experience for his listeners and his viewers. I love that."
Wooten released two new albums, Words and Tones and Sword and Stone, on his own VIX Records yesterday.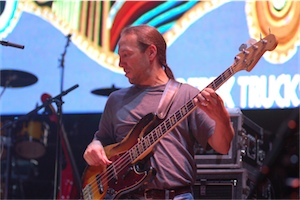 Todd Smallie (JJ Grey and Mofro; The Derek Trucks Band)
Todd Smallie credits his grandfather for introducing him to Pastorius. "I had been listening to him before I knew who he was." According to Smallie, his grandfather purchased a Ford Crown Victoria that came with a compilation cassette tape, to demonstrate the quality of the stereo. The cassette included Weather Report's "Birdland." He says, "I remember hearing 'Birdland,' and it blew me away; the deep bass and the harmonics coming in. I was probably 10 years old, and in a weird, weird way, without even knowing who Jaco was at that point or even for the next couple of years, it was one of the songs that really inspired me to play bass."
Smallie states that Pastorius had a profound impact on the way he approached bass. "I realized that it was the spirit of the music more than just the notes or the technical side of it. It was more than the sound of the instrument, especially when you finally saw a video of him play and you realized, 'Holy cow this guy is completely pouring his heart and soul out into this. No wonder it is so bad ass.' It was no holds barred. He played the piano line, the sax line, the bass line, the guitar lines, even doing the rhythmic stuff…conga-style slapping he would do on the bass—all of it really opened up my mind to the possibilities of the bass being more of a lead instrument than just laying down the bass line."
Smallie says he was influenced by "Birdland" and "Teentown" early on. However, "'A Remark You Made' would definitely be one of my top three," he says. "To this day, it is one of my favorite ballads of all time. That one definitely grabbed me. And I always loved 'Port of Entry.' … It reminds me of an Indian raga feel in the composition where it would start off real mellow, real slow, low dynamics and they would build and by the end of it. It was a real frenzy.
"When I talk to musicians," he continues, "no matter what instruments they play, there is an incredible amount of respect and reverence for Jaco Pastorius. Most musicians have such a high regard for his musicianship, his compositions, his talent, and his fire and tenacity in playing the instrument. He was obviously a great innovator. I think most people, especially these days, would say it was an incredible life that was cut too short."
JJ Grey and Mofro will be touring the United States and Europe this fall and have begun pre-production on their next studio album, which will be released in 2013.
Here, six bass players—Oteil Burbridge, Victor Wooten, Todd Smallie, Esperanza Spalding, Chris Wood and Chris Stillwell—discuss the life, music and enduring legacy of Jaco Pastorius.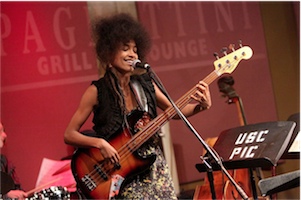 Esperanza Spalding
In 2011, Spalding won the Grammy for Best New Artist and became the first jazz musician to win the award. As a child, she taught herself to play violin and dabbled with several instruments until settling on the bass as a teenager. At the age of 15, Spalding left high school with her GED and enrolled in music program at Portland State University. She had been playing bass for less than two years, but it was around this time she was first introduced to Pastorius' music. She recalls hearing the song "Donna Lee" when she was studying at Portland State, "I heard that somewhere and was like, 'Whoa.'"
Spalding continued to be captivated by Pastorius' playing as she discovered his body of work with Weather Report and his playing with the Trio of Doom, a power fusion trio featuring Pastorius, John McLaughlin, and Tony Williams.
Her favorite Pastorius composition is "3 Views of a Secret." "I think that is an amazing song," she says. "Of course 'Teen Town' is really brilliant."
She also mentions Pastorius' performance on "4 A.M." that appears on Herbie Hancock's album Mr. Hands. However, one of her favorite recordings of Pastorius is not an album, but his instructional video. She says, "I love watching his Modern Electric Bass lessons. I think those are really revealing. It's sort of like all of the hype is gone for a minute and you can just see him as a studious musician talking about what he practiced and what he did. I really love watching those."
Spalding believes Pastorius' legacy was a combination of contributing factors—his exposure while playing with Weather Report, his talent, and his unique personality. "I think he was an individual at a time of a lot of phenomenal musicians with a really distinct voice combined with a lot of opportunities to be seen and heard by a lot of people. His unique approach to the bass, his melodic approach, his composing; he was one of those people who had it all."
Spalding recently returned from touring Korea and Japan and will be touring the United States and Europe this fall.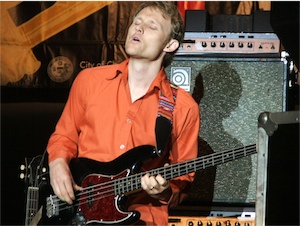 Chris Wood (Medeski Martin and Wood; The Wood Brothers)
Wood began playing bass because of his older brother Oliver, with whom he plays with in the Wood Brothers. The brothers' parents purchased Oliver an electric bass for Christmas one year. According to Wood, "[Oliver] played that for a little while but I think his real interest was guitar. He showed me how to play a few simple things. I just kind of took it and ran." Wood began taking lessons from Rob Kassinger, which is the person who introduced Wood to Pastorius. Kassinger would steer Wood in the direction of great bass players, which included giving Wood a copy of Pastorius' self-titled album. According to Wood, "I heard his bass playing, what he was doing—it was incredible."
Wood explains that as he learned more, he came to appreciate Pastorius' compositions, the amount of material he had written, and the musicians who performed on Pastorius' self-titled album: "I just realized it was such a complete package, like Jaco." He continues, "everything about it was so strong and original."
When discussing Pastorius, one of the topics that invariably comes up is other bass players who try to imitate Pastorius' bass sound. Wood states, "I know people will make these fretless basses and try to imitate [the sound] but it's not the same, mainly because it was in his fingers. It was his sound and the way he touched the instrument, the way he attacked the strings—his hands were gigantic. I think he could reach things that maybe some people can't."
Wood likens Pastorius to an athlete: "It's kind of the way people talk about Lance Armstrong as a biker. He has a bigger heart than most people. Literally, he has more capacity to take in oxygen than other people. And Jaco, in some ways, was like that. He was built for what he did and took full advantage of it."
Wood states he has heard a lot of funny and amazing stories about Pastorius over the years from musicians who knew him. Wood recounts his favorite one when Pastorius was on tour with Weather Report in the United States: "They were driving down the highway in a tour bus and from what I understand, Jaco was one of those guys—like a lot of freakishly talented people, there is no 'off' switch. He is just going. He is there with his bass on, playing and getting in everyone's face. So some of the guys in the band had enough and were like, 'Man, give us a break.' Everyone was hanging out in the front lounge of the bus."
Wood explains, on a tour bus, there is typically a front lounge, a middle-section hallway with bunk beds and doors that shut off that section, and then a back lounge. He continues: "So they sent Jaco to the back lounge. They were driving down the road and they never stopped. At some point, one of the guys goes back there, and Jaco isn't there. They look in all the bunks, and Jaco isn't in the bunks. They look all around and realize Jaco is not on the tour bus, and they have been speeding down the highway the whole time. Where is Jaco? They can't figure it out. They get to the gig, and Jaco is there on stage with his bass in his hands kind of waiting for them."
Wood explains Pastorius stuck his head out of the back lounge window of the bus and somehow got someone's attention who probably recognized him. Wood imagines the person was driving a convertible. And Pastorius somehow got from the bus, while it was moving down the highway, into this person's car, and sped ahead and beat the bus to the gig, with his bass. He finishes by saying, "A lot of the stories I hear about Jaco…he had a lot of balls."
Medeski Martin and Wood will release Free Magic, their new live album of all acoustic music, this month and will begin touring in support of the album. The Wood Brothers are currently touring and preparing to go into the studio to record their next album.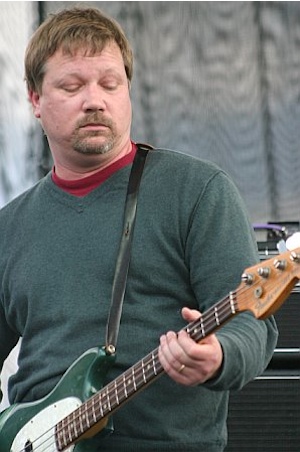 Chris Stillwell (Karl Denson's Tiny Universe; The Greyboy Allstars)
Stillwell comments that he must have first heard Pastorius from his father who owned a copy of Weather Report's album, Heavy Weather. "Once I found out who Jaco was, I got as many records as I could get of him that were available on vinyl," he says. "I couldn't believe the stuff…I think a lot of players had the same sort of reaction—there was bass before Jaco and bass after Jaco."
The first record he purchased of Pastorius was his self-titled solo album. He says, "It was strange to me as far as soloing. I don't think anyone had really ever heard someone solo like that. At that point, the first record kind of blew people's minds."
The two elements of Pastorius that most impressed Stillwell was his spirit of invention and risk taking and his songwriting: "I think he was equally as great a songwriter as he was at turning bass on its ear. He wrote a lot of great material—interesting stuff, and varied. Very varied."
Stillwell also mentions the way Pastorius branched out throughout his career, citing Pastorius' collaboration with Joni Mitchell, which he calls "sublime": "The Joni Mitchell stuff he did was unlike anything he had ever done. I don't really think I had heard him play with a vocalist and staying on the wave with the vocals and almost acting like a separate vocalist, playing melodies and things like that."
Stillwell's favorite Pastorius composition is "Continuum": "He covers so much ground in that—melody, the low notes to the high notes, the harmonics… It is such a beautiful composition, and he plays it as such."
As far as Pastorius' legacy, Stillwell says, "His contributions are still felt and always will be felt. I think he was definitely one of the greats I think he was, more or less, to me, a musician who played bass. Had he picked up the saxophone or piano or whatever, I think he would have excelled at any instrument, but he just happened to pick bass."
Recalling his favorite quote by Pastorius—"Cleverness is no substitute for real knowledge"—Stillwell believes that in everything Pastorius did, "there was always some knowledge behind it. He wasn't just being flashy for the sake of it."