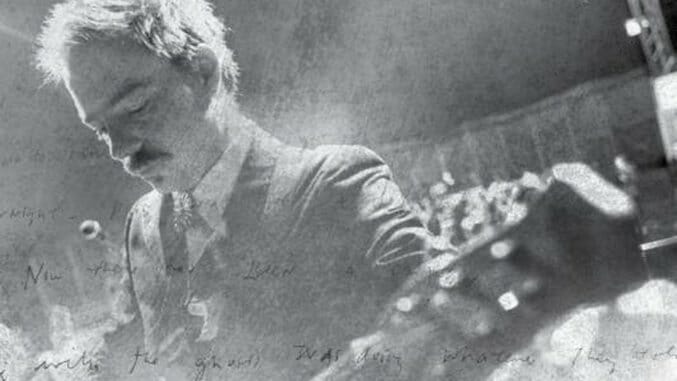 Erin Osmon's debut book Jason Molina: Riding with the Ghost came out this week via Rowman & Littlefield publishing. Largely based on new and original interviews with the Ohio musician's family and friends, the first authorized biography of Jason Molina explores the singer/songwriter's magnificent musical abilities and the tragic alcohol addiction that halted his creation.
Over the course of his 39 years, Molina was extremely prolific. He released seven LPs and four EPs under the Songs: Ohia moniker, five LPs (which included one box set and one live album) as the Magnolia Electric Co. and three LPs under his own name. His most commercial, Songs: Ohia's Magnolia Electric Co., even ranks among our Best Indie-Folk Albums and Best Alt-Country Albums lists.
Yet, Molina may be best remembered for the emotion conveyed through his music—the fear and anxiety and sentiment derived from the complexities of human existence. Blending Rust Belt grit with Americana music's pastoral imagery, Molina's songs seemed to capture a specific vision of America—musically drawing influence from classic country to '80s metal, while lyrically depicting the working class ethos during the Midwest's most intense period of industrialization. In honor of this new text on his life and work, here are 13 of the best songs by Jason Molina.
13. "Lioness"
Out of survival, a cat's glance looks purposefully vague. Does it want to maul you or just lick your hand? Jason Molina as Songs: Ohia doesn't quite know either, and uses that ambiguity to address a similar scenario with a woman, portrayed here as a fierce jungle cat. Sure, she's gazing at him, but Molina appears to know that close proximity will result in his "heart break…in your jaws." Still, "you can't get here fast enough," he moans over increasingly driven guitar. It's masochistic of him, but who among us hasn't run "across the Nile" to get caught in the claws of a doomed romance? —Rachel Brodsky
12. "Such Pretty Eyes For A Snake"
Molina's narrator is so self-actualized at this point in the game that now he's also lyrically self-referential (see "Captain Badass"). He figures since he's already notorious for fucking up, he might as well remain consistent. It's a half-assed warning to the "snake" and a lazy justification to himself for the actions that will play out through temptation, bolstered by the pair's implied history. Stylistically, the music pulls and taunts, much like its characters do to each other, with slow, pulse-heavy beats and meandering lead guitar coalescing into ominous, rhythmic grit. Recorded live, the chemistry with the seasoned road lineup is palpable as they create and sustain tension well enough to maintain the nine-minute crawl. A studio cut of the track was never released, but this version is tight enough to get the job done. —Emile Milgrim
11. "When Your Love Has Gone"
This song—sometimes listed as "When Your Love Has Gone" and sometimes as "Journey On"—appears very early in the Songs: Ohia canon and sets the pace for some recurring themes throughout what would become Molina's extremely prolific output—loss, loneliness, departure and sorrow. It also introduces his recurring perspective of making the most of moments, relationships and time spent with people who will ultimately leave. This is a duality many of us confront at some point—especially in romantic relationships—and it's difficult to embrace both sides knowingly. "When Your Love Has Gone" provides an early glimpse of the strength and immediacy of Molina's songwriting, as well. The original arrangement relies heavily on languid space, enabling the lone vocal and guitar to carry enough weight to accurately convey the song's haunting but hopeful message. —Emile Milgrim
10. "What Comes After The Blues"
For all of Molina's songs about the blues themselves—how they manifest out of all sorts of toxicity— few question their effects. "What Comes After the Blues," which appears on the 2007 Magnolia Electric Co. box set Sojourner (not to be confused with the 2003 album of the same name), is surprisingly up-tempo, decidedly alt-country with its softly distorted guitar riff and smooth pedal steel wisps. Molina wrestles with his ambiguous guilt, "You see I nailed my guilt to the back of my eyes / So I see it now before the sun," before launching into his probing pre-chorus and refrain, " Now who was I, now who am I? / Lord what have I done? What comes after the blues?" The song never answers those questions, but they've inspired others like old pal M.C. Taylor of Hiss Golden Messenger to seek out such a deep cut and play it as tribute. —Hilary Saunders
9. "Blue Factory Flame"
It seems like every vaguely maudlin indie folk/rock musician gets hit by the "death obsessed" tag at some point in their careers. Even more so when they explicitly reference death as Jason Molina does in the dirge-like "Blue Factory Flame" from 2002's Didn't It Rain. The first warbled words out of his mouth are "When I die / put my bones in an empty street / to remind me of how it used to be." This is a song paralyzed by emptiness. It's a tune where the best outcome is an acquaintance or two showing up at the eventual wake. All any of us can hope for is to be remembered. If that memory comes by the light of a Coleman lantern, over a sedate guitar figure, so be it. —Jared McNett
8. "Whip-poor-will"
There are three released versions of this song, each different enough that it's basically a would-be (should-be) standard—something that could be worked over and over again in the vein of "O Death." With its bright (for him) tone and inclusive lyrical pleas, Molina's knack for forging the personal with the universal is at one of its highest points here. "Whip-Poor-Will" is a non-traditional prayer wearing its sentiments of tried patience and fading hope on its sleeve—a prayer that even the least religious of us can get down with. —Emile Milgrim
7. "Captain Badass"
Cheesiest title for a love song ever? Yeah, maybe. But that serves to complement its elusive sexiness. Everything from the lead riff and sleazy rhythm section to the pent up narrative and irresistible refrain makes "Captain Badass" awkwardly seductive, which is probably closer to how lust actually plays out than most of us care to admit. Its lyrics are not polished or cliché, instead relying on the heady mix of existential uncertainty and inimitable desire. Despite it being a highly personal song for his then-girlfriend/eventual wife Darcie, pretty much any Songs: Ohia fan has blasted the shit out of this song in their car either pre- or post-said awkward seduction as though it were their story. Godspeed, Captain Badass. —Emile Milgrim
6. "Hammer Down"
As Osmon mentions in Riding with the Ghost, "classic country…served as an early source of inspiration for Jason. Jason idolized Hank Williams and was enamored with the Carter Family's commixing of religious and secular music." With that in mind, natural imagery and repetition of "I saw the light" throughout "Hammer Down" seems like an intentional nod to Williams' iconic country gospel tune of the same name. A dirge-like demo of "Hammer Down" first appeared on 2003's What Comes After the Blues. However, it's this reimagined version from the Sojourner box set four years later—an electric toe-tapper with piano riffs reminiscent of The Band—that showcases Molina's musical range and influences. —Hilary Saunders
5. "Just Be Simple"
"Just Be Simple" is one of the best introductory songs for Molina's work because it somehow recapitulates almost every sentiment in his enormous catalog up until that point on 2003's Magnolia Electric Co. This is every (inter)personal betrayal, loss and frustration one might experience, and his resignation to the fact that those feelings always lurk within us, no matter how hard we try to forget or avoid them. The unforgettable pedal steel intro sets up the poetic, almost stream-of-consciousness recital of how and why one can try so hard, but get nowhere, and the ultimate acceptance of this state. In a strange way it's almost comforting, perhaps because Molina's own loneliness helps us feel less alone. —Emile Milgrim
4. "Blue Chicago Moon"
One of the darkest songs on 2002's Didn't It Rain, "Blue Chicago Moon" seems like a song that directly the correlation between Molina's loneliness and disease. Throughout the nearly seven-minute song, his unsteady tenor wavers against the slow, sad guitar work. Molina sings, "Gotten so good at hiding it / even he does not admit it / that glittering flash in his eyes / makes it look like he might be alright," likely alluding to times when he could mask his alcoholism in front of others. Yet, it's the shallow, mantra-like repetition of "you are not helpless" that, in the midst of an attempt to reassure himself and others, seems so hopeless in hindsight. —Hilary Saunders
3. "Didn't It Rain"
"Didn't It Rain," the title track and opening offering of Songs: Ohia's 2002 album sets the tone for what many call Molina's "first perfect record." Marked by sparse instrumentation (including subtle, yet suspenseful mandolin flourishes and a lap steel that seems to tiptoe throughout the album), Molina's live-taped vocals truly resonate on Didn't It Rain. While the title track's instrumentals work within each other's pauses and spaces, his singing about strength and hope and "the light of truth" shines in the center of the strumming. Much like Molina himself, there's a guardedness to "Didn't It Rain," but is the tenacity and generosity that lingers. —Hilary Saunders
2. "Farewell Transmission"
Magnolia Electric Co., opens with the seven-and-a-half-minute multi-faceted "Farewell Transmission" that journeys through demure folk song to power ballad. Listening to this song after Molina's death, it sounds as much as a self-eulogy as "Blue Factory Flame" with lyrics like, "The real truth about it is no one gets it right / The real truth about it is that we're all supposed to try." But especially in the context of its original release, "Farewell Transmission" exemplifies Molina's skeletal songwriting and the skill of his bandmates/friends who worked with him to execute his vision. Molina preferred to record live and in as few takes as possible and "Farewell Transmission" shows how his improvised commands came to be understood as part of the song. At the end of the take, Molina repeatedly commands, "Listen" in between the mourning "long dark blues" refrain. It works so naturally that you wouldn't even know it was an unintentional blemish from the original recording. —Hilary Saunders
1. "Hold On Magnolia"
As an album, Magnolia Electric Co. nears perfection. It's sprawling, yet intimate; it's the most accessible of his recordings, but still kind of cultish. Molina's masterpiece flows from start to finish, but it's this closing song that truly encapsulates both the record and his entire career. Over a base of piano chords sturdily delivered in whole notes and trembling violin work, Molina narrates a nearly eight-minute dirge depicting persistence (or stubbornness, as is his choice of adjective in the song). It matters not who or what "Magnolia" is; the refrain of "hold on Magnolia" is a plea, a hymn, a reminder for all of us who need to hear it. —Hilary Saunders