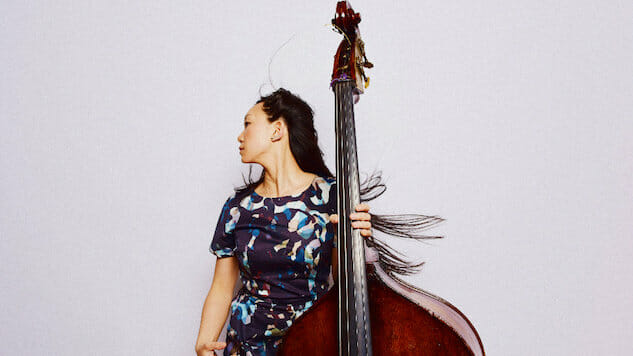 Last year, a group of female and non-binary jazz musicians founded the We Have Voice Collective, an organization that aims to "foster awareness, inclusion, and the creation of safe( r ) spaces for all" in jazz and improvised music scenes. This arrived in the wake of #MeToo and following mass exposure to instances of sexism and misogyny in jazz. A year earlier, the Women in Jazz Foundation began their efforts to provide a voice for women and non-binary individuals within the historically male-dominated genre. As with other strands of #MeToo-induced activism across industries, it's not as if women weren't in jazz before now—they're just finally being given a voice. This list was compiled not because these artists are women, but because they are talented players who are key to the futures of jazz and improvised music and deserve representation.
In recent years, jazz has welcomed a wave of new faces to the scene, all of whom are standing on the shoulders of pioneering women artists like pianist-composers Lil Hardin, Mary Lou Williams, Marian McPartland, Carla Bley, Eliane Elias, Renee Rosnes and Geri Allen, guitarists Mary Osborne and Emily Remler, trumpeters Valaida Snow and Clora Bryant, soprano saxophonists Jane Ira Bloom and Jane Bunnett, trombonist-arranger Melba Liston, big-band leaders Toshiko Akiyoshi, Maria Schneider and others.
Last year, pianist-composer Myra Melford earned accolades for her band Snow Egret's 2018 release The Other Side of Air, which appeared on many critics' year-end lists. Mary Halvorson, one of the most riveting guitarist-composers to come along in the last decade, earned similar accolades for her double album, Code Girl. Last summer saw the premiere of the powerhouse all-female jazz group Artemis (named after the Greek goddess of the hunt) featuring pianist Renee Rosnes, trumpeter Ingrid Jensen, tenor saxophonist Melissa Aldana, clarinetist Anat Cohen, bassist Noriko Ueda, drummer Allison Miller and special guest vocalist Cecile McLorin Salvant.
This year there's a forthcoming deluge of new releases by talented women jazz artists, all accomplished players, prolific composers and energetic bandleaders. Here's a batch of new releases that promise hours of rewarding listening.
1. Melissa Aldana, Visions (Motema Music)
The Chilean-born saxophonist-composer-bandleader turned heads with her 2009 debut, Free Fall, and in 2013 became the first female musician and the first South American musician to win the prestigious Thelonious Monk International Jazz Saxophone Competition. She gained widespread acclaim for her 2014 outing Melissa Aldana & The Crash Trio (with Cuban drummer Francisco Mela and Chilean bassist Pablo Menares) then took things up a notch on 2016's Back Home. Now with Visions, the Santiago native delivers with passionate intensity on pieces inspired by and dedicated to Mexican artist Frida Kahlo. Originally commissioned by New York's The Jazz Gallery as part of its residency program for emerging artists, Aldana's suite "Visions: For Frida Kahlo" connects her work to the legacy of Latina artists who have come before her. "I'm deliberately creating a parallel between my experiences as a female saxophone player surrounded by male peers in a male-dominated community and culture, and Kahlo's experiences as a female visual artist working to assert herself in a landscape dominated by men," she explained. Aldana's potent tenor is paired on the frontline with Joel Ross' vibraphone and underscored by the interactive rhythm section of pianist Sam Harris, bassist Pablo Menares and drummer Tommy Crane on her latest release. Highlights include the turbulent title track, the angular "Acceptance," the rhythmically-charged "Elsewhere" and the adventurous nine-minute excursion "El Castillo de Velenje," all featuring the leader exploring the full range of her horn with bold tones and spirited abandon. On the other end of the dynamic spectrum are the pensive and probing "Abre Tus Ojos" and the quintet's daring extrapolation of the tender jazz standard "Never Let Me Go." Another solid outing from the rising star. (Melissa Aldana's Visions Quintet will have its record release party from May 23-26 at the Jazz Standard.)
2. Linda May Han Oh, Aventurine (Biophilia Records)
After racking up impressive sideman credits with such esteemed artists as Joe Lovano, Pat Metheny, Vijay Iyer and Dave Douglas, bassist Oh began accumulating her own credits as a composer-bandleader. On her ambitious fifth album, the Malaysian-born, Australia-raised musician presents an eight-piece ensemble featuring potent improvisers in saxophonist Greg Ward, pianist Matt Mitchell and drummer Ches Smith. That core group is augmented by members of the Sirius and Turtle Island string quartets on several beautifully-crafted tracks. From the expansive and crystalline opener, "Aventurine," featuring the inventive Australian vocal group Invenio, to the challenging chamber-jazz piece "Lilac Chaser," Aventurine offers a rare bridge between the classical, jazz and new music worlds. Two pieces, the intricate "Song Yue Rao" and the sparse bass showcase "Deepsea Dancers," reflect Oh's Chinese folkloric roots while the minimalist "Ebony" is a strikingly modern piece that opens up to some potent free-blowing by Ward and Mitchell. An edgy, beat-conscious interpretation of Charlie Parker's "Au Privave" and her own Bach-informed composition "Cancrizan" offer further intrigue while "The Sirens Are Wailing" and "Broom We Are Here" both carry a more dramatic, almost cinematic flair. The most overtly swinging number here, "Satuit," showcases Oh's considerable bass chops. The superb collection ends on a serene note with a luxurious take on Bill Evans' classic "Time Remembered" that unfolds gracefully and reveals some of Oh's most expressive playing of the set. (Linda May Han Oh's CD release performance is at National Sawdust in Brooklyn on May 16).
3. Camila Meza, Ambar (Sony Music Masterworks)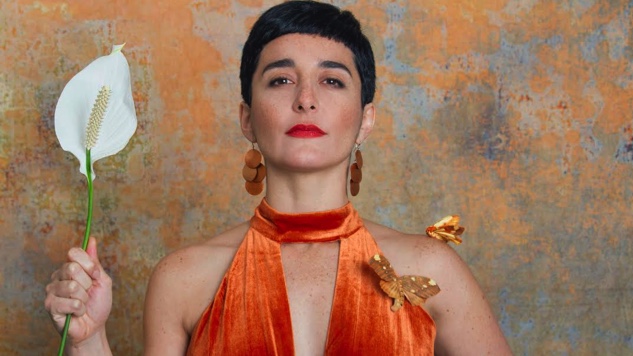 Photo by Rachel Thalia Fisher
Rising star singer-songwriter-guitarist Meza makes her major label debut with her fifth album as a leader. An inspired showcase for her Nectar Orchestra, a hybrid string quartet and four piece backing band, Ambar features Meza's beautifully soaring vocals in English (the mysterious "Waltz #1," the heavenly "All Your Colors" and dramatic "Awaken"), Spanish (a dynamic "Kallfu" and an intimate solo interpretation of Tomás Méndez Sosa's tender "Cucurrucucu Paloma," along with the hauntingly beautiful "Atardacer" and the reflective title track) and Portuguese (a poignant take on Jobim's melancholy "Olha Maria" and Milton Nascimento's uplifting "Milagre dos Peixes"). Meza reveals her George Benson-inspired guitar chops on a powerful reading of the Pat Metheny-David Bowie composition, "This Is Not America," and delivers a remarkably flowing, Metheny-esque guitar solo on the vibrant and alluring "Atardecer." An impressive followup to her acclaimed 2016 release, Traces, the multi-talented Meza takes an incremental leap in her meteoric career on Ambar. (With a release date of May 31, Meza and The Nectar Orchestra will have their CD release party on May 22 at Rockwood Music Hall).
4. Anat Cohen Tentet, Triple Helix (Anzic Records)
The Israeli-born saxophonist and clarinet virtuoso has become a prominent figure on the New York scene since arriving from Tel Aviv in 1999. With Triple Helix, her ninth as a leader, Cohen explores some heady new territory, including a three-movement concerto written for her tentet by longtime collaborator and former high school pal Oded Lev-Ari. Patterned after George Gershwin's "Rhapsody in Blue," this jazz-meets-the-classics work ranges from solo clarinet to abstraction impressionism, rock bombast and free jazz with forays into Middle Eastern music and lush romanticism. And through it all, Cohen's commanding clarinet bursts forth with incredible dexterity and bristles with energy and invention. Elsewhere on Triple Helix, Cohen's tentet turns in a faithful take on Astor Piazzolla's stirring tango "Milonga Del Angel" and the leader rekindles her love of Brazilian music on her alluring "Choro Pra Miri" and her spirited samba, "Footsteps & Smiles." She reserves her most dramatic playing for the Mexican folk song "La Llorona," which Lev-Ari surrounds with lush, Gil Evans-inspired horn voicings. The ace arranger also makes an intriguing, oddball choice in tackling Gene Roland's eerily dissonant "Lonesome Train," a staple of the Stan Kenton Orchestra of the early 1950s, which has Cohen's clarinet substituting for singer Kay Brown and trombonist Nick Finzer contributing a rather subversive solo. (The Anat Cohen Tentet will appear at the San Francisco Jazz Festival on May 19).
5. Brandee Younger, Soul Awakening (brandeeyounger.com)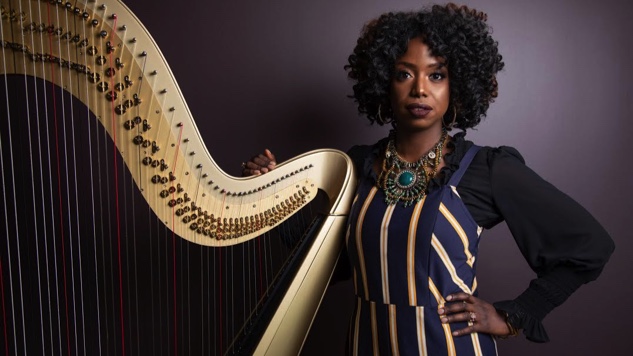 Photo by Erin O'Brien
The classically trained harpist and fearless improviser follows in the footsteps of jazz harpist pioneers Dorothy Ashby and Alice Coltrane on her beautifully crafted fourth release as a leader while showing some decidedly modernist twists along the way. The stirring opener, "Soulris," composed by bassist-producer Dezron Douglas, features guest tenor saxophonist Ravi Coltrane blowing up a storm. The harpist strikes a more peaceful accord with her group on the serene "Love's Prayer," which also features Ravi digging deep on tenor. FFor her hypnotic "Respected Destroyer," a tune covered by the Soul Rebels, Younger enlists the young trombonist Corey Wilcox and trumpeter Sean Jones. The rubato title track has flutist Nicole Camacho engaging in a free-flowing conversation with soprano saxophonist Stacy Dillard and tenor saxophonist Chelsea Baratz, while Younger underscores with gentle chording. The harpist pays homage to her role models on faithful renditions of Dorothy Ashby's "Games" and a blazing take on Alice Coltrane's "Blue Nile," the latter featuring some scorching tenor work from guest saxophonist Antoine Roney. Younger and her talented crew also turn in a thoughtful rendition of Marvin Gaye's "Save the Children" that has singer Niia delivering some smoldering vocals. (While Soul Awakening is scheduled for a June 7 release, Younger's quartet will perform pre-release shows on May 21 and 22 at the Blue Note).
6. Marilyn Mazur, Shamania (RareNoise)
The veteran Danish percussionist, who has worked in the bands of Miles Davis, Wayne Shorter, Jan Garbarek and Eberhard Weber over the years, and a leader in her own right since 1990, has assembled 10 strong female musicians from Scandinavia for this intoxicating blend of world music exotica, sophisticated and jazzy ensemble pieces and pure, primal improvisation. Highlights include Norwegian saxophonist Sissel Vera Pettersen's probing tenor solo on "Heartshaped Moon," Dutch saxophonist Lotte Anker's soaring soprano solo on "New Secret" and Danish trombonist Lis Wessberg's superb trombone solo on the infectious 9/8 groover "Crawl Out & Shine." Norwegian trumpeter Hildegunn Oiseth delivers an outstanding high-note solo on the invigorating "Space Entry Dance" then contributes a raw, cathartic goat horn solo on avant "CHAAS." Dutch pianist Makiko Hirabayashi is the secret weapon of this ensemble, providing the harmonic fabric for these fascinating pieces while contributing several stellar solos. Grounded by the deep grooving bass lines of Norway's Ellen Andrea Wang and driven by Swedish drummer Anna Lund's crisp and muscular beats, alongside the leader's African-flavored hand percussion, gongs and hypnotic balaphone melodies, Shamania is a stunning example of the sound of globalism.
7. Francesca Prihasti, Adriana (francescaparihasti.com.au)
On her third release as a leader, the accomplished pianist-composer from Indonesia, who studied at the Sydney Conservatory in Australia before moving to New York City, is joined by some stellar fellow players on the NYC scene in guitarist Nic Vardanega, bassist Drew Gress, alto saxophonist Dave Pietro, trombonist Alan Ferber, trumpeter Michael Rodriguez and drummer Josh Roberts. A tribute to the memory of her mother, who passed away in May of 2017, Adriana is Prihasti's way of expressing grief through writing and playing music. Her gift for melody, which flows naturally throughout this appealing release, is like a healing balm The title track is a gently reflective statement with Ferber, Rodriquez and Vardanega carrying the poignant melody in unisons before each breaks away for affecting solos. "The Wind Chimes" is a buoyant showcase for Pietro's urgent soprano sax work and the leader's thoughtfully lyrical piano playing. Equally affecting are her lightly swinging waltz-time number "The Emperor," the rhythmically tricky "Time Traveller" and her gorgeous ballad, "Stargazer," a showcase for Ferber's expressive trombone solo. "Verano" is an uplifting vehicle brimming with inventive solos from Vardanega, Rodriguez and the leader while the quirky 7/4 blues, "Johnny," features some impassioned blowing from guitarist Vardanega and trombonist Ferber. For those not already in the know, this septet recording will serve as an introduction this emerging jazz talent.
8. Grace Kelly, GO TiME: Live in LA (gracekellymusic.com)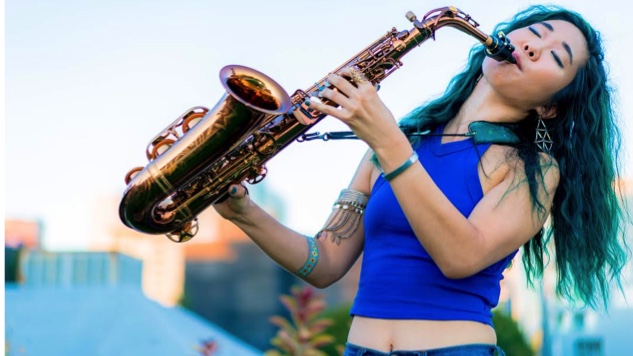 Photo by Mehdi Hassine
After coming up under the tutelage of alto sax masters Lee Konitz and Phil Woods (appearing with the former at age 16 on 2008's GRACEfulLEE and with the latter on 2011's Man with the Hat), the charismatic alto saxophonist has chosen to go far afield from her straight ahead jazz roots on this cutting edge project that blends electronic, jazz and pop music. From the trance dance opener, "Unbroken Wings," brimming with synth sequencers, bubbling electric bass lines and crisp, muscular backbeats, it's clear that the New England-born prodigy (she recorded her first album at age 12) is going in a different direction on this audacious outing. Recorded before a live audience, GO TiME is full of surprises for jazz fans who only know Kelly from her straight ahead jazz work. She throws curveballs here, delivering sexy vocals and sax work on a beat conscious reworking of The Beatles' "Come Together," then offering frisky vocals along with pungent alto on a playful rendition of Louis Jordan's "Is You Is Or Is You Ain't My Baby" that features percussive breaks from tap dancer Sarah Reich. Kelly attains Norah Jones-like intimacy on her romantic reading of Van Morrison's "Crazy Love." And on the strictly instrumental side, she showcases her alto sax virtuosity on a faithful romp through Chick Corea's "Spain" before showing her smooth jazz colors on a discofied remix of "Unbroken Wings." Kelly also features Jon Batiste (she performed as a member of Batiste's Stay Human house band on The Late Show With Stephen Colbert) on vocals and melodica on the upbeat, New Orleans-flavored closer, "Lemons Make Lemonade."
(Kelly will kick off her album release tour in April at Boston's City Winery on April 13 and New York City's Joe's Pub on April 20).
9. Five Play, Live from the Firehouse Stage (divajazz.com)
Sherrie Maricle, the irrepressibly swinging leader of the DIVA Jazz Orchestra for the past 25 years, showcases a smaller quintet from within the large ensemble on this spirited live outing. Each of the members — tenor saxophonist Janelle Reichman, trumpeter Jami Dauber, pianist Tomoko Ohno, bassist Noriko Ueda and the leader herself — is an outstanding soloist as well as a consummate accompanist. They each get a solo taste on the exuberant shuffle-swing opener, "T-Bone Special." Maricle traverses the kit in brisk fashion during her extended, colorful drum solo on Ohno's smooth grooving "Samba De Sorvete," then the leader settles into some supple brushwork beneath Reichman's extroverted clarinet and Dauber's expressive muted trumpet work on an alluring rendition of Duke Ellington's "Just Please Me." Pianist Ohno distinguishes herself on bassist Ueda's affecting "Uneven Pieces" and her own burner, "The Pilot," which has Dauber and Reichman engaging in tight unisons and heated call-and-response exchanges. Maricle unleashes some slick brushwork on the kit on this swinger. This delightful quintet outing includes a sublime reading of Jimmy Van Heusen's ballad "Nancy with the Laughing Face" that has bassist Ueda carrying the poignant melody, a jaunty arrangement of "I Can't Give You Anything But Love" inspired by tap dancer Maurice Hines and an intimate clarinet-bass breakdown on Reichman's buoyant jazz waltz "Cirlces." It closes on a high note with Maricle's uptempo barn burner, "The Time Being," which bristles with energy and showcases a series of outstanding solos from the talented crew. (Maurice Hines & The DIVA Jazz Orchestra will be appearing in New York at Feinstein's/54 Below on Friday, June 7 and Saturday, June 8).
10. Ellen Rowe Octet, Momentum: Portraits of Women in Motion (Smokin' Sleddog Records)
Pianist-composer Rowe leads an all-female 'little big band' on tributes to admirable women in disciplines ranging from music to social justice to environmental advocacy, sports and politics. The simmering, churchy "Ain't I a Woman" (dedicated to heroines of the civil rights movement such as Fannie Lou Harner, Daisy Bates and Septima Clark) features a pungent trombone solo by Melissa Gardner. The buoyant "R.F.P. (Relentless Forward Progress)," honoring female distance runners Joan Benoit Samuelson and Meghan Canfield, is a modernist ensemble piece that uplifts as it swings, courtesy of sparkling solos from tenor saxophonist Virginia Mayhew and trumpeter Ingrid Jensen. The angular, Monkish "Soul Keeper" pays tribute to the late pianist-composer Geri Allen and showcases the leader's two-fisted Mary Lou Williams-influenced stride and boogie woogie piano work. Mayhew and Gardiner also turn in exceptional solos on this spirited, bluesy jam. Rowe's lyrical "Anthem," dedicated to her teenage inspirations Carole King and Joni Mitchell, is a showcase for guest clarinetist Janelle Reichman. "The Guardians," a reflective ode to wildlife advocates Jane Goodall and Diane Fossey, features profoundly expressive solos from baritone sax ace Lisa Parrot and the leader while the bold, brassy strut "Game, Set and Match," sparked by urgent solos from Mayhew, Jensen and Parrott, celebrates tennis pioneers Billie Jean King and Martina Navratilova. The lovely jazz waltz "The First Lady (No, Not You Melania)" is dedicated to Michelle Obama, whom the composer calls "the epitome of class and grace and a very powerful role model for young women everywhere. The outstanding collection closes on an affecting note with Rowe's wonderfully expressive solo piano piece, "Song of the Meadowlark."
11. Lioness, Pride & Joy (Posi-Tone)
This new six-member female collective makes its auspicious debut with these 12 engaging tracks showcasing the budding talents of alto saxophonist Alexa Tarantino, tenor saxophonist Jenny Hill and baritone saxophonist Lauren Sevian on the frontline with guitarist Amanda Monaco, organist Akiko Tsuruga and drummer Allison Miller providing the rhythm. Hill's buoyant calypso "Sunny Day Pal" features bright, bubbly solos from the tenors and guitarist Monaco while Sevian's "Down for the Count" is a burner based on the changes to John Coltrane's "Countdown" that features some blistering exchanges between baritone and alto saxes. Drummer Miller also puts up a loose, New Orleans shuffle groove on her catchy "Mad Time," a great solo vehicle for Tsuruga's greasy B-3 chops. Elsewhere, this Lioness has its way with Aretha Franklin's funk classic "Think" and Carla Bley's dreamy Latin-tinged bolero, "Ida Lupino," a showcase for Tarantino's soaring alto work. Monaco delivers a faithful reading of Emily Remler's mellow and elegant "Mocha Spice" while the group's interpretation of Melba Liston's classy mid-tempo swinger "You Don't Say" is brimming with stellar solos from Monaco, Sevian and Tsuruga. For sheer chops, there's Tarantino's runaway burner "Hurry Up and Wait," featuring blazing solos from alto and bari saxes. And for sheer old school organ lounge soul-jazz there's Tsuruga's earthy closer, "Funky Girl," a phrase that aptly describes the B-3 burner herself.
12. Amina Figarova, Road to the Sun (Am-Fi Records)
The accomplished Azerbaijani pianist-composer, born on the Russian side of the Iron Curtain and now living in Manhattan, leads a dynamic sextet augmented by three-piece string section on her stunning 12th release as a leader. Her husband, flutist Bart Platteau, weaves intricate lines with trumpeter Alex Pope Norris and tenor saxophonist Marc Mommas on the exhilarating 12/8 title track that kicks off this ambitious collection before they shift gears to the moody "All We Dance," a thoughtfully reflective vehicle for Figarova's expressive keyboard solo. The driving "Snow Mess" is a kinetic show-stopper highlighted by formidable solos from trumpeter Norris and tenor saxophonist Wayne Escoffery. The lovely, flowing "Explorations," the jazz canon "Cool Breeze" and the complex suite "Tumbling Prisms" all reflect the composer's classical roots, though she leaves plenty of room for searching by individual soloists alongtheu way. The gentle ballad "Morning Mist" is a showcase for Figarova's cascading piano and Norris' lyrical flugelhorn work while her affecting "Fall Eclipse" makes brilliant use of the strings and features some serious solo stretching by flutist Plateau and trumpeter Norris. Other pieces like the ultra-hip "On My Way" and the closer, "No Time For," are skillfully rendered and steeped in the swinging tradition of Figarova's favorite jazz composers Wayne Shorter, Miles Davis, Herbie Hancock and Chick Corea. Chockfull of intelligent writing, outstanding solos and superb ensemble playing and surging with energy from start to finish, Road to the Sun stands one of Figarova's finest outings to date and ranks among the very best of the year so far.