Jerkcurb Reimagines Nighttime Music from the Confines of His Lonely Apartment on Air Con Eden
The London-based crooner picks up the pieces after a devastating breakup
Music
Reviews
Jerkcurb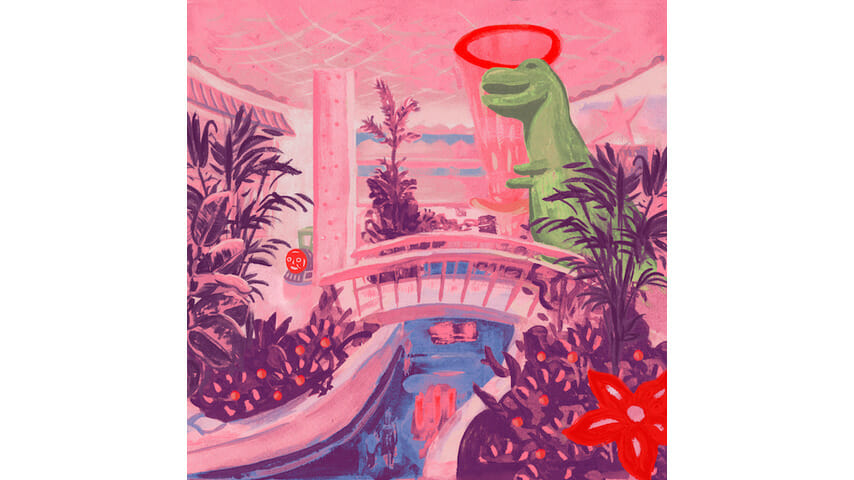 London-based Jacob Read, better known by his moniker Jerkcurb, spends a lot of time trying to create a mysterious, Nick Cave-esque aura—a lovelorn, sleazy nightclub-going lounge singer. That character has been popping up in music quite a bit lately: It's what Alex Turner was shooting for on last year's Tranquility Base Hotel & Casino, and who Father John Misty has been describing since "Funtimes in Babylon." Hell, watch any of Jerkcurb's music videos and you'll get it.
But despite the image Read's been so desperately chasing, a deeper look behind the downtempo, shadowy romantic hues of his debut shows that isn't necessarily who he really is, but more who he wishes he could be. His bio consistently refers to making music "for the night," and his debut album, Air Con Eden is exactly that: It's music for the night, not a retelling of of his actual experiences. He's an artist writing songs about a sought-after imaginary life. And had you not sat down and actually read the lyrics, he would have done convincing job as well.
Take the title track for instance. "So I'll be in my Air Conditioned Eden / Where the seasons never change and they won't go away / That's where I want to be / To live inside of a dream / Of life behind the scenes," Read sings in his baritone, recalling both the schmaltz of Matt Maltese and the rasp of King Krule (a childhood friend and neighbor). Stuck in his apartment, he's a homebody imagining the world outside, yet unable to immerse himself in it.
This idea pops up throughout Air Con Eden: Eating a roast chicken alone ("Wishbones") and shamefully enjoying a PB&J in his bed ("Midnight Snack"), crumbs and all. Maybe he's getting over a relationship—jealousy comes into play quite a bit here as well—or maybe he's just a dreamer, unable to capitalize on the things he truly wants ("If I could only motivate my mind / I'd make this work for a bit more time" he sings on "Water"). He's not sure if his glass is half empty or half full, but he knows his "glass has always been the fullest and it won't get any fuller."
The constant push-pull between Read's expectation (his seedy lounge rock) and the reality behind his lyrics is what makes Air Con Eden such a fascinating listen. And it's a gorgeous, slow-burning record throughout. "Timelapse Tulip" is longing, nostalgic look back at a relationship that has long-since faded, in which Read wonders if his memories ("I still believe / We had a slow dance / Between the shades of / Your dad's apartment") even existed at all. "Somerton Beach" combines the vibe-y Mac DeMarco guitars from Salad Days's B-side with that King Krule-esque weirdness. "Aquarena Springs" features a guitar line that feels ripped from Jeff Buckley's solo Sin-é residency while Read describes the breakdown of a romance: "I know love is infinite / But sometimes I cannot see tornadoes in the mist heading straight towards me."
But nowhere is his homebody melancholy more apparent, and stunningly beautiful, than on "Water," a largely solo piano track near the beginning of side two. The drum samples and perfectly toned guitars are long gone as Read strips everything away and sings about dropping everything to follow love across the Atlantic. "If I could only motivate my mind / I'd make this work for a bit more time / Save some money from a job / And fly over there," he sings in a whisper so hushed, it's nearly impossible to hear without turning the volume up and listening extremely closely. It's the emotional crux of the record—and it's incredibly easy to miss.
By the time we get to "Night on Earth," a song that predates the release of Air Con Eden by over three whole years, it's clear the song takes on a much different meaning in the present. Though he describes the breakdown of a relationship in detail throughout the record, it ends with a song that was likely written in that romance's early days, set on the last night on Earth. "Just hold me and say / 'I wanna spend it with you,'" he croons, a lyric that's infinitely more heartbreaking now that we know what happens years later: A brooding singer/songwriter is still reliving that relationship piece-by-piece, alone in his apartment, wondering if that happiness he felt in the comfort of another ever really happened in the first place.