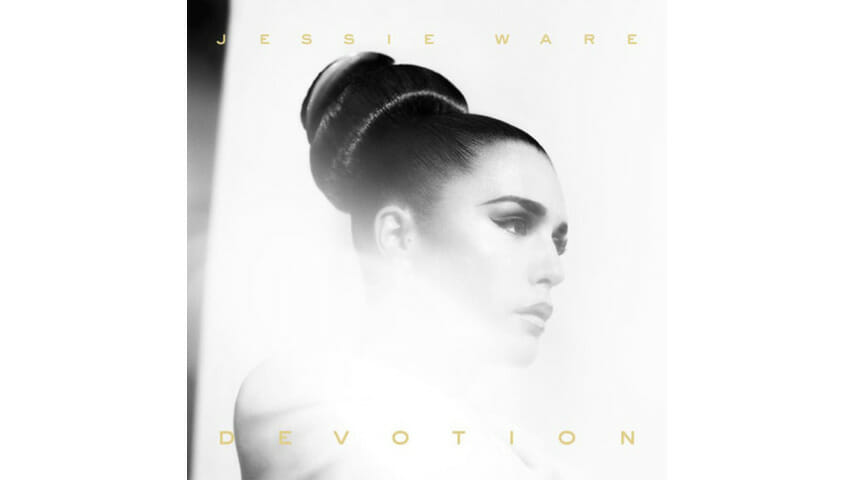 Eight months after the release of her debut LP in her native UK, Jessie Ware is finally getting a proper physical release in America for Devotion with four bonus tracks added to the original recording and one track altered due to legal complications. As Ware is already able to sell-out venues of a thousand people and appear in the middle of stacked festival lineups, the impression is that her original release did not have trouble spreading in the States as solely a digital or import offering. Still, whether you are late to the game or not, Devotion's repackaging is a chance to see how the album fares with a bit of refection and time.
Jessie Ware's backstory is not particularly dramatic, but there is an aspect to it that speaks to the masses, primarily in her maintained attitude that she is quite ordinary. Ware was not someone looking for pop stardom her whole life, but, rather, took at stab at being a soccer reporter before taking jobs as a backup singer at the encouragement of her mother. As recently as a year ago, she was cohabiting with her mother while finishing her major label debut. But, tales of people that the audience sees as reflections of themselves are likely to resonate more, as who wouldn't want to be believe that deep down there is something waiting to be discovered in themselves, and like Jessie Ware, they just need the stars to align for it to be discovered?
Where Ware's history differs from fantasies is that her voice truly is special. It was chance maybe that got her into a room with SBTRKT, but it was ability that got her vocal take used on the "Nervous" single. Suddenly, Ware had a record deal and was thrust into the pop-star fantasy she had put to rest in favor of practicality.
In this light, Devotion's quality was a great uncertainty, with only Ware's voice a known commodity. But, Ware's songwriting plays to not only her vocal talents, but to her taste level. Her previous collaborations with SBTRKT and Joker showed Ware to have an appreciation of dance music's more lofty names, an entry point to a pop career that you just aren't going to get from a Micky Mouse Club graduate. A recent interview with Adele had the singer mention that she hadn't begun to take meetings concerning her next album and that she wasn't sure what sounds were in style at the moment. Ware will never have this difficulty, as interviews have revealed a knowledge of many different realms of music's past and present.
And that makes Devotion sound a bit like pop music's future. Devotion is not composed of club bangers, but subtle, textural and groove-focused beats. They provide enough to keep the album fresh and forward-thinking, but never really remove the focus from Ware's voice, words and melodies.
At their peak, they care capable of creating a classic. "Wildest Moments" feels like it could carry the planet on its shoulders, wise and comforting, able to sell a line like "wherever there's smoke, there'll soon be fire," despite its lack of sense. "Sweet Talk" is close to an equal, speaking both to classic soul music and to some of Ware's pop heroes from the '80s and '90s. And following it with "If You're Never Gonna Move" (previously the Big Pun sampling "110%" that was forced to change both the sample and name for legal reasons), a song that wrestles with near-campy tip-toeing vocal lines with a rap sample, shows Ware as a risk-taker, able to blend a traditional pop song like "Sweet Talk" with electronic flourishes, making it impressive even if it's not completely interesting.
The new songs on this already-strong collection only elevate the ceiling of Ware's potential. "Imagine It Was Us" channels Michael Jackson in the most danceable track under her own name that she has released yet. Its addition to Devotion is dynamic, something you could have easily heard on Justified or Bad. Throw in remixes featuring of-the-moment artists A$AP Rocky and Disclosure, and the updated album might have filled any holes found in its original form. Without these, Ware sounded a little tentative, afraid of jumping in the deep end. But, now, having survived a lawsuit and receiving acclaim from media of all genres, Ware has no excuses to not go all in. And a Jessie Ware with the confidence to match her talent could be very special.