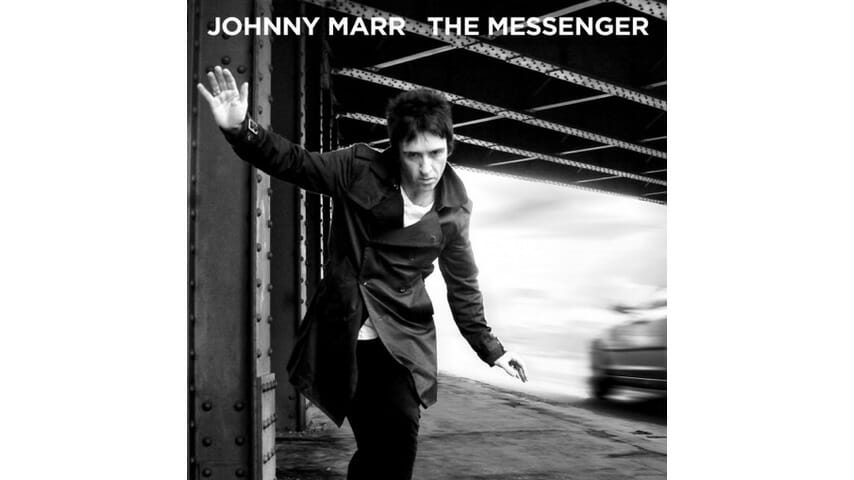 After playing the proverbial second fiddle for decades, it's nice to finally hear a complete soundscape nearly 100 percent assembled by Johnny Marr. If you're even a casual Smiths fan, you know Marr knows his guitar like Mel did Audrey (but maybe a little less paraphilia-sounding than that). His first proper solo album, The Messenger, packs a lot of legal axe-lovin'.
I cannot imagine how Marr's vocals would have spiked or deflated a harmony when paired with Morrissey—and guessing from their public disinterest with each other, we probably never will. But dang, it's nice to hear Marr take the main mic with his soft yet assertive voice. With this release, it's not just lead vocals and guitar he covers—Marr also wrote and produced the entire joint. As the news release reads, it's his "musical vision exactly as he envisioned on the first solo album of his career." So there is that. But also when he opens his mouth to let the lines pour forth, I generally don't know what he's talking about.
"Generate! Generate!" gallops with a fresh necessity and jangle guitars, but when he sings "I come by and all is fly/ Generate, generate, generate/ You got no how, I got to know now/ Calculate, calculate, calculate" I want to get it and like it, but neither happen. "Lockdown" makes a little more sense, bopping around the idea of identity and the sense of origin and belonging associated with it—it just lacks poetry. It's straightforward and a little bland. For a dude with such a decorated creative history—riding high with The Smiths as a green teen and into adulthood, shenanigans with Modest Mouse, countless awards for his innovative guitar stylings—it's flat. As long as you ignore the single lyric component of his otherwise lovely vocals, there's no harm.
Ultimately, Marr made an album almost wholly by himself—something a lot of us have been waiting for. It has some great guitar—satisfying our expectations on that front—and doesn't offend. It's a great record to throw on when DJing your parents' Welcome To Spring community mixer. It's something you might expect to hear at a cool professor's apartment. Both those scenarios are good like how a vanilla ice-cream cone is good. It's instantly familiar, but upon completion, you're still underwhelmed and perhaps interested in a nap. Your life isn't changed.
Perhaps Marr needs to go on vacation with Issac Brock or at least join his book club. We know Marr can riff; now let's hear something else.