Watch Radiohead's Jonny Greenwood Perform with Junun on Colbert
Photos by Scott Kowalchyk/CBS
Music
News
Jonny Greenwood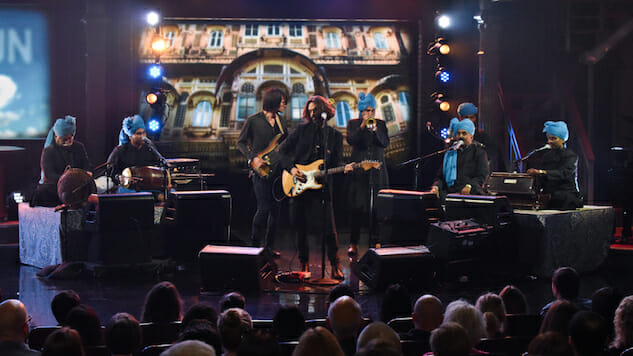 All at once the distinguished lead guitarist of Radiohead, film score composer for movies like Phantom Thread and collaborator with the eclectic collective Junun, Jonny Greenwood is a jack of all trades. That last pursuit, influenced by a hamper of Eastern sounds and styles, is the project of Greenwood, Israeli composer Shye Ben Tzur and Indian band The Rajasthan Express. Junun made their American late-night debut Monday, performing the title track from their sole self-titled record on The Late Show with Stephen Colbert. Watch the very textured performance go down below.
Greenwood, who often switches to bass when in Junun mode, is both opener and headliner on Radiohead's ongoing tour, as Junun are supporting the U.K. mega-act on their North American run. Find their current tour schedule, which kicks off in Chicago and finishes up in Philadelphia, here. Greenwood also released new music on Tuesday, but don't head for Spotify just yet—"88 (No. 1) (Piano Solo)" is only available in sheet music form. Check out Greenwood's announcement via Twitter below.
New piano music on paper out today. It's inspired by Glen Gould, and by the glorious mechanics of the thing. https://t.co/4SRUHR8Ytl@kat_tinker (who played this version first) @JRhodesPianist (the only other pianist I follow) pic.twitter.com/74OFYFuoHK

— Jonny Greenwood (@JnnyG) July 10, 2018
Paul Thomas Anderson, who directed Phantom Thread, made a documentary about Junun's 2015 recording sessions. Greenwood's film work doesn't begin and end with Anderson's, though: Explore the rest of his filmography with our list of Greenwood's best movie scores.
Further down below, listen to Paste vault audio from a 1995 Radiohead show in New York.