Watch: Justin Bieber Dodges Water Bottle Onstage After Dismissing Request to Sing "Despacito"
Photo by Dave Hogan/Getty
Music
Video
Justin Bieber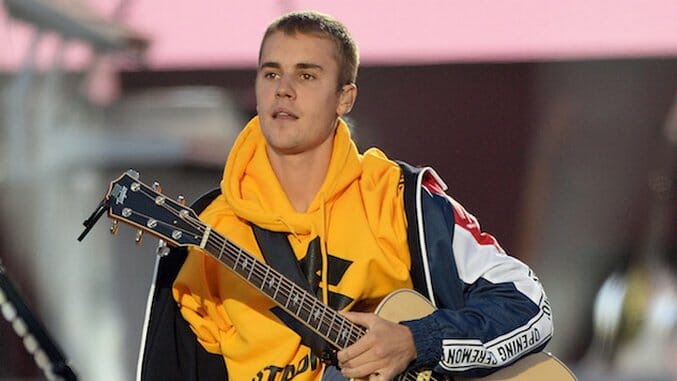 Justin Bieber can't speak Spanish. We all know this by now. Still, that doesn't stop people from asking him to perform his number-one hit "Despacito" and getting angry when he's unable to do so.
His inability to perform the track at Sweden's Summerburst Festival earned him moans of disapproval from the crowd and a very special water bottle from one especially upset attendee, which Bieber impressively dodged. While water bottle throwing isn't a great response, it's really not unreasonable to request that Bieber sing the song. We'll cut him a little slack because, as Luis Fonsi pointed out, Bieber's part of the track is difficult to learn even for Spanish speakers. Still, it shouldn't be that hard to learn for someone who literally recorded the song and is making money from its success.
A couple of weeks ago, we saw Bieber butcher the words to "Despacito" at New York's 1 OAK club and slip in some questionable lyrics—i.e., "I don't know the words so I say Dorito"—causing people to question if he took a dip in the Latin music pond without respecting the culture.
All of this could be avoided if he would just learn the words. Please, Justin, we're begging you: just learn the words. We'll hire you a Spanish tutor. Learn. The. Words.
Watch Bieber casually dodge a water bottle above.