The Kacey Musgraves Christmas Show Is Holiday Camp Done Right
Deck the halls with Kacey and Co.? Don't mind if we do!
Photos Courtesy of Amazon
Music
Features
Kacey Musgraves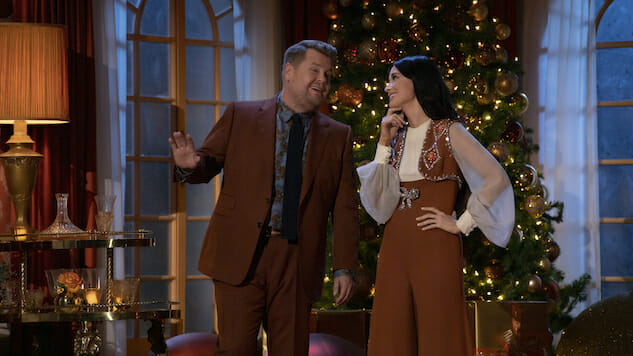 The New York Times recently asked a question that seems to be increasingly relevant in 2019: "Is there anything we can all agree on?" Their answer: Yes. It's Dolly Parton. We may quibble about sports and shout our political takes across the Thanksgiving table, but when it comes to the blonde country queen, there's just no cause for debate. Like her hair, she's bulletproof. Untouchable. Radiant. In other words, Dolly Parton is good, clean family fun, with just enough edge to keep things interesting.
Kacey Musgraves could easily be her millennial successor. The weed-smokin' country-singer-turned-pop-culture-darling is popular with all ages and genders, critics and fans, parents and kids. So when news broke that the Texas-born artist would star in her own Christmas special on Amazon Prime, the question as to whether or not it would be a delight to behold was as easy as asking "How do you feel about Dolly Parton?" She didn't' need to do anything fancy to make this celebration special—Kacey and her shiny disposition are bright enough to light up any Christmas tree.
But not only did Musgraves flash a smile and perform Christmas classics, most of which also appeared on her 2016 holiday album A Very Kacey Christmas, she also brought out all the glitter, sparkle, shine, and shimmer that made for a truly campy Christmas celebration. Think the old Betty Crocker Christmas cookbook in your grandma's cupboard filled with Jell-O mold recipes, or Jimmy Fallon wiggling along to "I Wish It Was Christmas Today," or a Christmas tree drowning in those stringy silver icicles. We're talkin' vintage, schmaltzy Christmas glam, and Kacey—along with a seemingly random but entertaining cast of characters—brings it to life with a wink and a curtsy. The special is not without its faults (a James Corden snow bit gets old real quick), but if you're simply after glitz and good vibes this holiday season, look no further than this Christmas-cookie-cutter event.
The special bounces from one duet to another as Musgraves and her band make last-minute preparations for Christmas. The highlight in the tracklist, which was also released separately as a recorded entity on DSPs, is "Glittery," Musgraves' new holiday original written especially for the occasion. It's a tuneful love song coated in chocolate and bespeckled with powdered sugar which she performs here with pop singer Troye Sivan. It feels like a new romantic holiday staple à la Ella Fitzgerald's recording of "I've Got My Love To Keep Me Warm," or a much less problematic version of "Baby It's Cold Outside." These harmonies? Shiver-worthy—and consensual!
"Glittery" is a treat, but all the star-studded duets performed throughout this aggressively festive party are memorable, and they run the emotional gamut. Leon Bridges and Musgraves take to the ceiling for a performance of their forlorn Christmas song "Present Without A Bow," which the pair also recorded for A Very Kacey Christmas, and Camila Cabelo brings some pizazz to "Rockin' Around The Christmas Tree." Things take a turn for the goofy when our hostess and Fred Armisen attempt to perform a somber "Silent Night," only to be interrupted by a noisy carpenter. And the special wouldn't be complete without the patron saint of Christmas duets, Zooey Deschanel, who magically appears—from underneath a gold sheet, out of nowhere!—for the ukulele-backed "Mele Kalikimaka." Perhaps most notably, the always-brooding Lana Del Rey was perfectly cast as Musgraves' counterpart in the bittersweet "I'll Be Home For Christmas" duet, which will have you researching flights home quicker than I can say "sugarplum." Throughout the show, Musgraves sings with pop artists and comedians, reality stars and Rockettes. It's official—this "country" star sounds great with everyone.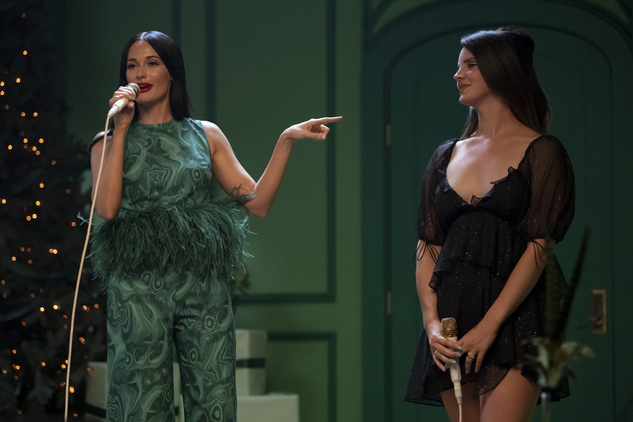 Image via Amazon
Musgraves also goes solo for two A Very Kacey Christmas tracks: a plucky rendition of "Have Yourself A Merry Little Christmas" and another original, the bittersweet "Christmas Makes Me Cry" (or, as host Dan Levy would have it, Kacey's "emo moment in her bedroom"). Kendall Jenner doesn't sing (thank heavens) but does appear for a silly Love Actually spoof in which she tries to recruit Musgraves, also the owner of a "K"-name, to attend the Kardashian/Jenner Christmas celebration in her place.
Just when you think you've seen it all, there's another knock at the door. "Who could that be?" Kacey quips. "I don't even think I know any more duets." And then the most important guest of all arrives: Musgraves' real-life Nana, the same "Grandma" of "Slow Burn" fame, who "cried when I pierced my nose." Please excuse us while we phone our own Nanas right this very second.
And we'd be remiss not to mention Musgraves' outfits, which are truly all show-stoppers. She dons a rhinestone-studded gingerbread pantsuit in the opening number before getting caught in a cherry-red vintage gown. The next costume change is into a cranberry-colored turtleneck one-piece, followed by another jumpsuit—this one Christmas-tree green. Between acts, she slips into a silver midi number that I'd sell my entire closet for. And the final look? A dazzling solid-gold jumpsuit dripping in excessive fringe that looks like it was pulled off the rack on set of a Cher music video. If you watch this special for the eye candy and nothing more, that would actually be ok.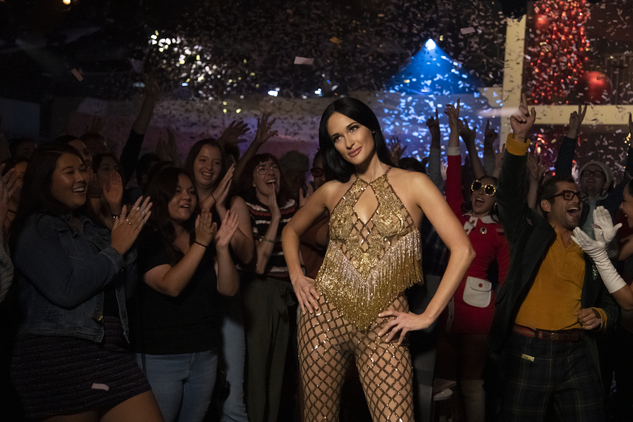 Image via Amazon
The only moment in the special's 43 minutes that could threaten to polarize an otherwise peaceful living room is a cheeky remark courtesy of the always-sassy Daniel Levy (of Schitt's Creek fame) about Musgraves' favorite holiday being Christmas, not President's Day. But even if you, unlike Musgraves (who has always been very politically forthright, especially in support of the LGBTQ+ community), are a fan of the orange man in the White House, you'd still be more likely to chuckle than lose your cool. That's just the power of Kacey Musgraves, the reigning queen of country, camp and Christmas cheer. The only thing left to say is "Yeehaw."
The Kacey Musgraves Christmas Show is streaming now on Amazon Prime.