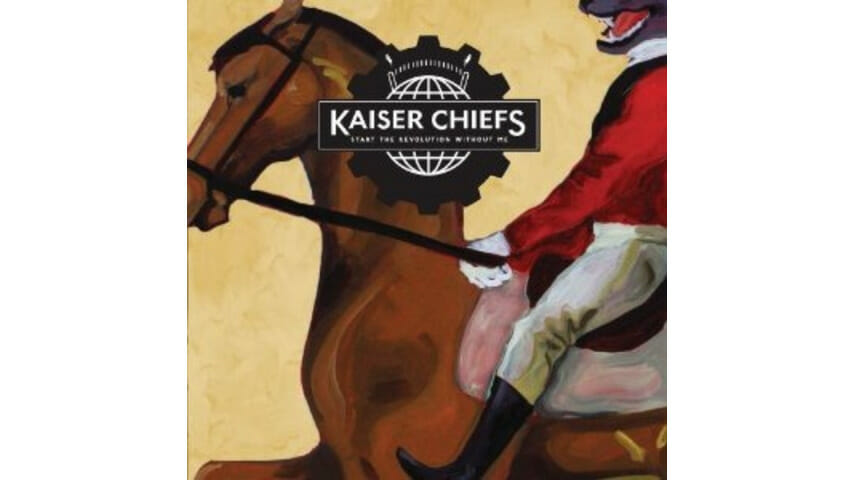 When Kaiser Chiefs, then one of several arriving-in-bulk buzzy British rock bands (despite existing for nearly a decade prior), performed at Lollapalooza in 2005, frontman Ricky Wilson wasn't feeling too well. His illness caused him to lose his voice, and a lucky fan got to step in and belt out "Oh My God" in his stead. Wilson remained on stage, red-faced and dancing like a boss, and the band provided one of the most energetic sets of the weekend.
The lads from Leeds spent the next several years on a tear, releasing three albums and touring the world, but one can only dance on stage with a cold so many times. Kaiser Chiefs took some time off to regroup, and Start the Revolution Without Me is the result of their readiness to return from hiatus. And it sounds like they've never left, with many recurring tropes: the same guitars and "oh-ohs," the same little quips and one-liners ("It feels like I broke my heart again, but it's just a sprain," Wilson wails on "Heard It Break"), the same driving, hooky sound that almost serves as a sampler course of UK rock history of the past 25 years. The punk and New Wave influences are all over; the steel drums on "Break" hint at the Caribbean influence on British musicians. The incantatory chorus and orchestral interlude of "Starts With Nothing" carry slight hints of "Cutter" by Echo & The Bunnymen. "Things Change" is Tears for Fears and Frankie Goes to Hollywood and delightful in its embracing of synths and the silliness of the era. The oh-so-funky "I Can't Mind My Own Business" is more reminiscent of another English act returning to the circuit—Blur. Echoes of "Girls and Boys" are present, especially on the sneering, fuzz-laden chorus.
That's not to say the album is entirely built on the bricks of Brit-rockers past, and not to say that even if it was, this is entirely a detriment to the Chiefs. If you're going to work in those influences, you could do far worse than Blur or the New Wave movement. But more importantly, there are plenty of evident moments exhibiting those things the Chiefs have built their own sound on. Opener "Little Shocks" conjures the same creepy-cool vibe of the best tracks from 2004's Employment, with Ricky Wilson spitting the hook, a mouthful of "I wish I could give you undivided attention every minute of the day but I can't," in a rapid-fire style. "Kinda Girl You Are" is the bouncy, fun guitar track with the Dick Dale-saluting intro riff, the "oh-oh-ohs," and the classic transatlantic boy-meets-girl story. "I thought you were American!" Wilson declares, and the hook will remain buried in your brain all day like a salmon with a new glowing lure lip ring.
It seems appropriate that Kaiser Chiefs named themselves after a soccer team closely related to their hometown squad of Leeds United. Like the Whites (LUFC's nickname, duh), they've broken from third-tier status, produced quality results and amassed a loyal following, but it's hard not to listen to the album and catch hints of greater glories that have already gone by. This won't be their Premiership run, but don't count them out just yet.