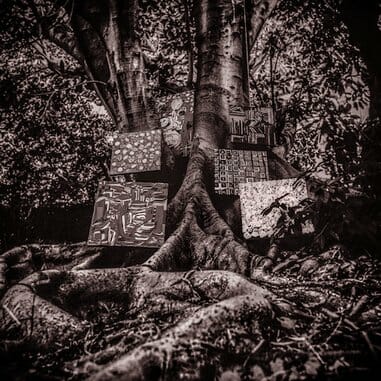 Note by note and phrase by phrase, Harmony of Difference, the new EP by saxophonist Kamasi Washington, builds a towering euphoria within the short span of six songs. The follow-up to his acclaimed 2015 debut, The Epic, Harmony was premiered at the 2017 Whitney Biennial with an accompanying film and related paintings, but the music is rich and resonant on its own in this release.
Harmony of Difference is the ideal outgrowth of The Epic, an extension and expansion of the sounds, themes, and expressions of black identity in America that make Washington's compositions relevant and riveting. Conceived as a six-part suite exploring the concept of counterpoint, the EP synthesizes rhythms, melodies, and improv to create a polyphonic soundscape that is vast and ocean-like, rushing at you in swells before bearing you out to sea to succumb to complete submersion. Though it approaches smooth jazz at times, Harmony of Difference is tempered by driving percussion and brassy horns that burble and exclaim. The first five songs of the EP—"Desire," "Humility," "Knowledge," "Perspective," and "Integrity"—complement and build on one another, eventually culminating in "Truth," the sixth and final track.
Highlights include "Humility," which fuses a big band sound with jazz improv, opening up onto tight sections of piano and horn solos that wail and churn to create an energy that is no less than electric. "Integrity" echoes with calypso- and Tropicália-inspired rhythms and percussion, including the soft squeaks of a cuíca.
More than thirteen minutes long, "Truth" is the heart of the EP, heavy on strings and choral interludes, woven together by an additional four violinists; two viola players; two cellists; flute, alto saxophone, electric bass, guitar, and vibraphone players; and a nine-person choir. That's on top of Washington's band for the other five songs, which features trombone, trumpet, piano, keyboards, upright bass, drums, and other percussion—certainly nothing to sneeze at, but practically barebones compared to the 60+ musicians and singers it took to record The Epic. The choral components of this song also harken back to Washington's debut, sonorous and melodramatic in a manner that would sound right at home on the soundtrack of a 1950s Hollywood epic. The result is a complex and textural song that combines elements of the first five songs, layering the familiar melodies and rhythms to create something new and greater than the individual components.
Like Washington's earlier work, this is a release that unabashedly expresses and probes the musician's love of John Coltrane, from the horn stylings to the subtler spiritual and philosophical layers in every phrasing. Echoes of Pharoah Sanders and McCoy Tyner are also present here but Washington's music is a far cry from hero-worshipping or derivative. As a composer and musician, he suffuses his work with the sounds of his influences while breathing new energy and relevancy into their styles. On Harmony of Difference, Washington's work remains as substantial and compelling as ever, and with any luck this EP is setting the scene for another, longer release from him soon.