Revisit Kamasi Washington's Killer 2016 Performance at Daytrotter
On Jan. 19, 2016, the breakout jazz star performed new songs in Brooklyn.
Photo: Getty Images
Music
Features
Kamasi Washington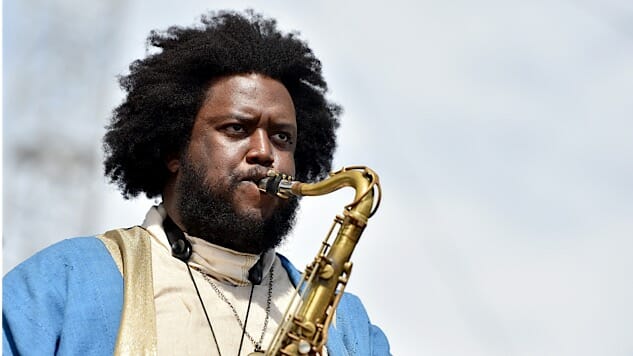 Did you know that Paste owns the world's largest collection of live music recordings? It's true! And what's even crazier, it's all free—hundreds of thousands of exclusive songs, concerts and videos that you can listen to and watch right here at Paste.com, from Dizzy Gillespie to The Kinks to The Police to LCD Soundsystem. Every day, we'll dig through the archive for the coolest recording we have from that date in history. Search and enjoy!
On Jan. 19, 2016, contemporary tenor saxophonist and jazz extraordinaire Kamasi Washington played songs from his acclaimed full-length (three-disc!) debut, The Epic, at Room 17 in Brooklyn. Washington, a 36-year-old Californian, has already established himself as a skilled saxophonist, composer and producer, counting collaborations with jazz icons Herbie Hancock and Wayne Shorter among his early accomplishments, not to mention solo sets at Bonnaroo, Coachella and Electric Forest.
Like many great jazz musicians before him, Washington has broken the barriers of the genre, expanding its sound into the realms of hip hop and electronica with appearances on Kendrick Lamar's_ To Pimp a Butterfly_ and Flying Lotus's You're Dead!. In addition to his near three-hour The Epic in 2015, Washington's solo work includes an EP released last year, Harmony of Difference. (Read our review here.)
Listen to "Miss Understanding," off Washington's The Epic, from his Daytrotter session two years ago on this date.