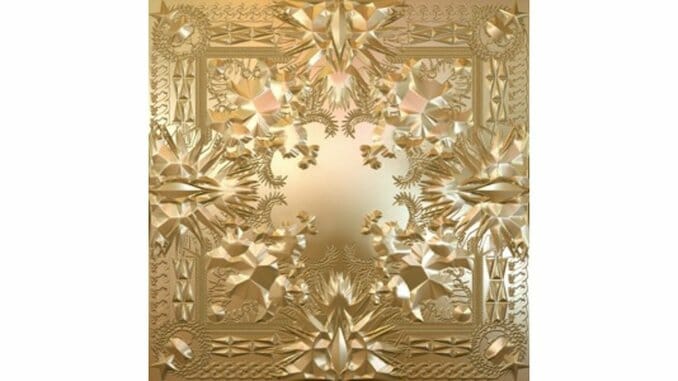 Strange that, for an album built around what might be the most star-studded duo collab in hip hop history, the first voice you hear on the highly anticipated Watch The Throne is neither Jay-Z's nor Kanye West's, but that of Odd Future soul freak Frank Ocean. "What's a God to a non-believer?" he croons over a four-to-the-floor pulse and strangled metal guitar riff. Kanye answers: "We formed our own religion; no sin as long as there's permission."
When it comes to hip hop, these two certainly have created a religion—worshipped by critics and fans alike, they've forever altered its history (Kanye with his lyrical soul bearing and genre-blurring production; Jay-Z with his simply untouchable flow). We all know the story: Kanye grew up idolizing Jay—and through his rising in the ranks as a producer, working on some of Jay's landmark LPs (2001's The Blueprint, 2003's The Black Album), the torch was metaphorically passed, culminating in West's larger-than-life solo career. While they've shared the stage on numerous occasions and popped in on each other's albums for occasional guest verses, their relationship has always remained somewhat mythological, scattered details of their history dispensed on Kanye's love-letter Graduation tribute, "Big Brother." Watch The Throne, then, could have resulted in a handful of presentations—but perhaps the most badass route would have been an epic two-sides-of-the-same-coin story with both rappers sharing their histories over some of the finest beats a studio can sprout.
Instead, Watch The Throne is as about as soulful as that gold-plated cover art. In lieu of revelatory lyrics, there are dick jokes and stacks of cash. The reason everybody on planet Earth loved Kanye's masterful My Beautiful Dark Twisted Fantasy (besides its game-changing instrumental prowess) was that you could hear a heart beating underneath all that bling. Throne is all swag, no spirit. But that doesn't mean it shouldn't still be amazing. Many critics are whining about the big-headed bitch and wealth brags (particularly in our age of economic disaster), but what Kanye West and Jay-Z albums have they been listening to? Overflowing ego is part of their DNA! The rub is that the content-less boasts are rarely balanced with glimpses into the minds of actual human beings, instead of caricature celebrities bathing in milk with naked models. More importantly, the endless swagger ("Heard Yeezy was racist / Well, it's only on one basis: I only like green faces") would be easier to swallow were it matched with the marvelous production levels with which these two have changed rap (and pop) music.
The beats on Throne are well-thought out and perfectly produced, but missing are the nutso, prog-rock layers of My Beautiful Dark Twisted Fantasy or…well, basically anything Kanye's ever produced for his own albums. The tones are grittier, loopier, and rougher around the edges, as if the duo (despite constant delays and the contributions of a dizzying array of outside producers) were operating on a "first take is the best take" basis. The positively hypnotic "N****s in Paris" proves that can be a very, very good thing—Jay sounds outright possessed, but his rhythmic gymnastics feel like spontaneous genius; the simple, synth-driven beat, meanwhile, works wonders with the most minimal of palettes.
More often, the sonics are strikingly dull. The repetitive synth and grunting vocal sample on "Gotta Have It" gets annoying about one-third of the way through, The Neptunes' signature hands-on funk nowhere to be found. "That's My Bitch" squanders a fantastic Elly Jackson-sung hook with a weak, Fruity Loops-level beat that should have never left the hard drive; the out-of-tune guitar on the first half of "Murder to Excellence" is simply painful to listen to. Some of these beats just barely creep out the speakers—the album was pieced together throughout various hotels across the country, and it frequently feels like they're keeping the mix at a politely quiet level, as to not disturb their sleeping neighbors.
It's no surprise that the finest tracks here are those in which the duo take a break guarding their invisible thrones. The stark ballad "Made in America" (featuring a solid but underwhelming Ocean hook) provides fascinating glimpses into Kanye's past, coupled with his trademark wordplay: "Started a little blog just to get some traffic / Old folks will tell you not to play in traffic / A million hits and the web crashes." In the Nina Simone-fueled/RZA-produced showstopper "New Day," both rappers cut the bullshit, dispensing life advice—learned the hard way—directly to their unborn sons: "I'll never let him ever hit the strip club; I learned the hard way that ain't the place to get love," goes one choked-up Kanye couplet. Jay's catharsis is even more poignant: "Sins of a father make your life 10 times harder / I just wanna take ya to a barber."
When two legends unite, you expect pure, unfiltered brilliance. Watch The Throne has moments of that. On the whole, this album is a half-hearted victory lap. It's a hungover surprise party in honor of two legends, hosted by the same two legends. It's, in short, a very listenable disappointment. But I, among millions, will continue worshipping at the venerable church of Kanye and Jay, even if I slept through most of this service.