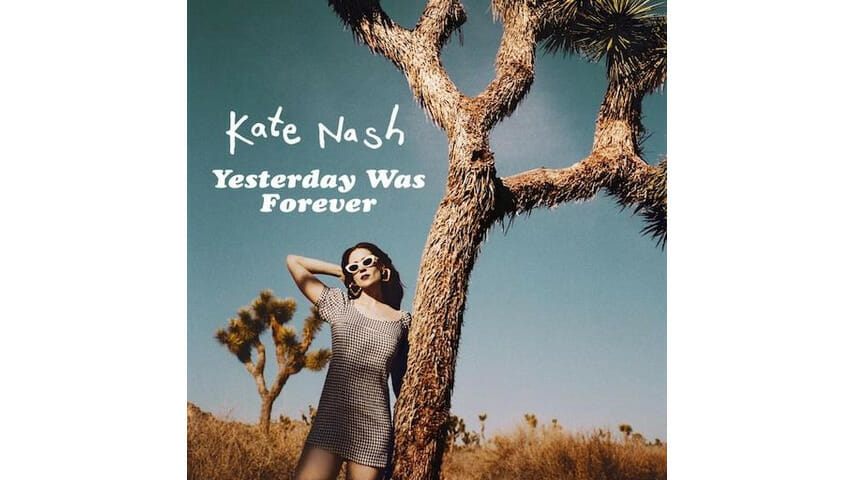 Back when Myspace actually mattered, Kate Nash came on the scene with her distinct British accent and a whimsical neuroses that peppered her piano-based, indie-pop tunes about life and love. Her first album Made Of Bricks went platinum and earned her a BRIT award, but after her second album failed to match its success, she was unceremoniously dropped from her label—via text.
A few years, one album, and one Kickstarter campaign later, Nash has dyed her hair, traded in her floral dresses and twee cardigans for leather and Lolita sunglasses, starred in Netflix's GLOW as the air-headed Brit hooking up with Marc Maron and majorly popped-up her sound. It's this new persona that populates the aptly-named Yesterday Was Forever, a collection of songs as varied in genre as they are in quality.
She tries her hand at electro-pop (the lifeless "Karaoke Kiss"), grunge-tinged indie, and watered down, top 40 R&B ("Body Heat"), but none of them quite stick. The lyrics feel uninspired, obvious, and beneath what Nash has already showed she's capable of. Musically, there's a distinct absence of a solid hook, which only makes them drag on.
At 14 tracks, it feels pretty indulgent—only amplifying the fact that excluding a few choice cuts, these songs aren't really all that good. "Call Me" and "My Little Alien" are repeats from her 2017 Agenda EP, and neither are so special that they warrant inclusion here. The sugary "Take Away" has Nash detailing a cozy evening in with her sweetie, ordering take away Chinese and curling up on the couch. It's populated with secondhand Taylor Swift lyrics like, "I kept your shirt/And I like the smell," and has all the freshness of that same takeaway order after it's been sitting in the fridge for three days.
Not that the whole thing should be tossed out unceremoniously. "Life In Pink" opens the album with the endearingly overwrought Nash's internal life in shambles. "What's wrong with me?/Am I a person yet?" she asks, running herself ragged in her own head over the sound of deliciously angsty, early 2000s power-pop.The strongest argument for Nash's validity as a pop artist by far comes from "Drink About You," which spins a lopped acoustic riff and a thin 808 beat into pop nirvana, as Nash details the one guy she just can't seem to shake. A winning combination of Top 40-style euphoria and Nash's particular brand of wit, it's one giant hook—like peak Katy Perry but smarter. A mark I wish the rest of the record had hit.