Kendrick Lamar Releases Intense "DNA." Video, Featuring Don Cheadle
Image via Aftermath & Interscope/YouTube
Music
Video
Kendrick Lamar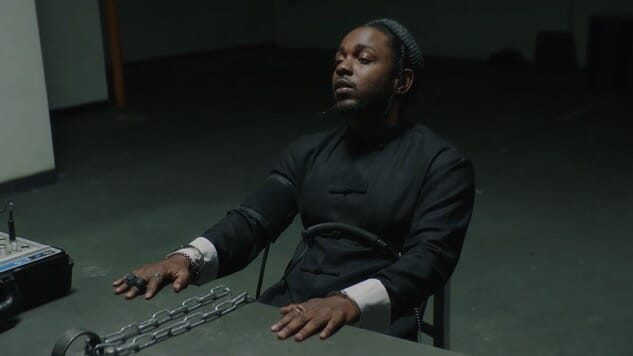 To the disappointment of an overzealous internet, Kendrick Lamar did not surprise-release a second new album this past Sunday. However, Lamar has shared a new music video for "DNA." off his latest album DAMN. and it's pretty fantastic—watch above.
Directed by Nabil and The Little Homies, the video stars Don Cheadle alongside Lamar in an interrogation room. Cheadle seems to be questioning Lamar, who is hooked up to a lie detector machine. "Kendrick Lamar, two first names, huh," Cheadle says. "What the fuck is up with that?" Then, Lamar seems to take over Cheadle's body, and the actor goes on to lip-sync half the song in a kind of quasi-rap battle, embodying the MC with impressive authenticity.
The second part of the video then jumps around through different electrifying visuals. We see Kendrick in a coffin with red roses, a car full of girls spinning in circles, a black-and-white clip, and in the end, we get punched in the face by Schoolboy Q. The second part kicks the intensity level up several thousand notches, and we're along for the wild ride.
Watch below to revisit "HUMBLE.," the first track and music video released off DAMN., and click here to read Paste's review of the album.