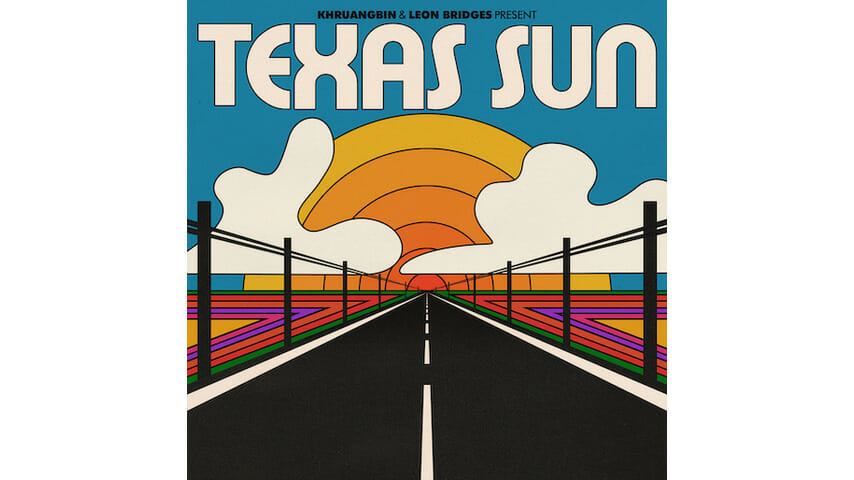 Khruangbin & Leon Bridges' collaborative EP, Texas Sun, starts out taking it easy, then shifts gears and takes things slow, slower, then slower still. The four-track release is in no hurry to get where it's going, and it doesn't appear to have a destination in mind, either: Texan highways comprise the journey and the destination at the same time. Given that Texas is large enough to be broken down into five microstates; with their own unique identities, Texas Sun's conception of the road trip as a harbor unto itself makes sense.
With Texas being so individualized across interstate regional lines, it follows that each region stacks distinct cultures and subcultures on top of one another. Musically, that means honky-tonk tunes bleeding over into Latin traditions and echoing off of smooth soul crooning, just a sample platter of the countless genres that define Texas' music scenes. Texas Sun takes those samples, from psych to funk to country to R&B, and ties them together with Bridges' velvety voice and Khruangbin's cosmic jam aesthetic. If the pair doesn't record a full-length record at some point in the very near future, it'll be the king bummer of their careers: Their talents and character go together so well that Texas Sun reconciles the leaps that separate Bridges' debut album, Coming Home, from his follow-up, Good Thing.
Coming Home stayed in a well-defined groove from start to finish, while its successor's songs bounced back and forth from radio-friendly to sexy-verging-on-dangerous. As connective tissue formed two years after Good Thing's release, Texas Sun reads like a vital step for Bridges as he solidifies his personality in the studio and on stage. His vocals are shaped by easygoing cool; Khruangbin's playing is shaped by laidback energy.
From the title track, where Bridges sings with such relaxed immediacy that he might as well be in the car with you, to the last, where he sings for salvation (it wouldn't be a Bridges joint without at least one redemption-centric song), Texas Sun keeps things mellow. There's romance to the open road, and that romance seeps over from "Texas Sun" into "Midnight" and "C-Side," two sides of the same sensual coin. Both songs encourage their listeners to find someone to get down with: The only question is where. (For the sake of ease, just stick with the backseat as "Midnight" suggests.)
This isn't Bridges' first time working with Khruangbin, of course; the band opened for him on tour back in 2018, so their complementary power is a known quantity. But it is the first time that they've actually made music together, and that's a whole new layer of partnership. For all of its unimpeachable Khruangbin-ness, Texas Sun is the Bridges project Coming Home's fans probably anticipated from his sophomore outing.
Bostonian culture journalist Andy Crump covers the movies, beer, music, and being a dad for way too many outlets, perhaps even yours. He has contributed to Paste since 2013. You can follow him on Twitter and find his collected work at his personal blog. He's composed of roughly 65% craft beer.