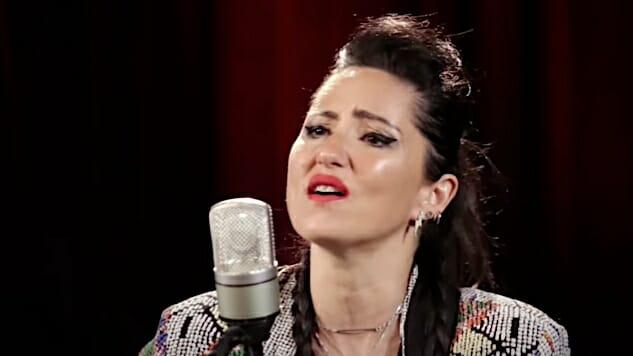 KT Tunstall dropped by the Paste Studio in Midtown Manhattan earlier this week on the way to play the Ford Amphitheater at Coney Island in support of Barenaked Ladies.
"I was over the moon to get into the studio with guitar legend Mike McCready from Pearl Jam," she said. "With Tom Petty's passing and both of us being such huge fans of his, and him being an extremely important, formative part of our artistic lives, we just wanted to do something to honor him as a shout out. But also, 'I Won't Back Down"—it's sad that it's such a relevant song still for people all over the world who are now galvanizing to stand up for what they believe in, and it's working. It feels like it's a really positive moment in time where people power is actually taking effect and changing policies and changing the way people are thinking. So we asked fans to just send in pictures and videos of them going to protests and marches, and it's pretty emotional. And I'm in there—Women's March in D.C. So I was glad to be in the video."
With McCready producing and playing guitar and Thunderpussy's Leah Julius on drums, Tunstall performed everything else on the track, released to benefit Pearl Jam's Vitalogy Foundation.
"It was phenomenal working with Mike and also just having the freedom to jump into the studio and take a classic song and try and do something original with it while obviously still honoring the original," she added. "It's just such a powerful song."
Watch her perform it solo at the Paste Studio:
And watch the full session below: