Kurt Elling Goes 'Big' in new Radio Drama
The Big Blind Debuts at Jazz at Lincoln Center's Rose Theater
Photos by Lawrence Sumulong
Music
Features
Kurt Elling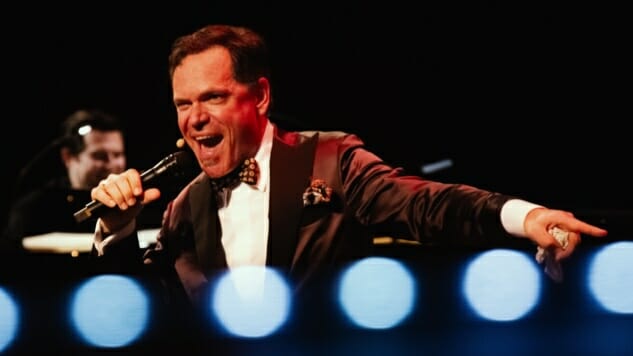 One of the most admirable qualities of true artists is a willingness to push the envelope beyond their comfort zone in tackling new projects. Grammy-nominated singer and perennial poll-winner Kurt Elling has done precisely that with The Big Blind, a unique musical/old-fashioned live radio drama that had its premiere at Jazz at Lincoln Center's Rose Theater on March 1 and 2. Partly drawing on his own experiences of performing frequently over the years at Chicago's Green Mill, a popular cocktail lounge with a rich and notorious history that goes back to the Prohibition era and involves Al Capone's gang, The Big Blind is also inspired by the 1957 Paramount film The Joker Is Wild starring Frank Sinatra about real life singer-comedian Joe E. Lewis, who had his throat slashed by the mob after refusing to renew his contract with the Green Mill because he had been offered more money by a rival gang to appear at their own club, The New Rendezvous.
In Elling's iteration, set in 1957 rather than 1927 as was depicted in The Joker Is Wild, he plays Jack Lewis, charismatic lounge singer cast in the mold of vintage Sinatra, circa his mid-'50s trilogy of recordings—Swing Easy!, Songs for Swingin' Lovers and A Swingin' Affair!—Lewis is caught between the promises of his current, longtime manager and part-time lover Veronica Legrand (played with show-stopping gusto by NEA Jazz Master songstress Dee Dee Bridgewater) and his would-be manager, the nefarious Tony "The Mongoose" Bonilla (played with oily delight by the U.K. jazz singer-actor Ian Shaw). Two-time Tony Award winning Broadway legend Ben Vereen plays Jack's main sideman, saxophonist Eddie Freeman.
While Veronica envisions a future for Jack in Paris, The Mongoose pitches greener pastures in Las Vegas. All this is set against the backdrop of the Green Mill, with Elling exuding pizzazz in front of the 23-piece Ulysses Owens Jr.'s New Century Big Band conducted by British trumpeter-arranger Guy Barker with featured soloist Eric Alexander on tenor sax. Underscoring the competitive jousting by the two would-be managers is the story of Jack's budding interracial romance with a young newcomer to the Windy City named Jilly Redford (played by Allison Semmes), whom he meets by chance on Chicago's 'L' and pursues with typically audacious charm. Enraged with jealousy, Veronica slashes Jack's throat, effectively ending his singing career and foiling both her plans as well as The Mongoose's in the process.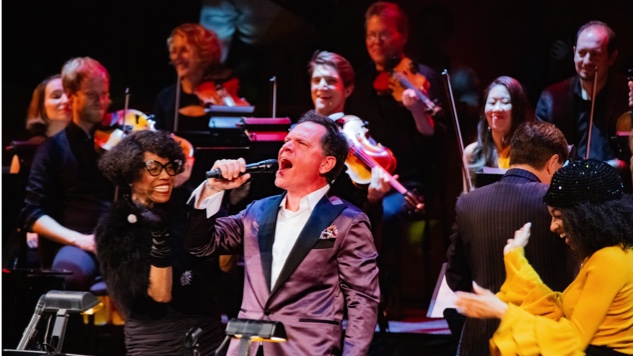 While The Big Blind (the title is a poker term that refers to a bet you have to make not knowing any of the cards in your hand; a reference to Jack not truly understanding all the cards that are in his hand) is very loosely based on the true story of Joe E. Lewis, Elling and writing partner Phil Galdston have been developing their own unique take on the story for quite a while. "I've been carrying this thing around in my pocket for 15, 16 years at this point," said Elling before the show's premiere. "It takes the stars being in alignment. It takes my own maturity. It takes the opportunity and the right assortment of support people and the team that you need to be able to pull it all together. And thanks to my great manager Bryan Farina and Jazz at Lincoln Center, there's a deadline, which is probably the most important thing that is needed."
Elling added that his initial attraction to radio drama goes back to his childhood in Chicago. "I used to listen to CBS Radio Mystery Theater with E.G. Marshall on WGN," he explained. "They always scared the bejesus out of me as a kid, and I loved them. I still listen to those things on podcasts. It's theater of the imagination."
With a live foley man on stage providing sound effects, Elling and his crew tackled the drama with theatrical verve while delivering the music with uncommon passion. Following an orchestral overture, Elling comes out on stage like a force of nature, emulating Jon Hendricks and Louis Jordan on the scat-fueled opener, "The Joker Is Wild." Shaw next makes an appearance, adding to the jivey atmosphere with an energetic reading of "Ready to Jump." Broadway veteran Vereen delivers with typical class on "The Sideman's Lament" while Bridgewater turns in a nasty, show-stopping "Be Mine (Or Be Careful)" that has her channeling Eartha Kitt as Catwoman. Act I ends with Elling's dynamic reading of the Jimmy Van Heusen-Sammy Cahn classic "All the Way," a main Sinatra theme in The Joker Is Wild. In Act II, Elling makes more potent statements, putting original lyrics to the Joe Zawinul ballad "Dream Clock" and Wayne Shorter's melancholy "The Face on the Barroom Floor," both Weather Report vehicles.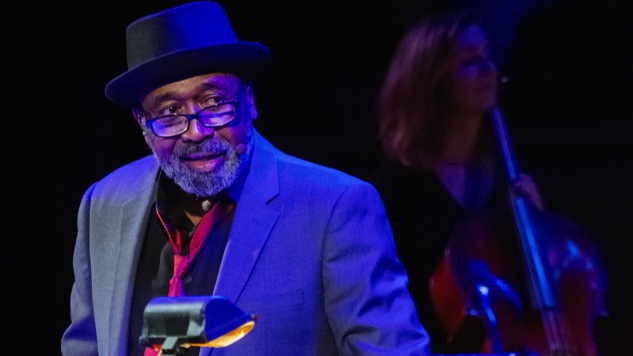 Elling said that this radio drama stands as his love letter to the Green Mill. "It's still my favorite club. It was the first place I ever sat in and it was the first place I ever heard any number of extraordinary artists, including Mark Murphy. And it was such a showplace during its heyday. So the richness of the Green Mill history—not just the story of Joe E. Lewis getting cut up there by the mafia but the story of Sarah Vaughan and Ella Fitzgerald and so many other jazz greats singing there—has always entranced me and fascinated me all these years. It's like a living time capsule but it's not a museum piece, it's a living thriving organism. And this radio drama reflects my love for the club, my love for the scene there that supported me, my love for Chicago history and everything that happened before I was ever around to enjoy it. I really have such a great love for the place. For me, it's about the roots and who you really are."
Director Terry Kinney, a founding member of Chicago's Steppenwolf Theatre Company, is a collaborator of Elling's from back in the day. "Terry and I worked on a show or two back when I lived in Chicago. These were multi-disciplinary, multi-genre things where the theater would be black and we'd do these crazy shows where I'd pull together jazz things with my little quartet and we'd do readings or different quasi-theatrical things. I just remembered him from those times and he was always such a friend, so I gave him a shout on this and thank goodness he was available to jump in. And he's just been magnificent."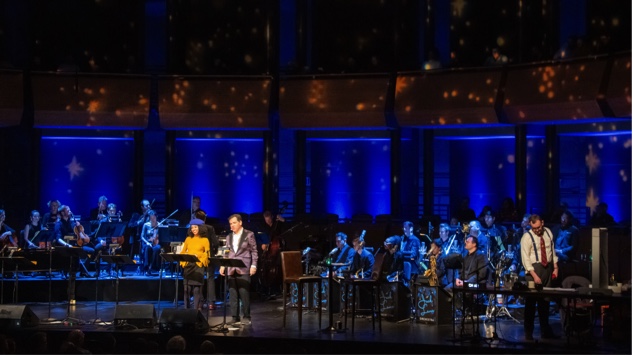 Following the successful two-night stand at Jazz at Lincoln Center, Elling is now hoping to hit the road with The Big Blind. "It's the kind of thing that I think can go over in a whole bunch of different performing arts centers," he said before opening night in New York. "Because there's no props, so the overhead's not going to be that much. It's a concert with a 23-piece orchestra. My friend Guy Barker from over in London has done beautiful orchestrations of these compositions. So it's basically an augmented big band and we have the right actors-singers for this show. I mean, Dee Dee Bridgewater, I was basically writing the part for her from the start and we're so fortunate with the rest of the cast. We could be able to plug in people on a tour. I'm really hoping that I can get Freddie Cole to play a role at a certain point. There's any number of straight-up jazz people I'd love to have sing some of these songs. So that's kind of the direction I see this going in."
If he gets his wish and Elling is able to tour The Big Blind, more people will get to witness this classic radio-style thriller and robust musical with their own eyes.