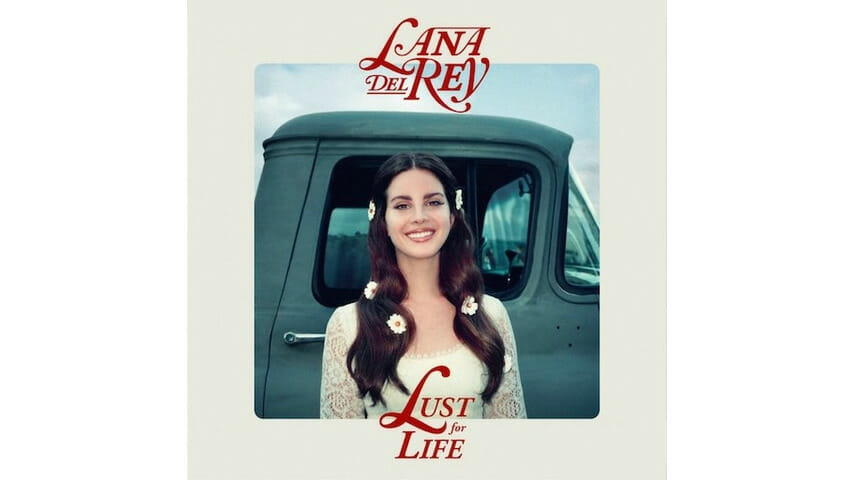 She may be smiling, decked in a floral crown and posed in front of an old pickup truck like some sort of pop country clone, but Lana Del Rey is as moody as ever on her new album, Lust For Life.
There are a thousand things that set Del Rey's fourth album apart from the rest of her contemporaries. Accompanied by what sounds like an orchestra played entirely by ghosts, her use of electronic trappings never feel overwhelming or fake. Instead, their sparse beauty elevates her haunting vocals.
Del Rey's real talent is subversion. On "Love" she sings "Look at you kids with your vintage music/Comin' through satellites while cruisin'" For a quick second, you might think that this is one more judgmental bitch about to tell a guy at a bar that she's not like "those other girls," like Katy Perry on "Chained to the Rhythm." But by the end of the song, you realize she's grouped herself in with these girls. "It doesn't matter if I'm not enough/For the future or the things to come/'Cause I'm young and in love."
With lines like that, Del Rey proves she has found the elusive threads connecting songwriters like Paul Westerberg and Stevie Nicks; a luscious voice that is witchy and raw, ethereal and real. Speaking of Nicks, she shows up on "Beautiful People, Beautiful Problems." It's a natural and perfect fusion, and Nicks' verse feels so much like a Fleetwood Mac sample that it's hard to believe it was written just for this album. It's a fitting and honorable homage to one of Del Rey's heroes.
By contrast, the Beatles knock off "Tomorrow Never Came" featuring Sean Ono Lennon, couldn't be more boring. With shades of "Across the Universe" in the short, plucky guitars and an out-of-place reference to Elton John's "Tiny Dancer," it's an eye-rolling exercise in self-referential hipster hero worship. "Isn't life crazy/now that I'm singing with Sean?" Not really, Lana.
Lennon asides aside, Del Rey's Black Dahlia vintage is still on display on tracks like "Cherry" and "White Mustang." These are soundtracks for film noirs that never existed, right down to the slow-down-the-stairs-footstep percussion. "Everyone says you're a killer/but I couldn't stop the way I was feeling…." is like a Jim Thompson novel set to a bar piano drawl and Morricone-esque whistle.
But the vintage vibe she projects doesn't always work. The title track, recorded with The Weeknd, is one of the album's low points. Though she's clearly trying to go for a '60s Girl Group vibe, even name-dropping "My Boyfriend's Back," her collaborator's whiny-toy drone drags the whole Hollywood shenanigan into the tar pits.
At 72 minutes, the album's 16 tracks feel bloated and sluggish at times and the hip-hop contributions by A$AP Rocky and Playboi Carti are ill-conceived; reminiscent of Christina Aguilera's tribute to a Marilyn Monroe poster, Back to Basics. But despite a handful of missteps, Del Rey continues to reinvent and redefine herself in new and captivating ways, and Lust For Life is just one more step in that profound and lovely evolution.