Lily Allen Is Sending Unheard Demos to Fans Who Prove Their U.K. Voter Registration
Photo by Pascal Le Segretain/Getty
Music
News
Lily Allen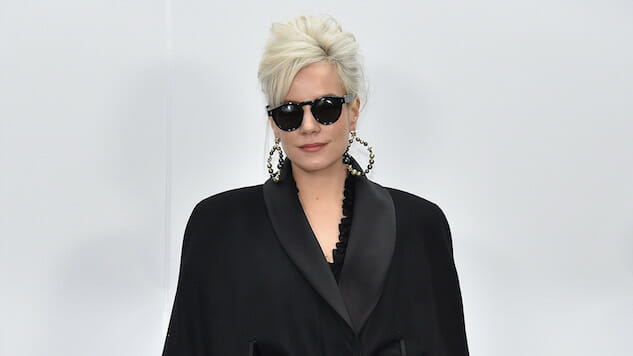 In an effort to raise the voter turnout in the upcoming UK general election, English pop star Lily Allen is offering to send unheard demos to fans who are registered to vote. The singer posted a tweet to her almost six million followers earlier today, letting them know she had found a USB of old demos and would direct message them to those who screenshotted their voting registration.
Just discovered a USB full of quite good demos . Winning . Register to vote and I'll send you them screenshot and @ me. I'll follow and dm

— Lily (@lilyallen) May 22, 2017
At Prime Minister Theresa May's request, the election is being held June 8—three years earlier than scheduled —because she believes that the election will result in her gaining a larger majority in the House of Commons for the Conservative Party, which will assist in swaying Brexit negotiations in her favor.
Allen is in favor of the Labour Party, which is pretty much in complete opposition to everything Prime Minister May stands for. Her July 2016 election, which came as a surprise to most, is in many ways the U.K. equivalent of the election of Donald Trump. In order to avoid worsening the damage that will result when the U.K. leaves the European Union in March of 2019, Allen believes that if younger voters turn out en masse, then the House of Commons could shift to better favor the Labour Party. Her followers responded to her offer immediately.
@lilyallen Does my Labour Party membership and canvassing allow me to listen to the demos? pic.twitter.com/dlRzxyhQPX

— andrew (@andrewwwilson) May 22, 2017
@lilyallen I registered! (Ur the best) pic.twitter.com/Vk4StJK1Ul

— Will (@Squiliamiam) May 22, 2017
@lilyallen Down with the Tories pic.twitter.com/fm6UhK4GHG

— beth (@yesimbeth) May 22, 2017
In order to highlight the potential impact the younger generation could have on the election, Allen shared a graphic on her Twitter that explained the breakdown of young people who voted and young people who didn't vote in the 2015 general election.
Register to vote. I beg . https://t.co/3U94zNIgG8pic.twitter.com/Io48y51yEc

— Lily (@lilyallen) May 22, 2017
If you live in the U.K., really want to hear those demos, or are just curious about the voting process, you can find out more about registering to vote in the upcoming election here.