Low Hums: The Best of What's Next
Sometimes, finding the right lineup takes eight years.
Photo by Dawndra Budd
Music
Features
Low Hums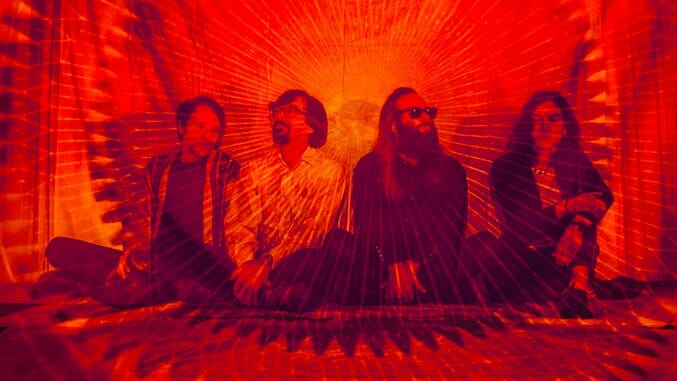 Some bands find the perfect lineup from the get go, but for others, that journey can take many turns. Low Hums founding members Jonas Haskins (vocals/guitar) and Miles Panto (guitar) watched their band go through eight years of constant lineup changes, including a short stint with Father John Misty himself, Josh Tillman, as one of the band's two drummers, but nothing felt right.
"We've had bowed saw, upright bass, pedal steel, banjo, cello players," Haskins explains from his home in Seattle, WA. "We had a version with no drums and only guitars, we've had a few bass players, multiple guitar players…the list goes on."
In 2011 they added drummer Mike Bayer for good, but there was still something missing. Five years later, the trio found their proverbial missing link in bassist Crystal Perez and that long, winding road now finds Low Hums as a cohesive quartet, ready to release the Jack Endino produced Night Magic Wine on Union Zero Records on August 25th.
With Endino, the man who notably helmed the sound board for Nirvana's Bleach and Incesticide—among other classic 90's grunge records—in the booth, Low Hums honed in on their punk, indie, psych and jam band influences to create a crisp-yet-psychedelic sound reminiscent of FIDLAR or The Orwells…on mushrooms.
"[Jack and I] have known each other for a pretty long while," Haskins says. "When we got the songs together to record I was thinking: 'This is the perfect record to approach Jack with!' He did a lot of the older Sub Pop releases, which I'm a big fan of, and he's a master at making great rock and roll records."
Aside from his ear for rock, one of Endino's best qualities is his penchant for letting a band find their sound organically. "He didn't let us get too hung up on the little details," Haskins recalls. "[He told us to] leave the mistakes in. We actually ended up mostly with first or second takes on all the basics. Even when we did do more, we ended up with the earlier versions."
"I loved watching him pace, and air-guitar in front of the sound board. That's how I could tell we'd laid down a good track."
It's easy to loosen up when a storied producer is feeling the music just as much as you are and won't put up with any bullshit. "I love that he reminded me of a grunge-rock, long-haired Larry David," Panto says with a chuckle. "In a good way…[He had a] dry sense of humor, wit and enthusiasm when he liked what was happening. And conversely, a blunt, unapologetic demeanor when he didn't like something. I loved watching him pace, and air-guitar in front of the sound board. That's how I could tell we'd laid down a good track."
It also helps when the band members feel more of a connection than just playing music together. "We genuinely dig each other's company." Panto exclaims. "We've fished together, played frisbee together, gotten drunk and traveled and played together in strange situations, and we seem to really miss each other when we're not playing. That's an important thing for a band, and—unfortunately—rare. We're lucky."
After testing out so many different formats, the quartet was happiest in what Haskins calls a "natural process of de-evolution": Two guitars, bass, drums and vocals. For Haskins personally, it was also an excuse to get better at the guitar. He took up lessons and played constantly, from the morning into the wee hours of the night, perfecting his craft. On Night Magic Wine, Haskins's rhythm guitar sets the backbone for Panto's twangy lead riffs and occasional out of body solo, which is the hallmark of recently released lead single, "Too Early to Tell."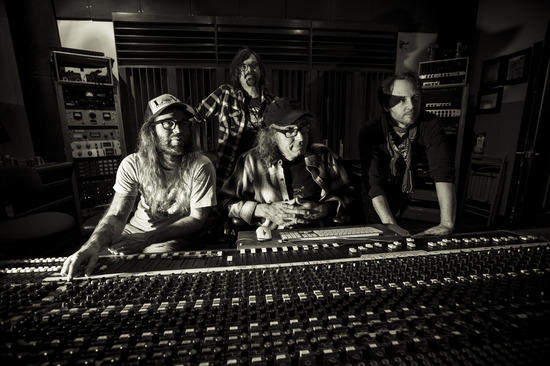 Low Hums in the studio with Jack Endino, "The grunge rock Larry David." (Photo by Hilary Harris.)
The slow-burning, lackadaisical twang of the song is an apt intro to the rest of the album. Haskins's nonchalant vocal delivery, the slide guitar chugging the song along and that rippin' guitar solo to end the track show a band that's clearly in the zone. It's that calm, coolness and ability to strip a song down to its core that will take Low Hums to the next level.
"I think that [Night Magic Wine] really sounds like us…the songs are all really strong," Haskins says with pride. For him and Panto, this record concludes an eight-year quest to find that perfect lineup, and thus, a sound that suits them—even without Josh Tillman. "It's great to see someone you know having a lot of success. He's a smart guy and he works hard at his craft. Hopefully he's reading this and considers us to play with him sometime."