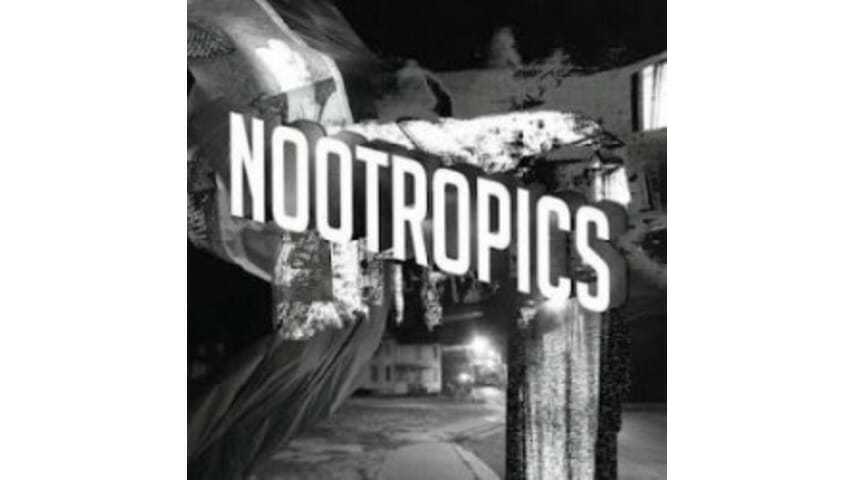 Whirring forward—at times slick with the velvety magnetism of psychedelic riffs, other times peppered with the oddly attractive hiccups of a vintage movie reel—Nootropics, the latest record from Baltimore quintet Lower Dens, connects layered loops and trippy chants with catchy rock 'n' roll arrangements, delivering a pure punch of sonic bliss.
Jana Hunter, the freak folk-inclined singer/songwriter who serves as the outfit's frontwoman, has ditched the majority of the foggy reverb and bulky guitar riffs from the band's 2010 release, Twin Hand Movement, in favor of a droning progression that mirrors a single, repetitious track. Playing into Hunter's uncanny ability to craft an emotion-dense landscape, a majority of the record's offerings inspire a deeply rooted reaction within the listener—stirring up feelings of joy and despair—while tickling the nostalgic corners of the brain.
Adopting a mysterious, otherworldly appeal, Nootropics opens with the meandering "Alphabet Song," where hypnotic waves of keys frame Hunter's off-kilter vocals, before giving way to a group-led, eerie chant. Appealing to an opposite realm of trippy tenacity, the instrumental "Stem" is a euphoric collection of surf-reminiscent guitar lines and chiming keys—evoking a jubilant connection to the track's childlike sense of celebration.
"Candy" changes the pace as a darker offering, with Hunter demanding, "Back it up, nobody wants you 'round here. What are you waiting for?" In stark contrast to previous tracks, a dangerous and aggressive arrangement of instrumentals forcefully backs disturbed vocals before coming to an uncomfortable, screeching halt.
While many releases allow the listener to blanket the specific collection with his or her mood—associating the LP with individual motivations—Nootropics demands specific emotions, forcing perhaps unwanted reactions out of the cracks, while inspiring a wealth of spine-tingling elation.