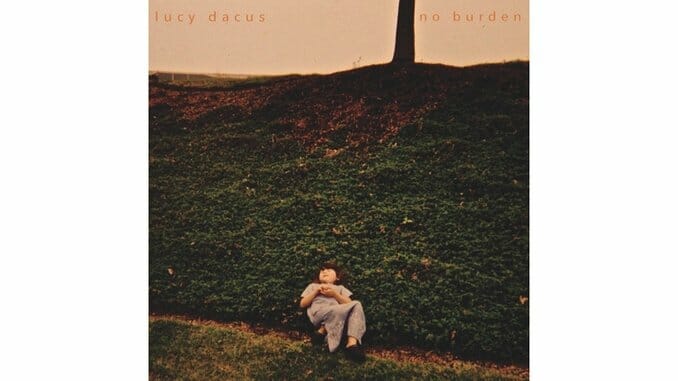 The mystified plight of post-adolescence is a time-honored muse for many artists. For Lucy Dacus, the minutiae of her confessional songwriting is culled from acute observation and sleek homage to this universal truth, and oft-times brilliantly so on her debut LP, No Burden.
To be clear, No Burden was originally released by the small Richmond, Virginia label Egghunt earlier this year, but is now being reissued by venerable indie stronghold Matador following much critical acclaim and a few successful cross-country tours. The extra push is nice, but Dacus' songs possess enough timeless vigor that it's tough to imagine them having been kept a secret for long.
That sentiment is proven right out of the gate with the album's first single, "I Don't Want To Be Funny Anymore," a biting dismissal of social hierarchy that finds Dacus singing lines like "I've got a too-short skirt, maybe I can be the cute one/Is there room in the band? I don't need to be the frontman/If not, then I'll be the biggest fan." It's here that Dacus confidently asserts her square peg into the round hole of cliques, facades and the allure of titles and tropes in a strange world lived largely on the Internet.
That No Burden came about thanks to a college recording project by a friend of Dacus's, and the fact that she'd never played with a band at all makes the power of potent tunes like "Troublemaker, Doppelganger" all the more bewitching. Dacus possesses an enchanting voice that falls somewhere in the realm of Sharon Van Etten, but with a swagger and sureness all her own. That certitude of brashness takes otherwise textbook journal-plucked confessional type songs and places them in a much more powerful place.
Probably the most striking song on the record, "Strange Torpedo," brings the symbiosis of Dacus' band and her potent song craft to a crucial apex. A driving, pulsing rocker, "Strange Torpedo" comes replete with a lover's lament made plain over jagged guitar atmospherics and Dacus' cathartic wordplay as she croons, "I get smoke in my eyes every time I try to look you in the eyes/Do I even know what your face looks like?/ It's just a cloud of smoke in its place." Building slowly and restraining itself, the song typifies the likely challenges of taking songs written as starker acoustic ballads and morphing them into full-band productions. The fact that it worked out not only here, but on most of the first half of the record, makes for a stimulating listen.
Beginning with "Trust," the back half of No Burden resembles more of a solo record than the group effort of the album's first five tracks. "Trust" is a blunt acoustic number finding Dacus trying to "perfect the art of letting go" in a deconstructive ballad fit for fans of Mazzy Star or early Jolie Holland.
"Map on a Wall" is the album's resident epic, percolating slowly for three minutes with a heavily reverbed Dacus cooing over sparse guitar. For the remaining four minutes, the band adds its distinct accoutrement to a stirring finale.
Motivation to evolve, to shift and to shed old skin ought not to be relegated to the woe-is-me realms of youthful idealism. With No Burden, Lucy Dacus challenges the little boxes everyone seems forced into at one time or another, exposing them for the weak material they're built from. In the process, she's created a debut record with an abundance of heart that should speak to anyone with a pulse of their own.