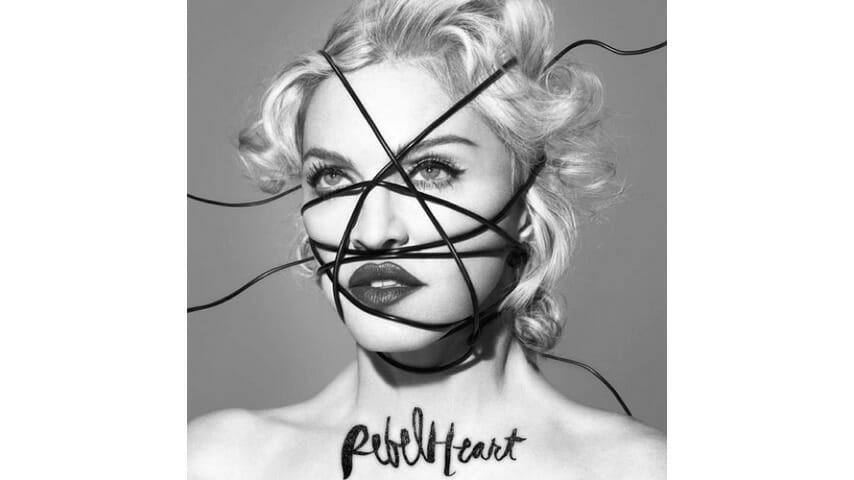 When the tracklist was posted for Madonna's 13th record, with titles like "Unapologetic Bitch," "Iconic" and "Bitch I'm Madonna," it felt like we were in store for another round of songs trying to reclaim her pop supremacy. Even the album's title, Rebel Heart, smacked of trying to remind listeners that Madonna can still push buttons and boundaries. Then again, the Iggy Azaleas and the Nicki Minajes weaned on Madonna engage in this sort of thing every day.
But this new batch of songs feels and sounds raw and powerful, like the woman herself, if occasionally a little hamfisted. Rebel Heart is not a perfect record—it meanders at lengthy 19 tracks—but it does boast some of the most introspective and lyrics Madonna has ever penned. She also once again brings in a crack team of producers, including Kanye West and Diplo, among many others to add some sparkle and modern-day Futurism to her confessionals.
It works for the songs that would otherwise make you cringe. Diplo throws a dub beat on "Unapologetic Bitch," whose refrain, "You know you never really knew how much your selfish bullshit cost me, well fuck you," absolutely stings. "Illuminati" is a meeting of the egos, with Kanye bringing the bells and whistles and Madonna Vogue-rapping. It's dark and creepy, and it's one of the best tracks on Rebel Heart. Nicki Minaj raps over "Bitch I'm Madonna," doing nothing more than lending it some credence to Millennials.
Madonna taps into her sexuality in songs like the heavy-handed "S.E.X." and "Holy Water" (which includes some "Vogue" references), although they fail to reach the more restrained sexiness of "Justify My Love." And she gets self-referential on the retrospective "Veni Vidi Vici." Those are weak spots, but the overall humanness of Rebel Heart makes up for any lapses.
These moments when Madonna feels the need to again pronounce her validity are noteworthy, since she's spent most of her career setting the curve. On one hand it brings out a welcome vulnerability to the artist and her music. Then again it's Madonna, bitch—she doesn't need to explain anything.