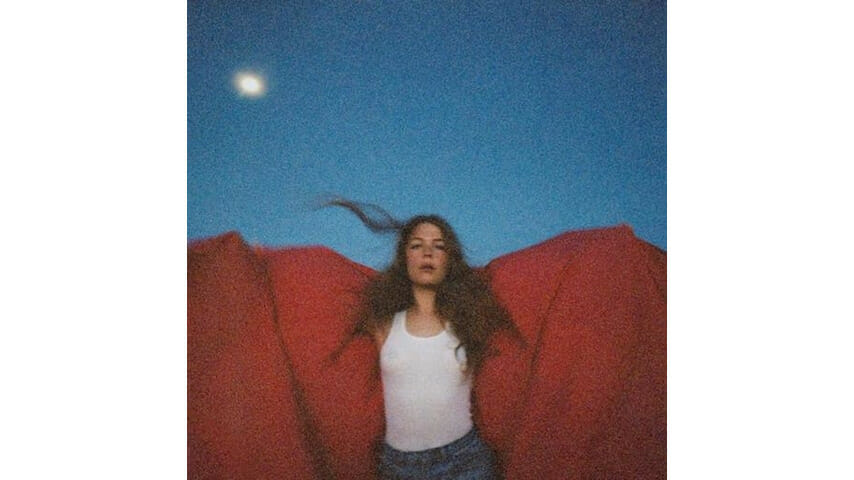 In a way, Maggie Rogers is the exemplary model of a modern pop star. Her success story is one that's exclusive to our times, when the Internet has the power to make moguls out of memes overnight. But Rogers is no Mason Ramsey: Her story begins not with a Walmart yodel, but with an unbelievably perfect demo, played for Pharrell Williams during a songwriting masterclass at New York University in 2016. The video of his reaction (stunned, in the best way) went viral, and Rogers stumbled into sensation.
As Pharrell more or less said upon hearing that first cut of "Alaska" (which now boasts almost 70 million Spotify streams and club remixes for days), Maggie Rogers is singular. Other Internet-made stars flake and fade, but Rogers has continued to burn oh so bright, incomparable in terms of musical style. While she's kept us satiated with an EP and a crop of sparkling singles, we've been waiting for Heard It In A Past Life for a few years. Now that it's here, one thing's clear: Maggie Rogers is a pure pop star and a deserving one, at that. She's self-assured in a way other radio stars aren't, never afraid to fold in her folk background and do whatever she wants. And you just can't help but root for her.
Rogers is a different kind of pop star, one who's emerged in the genre's new wave that's been so neatly summarized by critics like Jon Caramanica and Chris DeVille. But, at the same time, she makes purist pop—pop in the sonic sense of the world. Where the pop charts are (gloriously) experiencing a diversification of cultures and also sounds (rap, hip/hop, country, etc.), Rogers, whether or not she ever makes it to the Hot 100 (having already visited Hot Rock), brings a dose of pop bliss to the mix. She's got a little of HAIM's synthy spirit, Madonna's infectious glow and Stevie Nicks' earnest hum, but with a vocal delivery all her own. "Give A Little," the album opener and one of three Past Life singles, sounds like it could easily be on a HAIM album (a compliment to them, I'm sure—Rogers was their tour mate last year), but I can't even blame her. It's delirious fun.
So we've already established that Rogers rose to fame in a speedy manner: Once an NYU student and NOLS alum, everything was different for her after "Alaska." But the record's second track, "Overnight," reminds us she's still the same at her core, the goofy, good-natured girl from Maryland who also happens to write spotless, radio-ready pop tunes. Rogers reckons with how her life has changed over the last three years: "People change overnight / things get strange, but I'm alright." Two tracks later, she's in awe at how things progressed. "I thought I was gonna break / I couldn't stop it, tried to slow it all down." Then she gets really honest. Success doesn't always equal happiness, and it's refreshing to hear an artist express that: "Crying in the bathroom had to figure it out / With everyone around me saying 'You must be so happy now.'" But through it all, she exudes gratitude. I'm almost certain Maggie Rogers isn't taking any of this for granted.
"Say It" is the album's greatest love song, and that's not because Rogers has found a new and inventive way to express romantic feelings (it's actually quite the opposite: she "couldn't" say it, even to herself), but because the girl knows her R&B. "Say It," with its slinking trap and Mariah Carey-inspired vocals, harbors the qualities of a sexy slow jam. The Rostam Batmanglij-produced "Fallingwater" is marked with the same woodsy energy and natural imagery that permeated "Alaska," though this time, instead of wading through "icy streams," Rogers is herself "the creek." The delightfully textured dance jam "Burning" could follow a Robyn track on a club playlist, and album kicker "Back In My Body" possesses the grandiosity and gratitude of a Florence + the Machine song. It seems Heard It In A Past Life was produced in an idea factory, and there were few mishaps along the way.
If Maggie Rogers can find a way to exist alongside Billie Eilish, she'll be the next big thing in pop. The charts are starved for something real and down-to-earth, and her songs, while heavily produced in comparison to some of her folksier beginnings, have an earnestness to them that can't be fabricated. Rogers' career may have first sparked on the internet, but now it's a fire burning IRL.