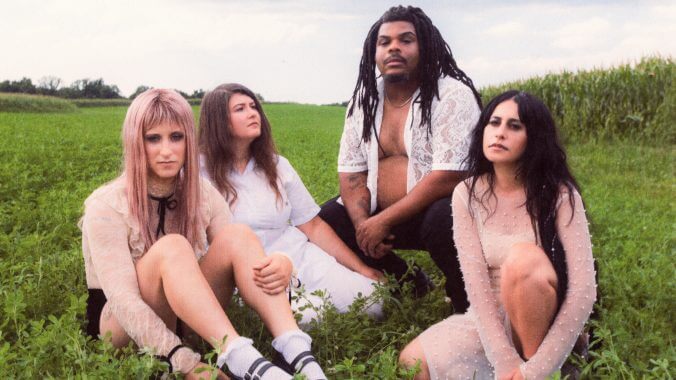 Philadelphia quartet Mannequin Pussy are back with their first slice of new music since their 2021 EP Perfect. Their latest single, "I Got Heaven," is an awakening blend of distorted, fiery alt-rock and melodic, catchy dream-pop. Led by Marisa Dabice, Kaleen Reading, Maxine Steen and Colins "Bear" Regisford, Mannequin Pussy teamed up with producer John Congleton (Bully, Sleater-Kinney) to help streamline their intensity into the track and forge a searing critique of weaponized fundamentalism. "And what if we stopped spinning? And what if we're just flat?" Dabice sings. "And what if Jesus himself ate my fucking snatch?" Whether or not it precedes a new chapter for Mannequin Pussy (they haven't released a full-length since 2019's Patience) or just a one-off affair, "I Got Heaven" is a great, rewarding return for the band.
Dabice says of "I Got Heaven": "'I Got Heaven' is a song intended to merge the sacred and the profane and to serve as a reminder that we are all perfect exactly as we have been made and that no one gets to decide how a life should or should not be lived. Heaven is here on a planet that gave us everything we needed to survive. Heaven is in the plants and in the water and in the animals who we share this world with. Heaven is inside of me and inside of you. The weaponization of Christianity for political means, for individual profit and power, as a tool to intentionally divide us is one of the greatest threats to our modern world and a threat to our ability to find solidarity through love. To allow the hatred and the violence and the noise to rise is to reject our sacred purpose as individuals, which is simply to love."
Watch the music video for "I Got Heaven" and check out Mannequin Pussy's upcoming tour dates below.
Mannequin Pussy's Tour Dates:
9/7 – Los Angeles, CA @ Hollywood Palladium *
9/8 – Tempe, AZ @ Marquee Theatre *
9/9 – Albuquerque, NM @ El Rey Theater *
9/10 – El Paso, TX @ Lowbrow Palace *
9/12 – Houston, TX @ House of Blues *
9/13 – Austin, TX @ Emo's *
9/15 – Atlanta, GA @ Center Stage *
9/16 – Tampa, FL @ The Ritz Ybor *
9/18 – Asheville, NC @ The Orange Peel *
9/19 – Nashville, TN @ Brooklyn Bowl *
9/21 – Louisville, KY @ Louder Than Life *
9/22 – Mckees Rocks, PA @ Roxian Theater *
9/24 – Worcester, MA @ Palladium *
9/26 – Washington, DC @ 9:30 Club *
9/27 – Brooklyn, NY @ Brooklyn Steel *
9/29 – Columbus, OH @ The King of Clubs *
9/30 – Chicago, IL @ Concord Music Hall *
10/3 – Lawrence, KS @ The Granada *
10/5 – Denver, CO @ Summit *
10/6 – Salt Lake City, UT @ Soundwell *
10/10 – Seattle, WA @ Neptune Theatre *
10/11 – Portland, OR @ Wonder Ballroom *
10/13 – Santa Cruz, CA @ The Catalyst *
10/14 – Anaheim, CA @ House of Blues *
10/23-27 – Miami, FL @ Coheed & Cambria SS Neverender Cruise
11/17 – San Juan De Alicante, ES @ Magic Robin Hood
11/18 – L'hospitalet De Llobregat, ES @ Primavera Sound
11/19 – Lisboa, PT @ ZDB
11/20 – Porto, PT @ Maus Hábitos
* w/ Movements, Softcult and Heart to Gold