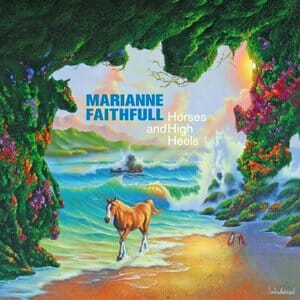 Marianne Faithfull's new album begins with a particularly well-chosen cover. She kicks off Horses and High Heels with the ominous chords and spiritual misgivings of "The Stations," by The Gutter Twins (better known as Greg Dulli and Mark Lanegan). With its ominous pace and prickly guitars, it's a perfect showcase for Faithfull's distinctive voice, a gravelly instrument that locates new trials and transgressions in these lyrics. "Oh mama, ain't no time to fall to pieces," she sings in that beautifully scarred rasp, as though steeling herself against sins too dark for salvation.
That song is immediately followed by "Why Did We Have to Part," which Faithfull co-wrote with French composer Laurent Voulzy. At first it sounds almost banal by comparison, with its plainspoken lyrics and direct observations. "I remember the night when we met each other, it was a very long time ago," she sings. "we both have changed for the better, we are so much kinder now, I know." Yet, as the song progresses, Faithfull invests that title question with startling despair, rendering divorce in terms of horrifying regret.
It's a disarming one-two punch on an album that views romantic calamity with a self-possessed calm few of Faithfull's contemporaries can muster. In the 1960s, she would have seemed like the unlikeliest survivor, with a hanger-on status and a drug problem that would sideline her for most of the 1970s. Since her comeback with 1979's Broken English, her career has had its ups (Strange Weather) and downs (that song with Metallica), but she has emerged in the '00s as an artist working at the top of her game, with a string of albums that reveal not only her interpretive authority but a legion of famous fans that includes Damon Albarn, Nick Cave and Beck.
Horses and High Heels backs away from some of those younger talents who made 2005's Before the Poison and 2009's Easy Come, Easy Go sound so adventurous. Working again with producer Hal Willner, she recruits a host of New Orleans musicians, along with Lou Reed and Wayne Kramer, which makes the album less newsworthy than its predecessors but no less diverse. The jazzy "Gee Baby" makes her sound stiff, but Faithfull is commanding on the smoky lounge-pop of "Goin' Back" and the eloquent rock balladry of "That's How Every Empire Falls."
The centerpiece is an odd cover of the Shangri-Las' "Past, Present & Future," one of that group's weirder hits: spoken instead of sung, accompanied by a chintzy reimagining of Beethoven's "Moonlight Sonata." Faithfull's version is daring and a bit ridiculous, but with her gravel croak and dramatic timing, she ties the song back to her groundbreaking Kurt Weill covers on The Seven Deadly Sins.
Performed by a young pop group in the 1960s, the song suggested romantic aspiration and a confidence that the future would hold so many loves and losses. But Faithfull knows she has much more past than future, which gives her cover an intense melancholy that seeps naturally into the rest of Horses and High Heels. She is, in other words, a true pop connoisseur, blessed not only with a distinctive voice but with an understanding that songs can change dramatically with age and experience.