Merge Records celebrates its 25th birthday this week with a series of great shows throughout Carrboro and Durham, North Carolina. It kicked off yesterday with Lambchop playing all of its album Nixon, and concludes on Saturday 7/26 with an outdoor party featuring Neutral Milk Hotel, Bob Mould, Teenage Fanclub and more. In between Superchunk, Destroyer, Wye Oak, the Mountain Goats and a host of others will be filling the Cat's Cradle in Carrboro, Merge's unofficial house rock club.
Merge's success is based on two simple ideas: Do good work and treat people well. The label has released some of the best and most important rock 'n' roll records of the last 25 years, from Superchunk's earliest singles to iconic classics from Neutral Milk Hotel and the Arcade Fire, while preserving a 50/50 profit split with artists that major labels would never match. It's grown from a part-time label putting out singles by North Carolina bands to a Grammy-winning cultural institution, without ever having to compromise its ideals or reputation. And despite maintaining the utmost integrity and credibility, the label and its founders remain almost self-effacing in their modesty.
To celebrate the label's anniversary, we're going to run down the very best from each of the label's first 25 years. It's hard to pick just a single album from each year, so we've also listed a few honorable mentions.
1989: Superchunk : "What Do I" b/w "My Noise" and "The Train From Kansas City"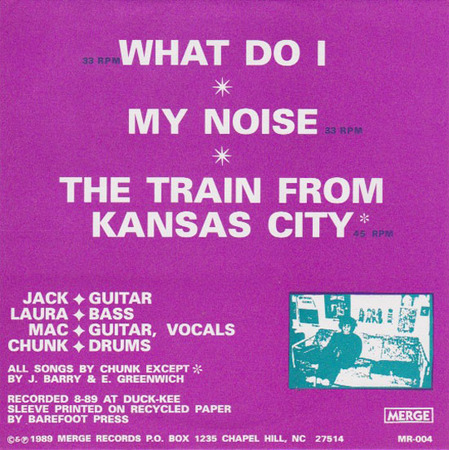 The Bricks 7" with "Girl With the Carrot Skin", "The Mountain Goes to Mohammed" and "The Sturgeon" might deserve this spot—it's a better collection of songs, and it's the only realistic opportunity for one of Mac McCaughan's pre-Superchunk bands to make this list. But Superchunk's first single (released under the band name Chunk) gets the nod because you could find a mission statement of sorts within the lyrics of "My Noise". Plus the cover of the Shangri-Las' "The Train from Kansas City" is a great noisy pop song.
Honorable Mention: Bricks, "Girl with the Carrot Skin" 7"
1990: Superchunk: "Slack Motherfucker" b/w "Night Creatures" 7"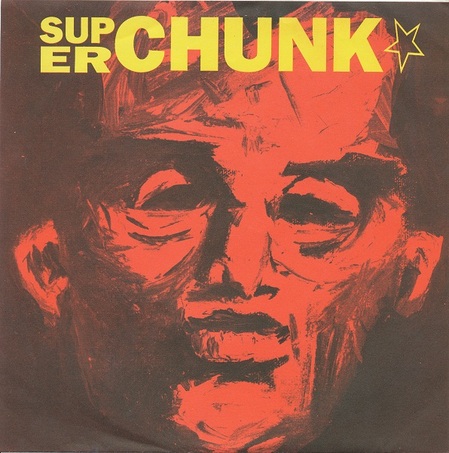 "Indie rock anthem" is an unseemly term, but "Slack Motherfucker" fits the bill in the truest sense. It's another song that strikes to the heart of the ethos guiding Merge—you don't have to have a "real" job to work hard at something. Often misunderstood (but not as much as, say, "Born in the USA"), "Slack Motherfucker" is a beautiful "fuck you" and a battle hymn for the dedicated creative.
Honorable Mention: Angels of Epistemology, s/t 7"
1991: Erectus Monotone: Cathode Gumshoe EP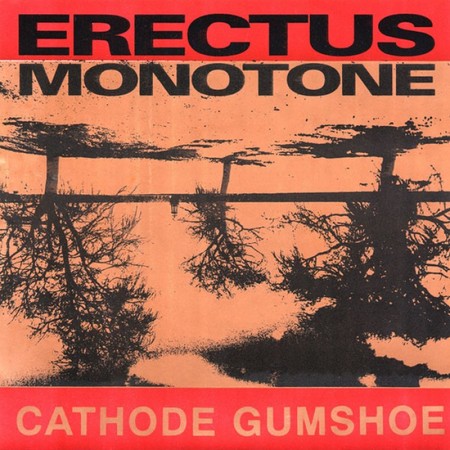 Okay, despite offering up five great permutations of catchy, dissonant pop, Cathode Gumshoe probably isn't the best record Merge put out in 1991. How much Superchunk does one list need, though? Plus it might be the most representative of Merge's early days. Erectus Monotone was a North Carolina outfit who released a handful of singles on Merge and a single album. They're just good enough to escape the buddy rock zone, and a perfect example of Merge's history of hometown boosterism.
Honorable Mention: Superchunk, "Cool" b/w "Fishing"; Superchunk, The Freed Seed EP
1992: Butterglory: Alexander Bends EP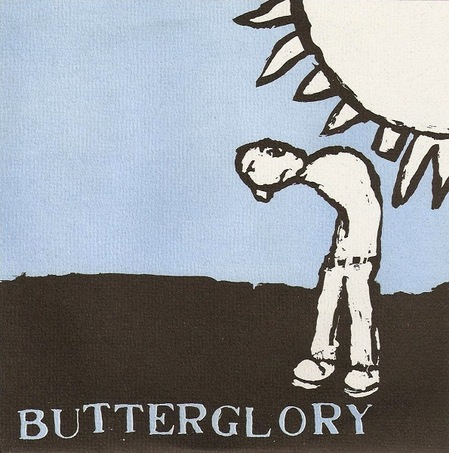 In 1992 Merge expanded to releasing full-lengths, starting with a Superchunk singles compilation and Polvo's first album. It also released a stream of great singles from bands like California's Drive Like Jehu, Virginia's Honor Role and cult indie rock band Seam, who Mac briefly drummed for. One of those seven-inches was the debut from Lawrence, Kansas's Butterglory, beginning a relationship between Merge and songwriter Matt Suggs that would last in various forms for a decade and a half. The lo-fi indie-pop of Alexander Bends (specifically the title track) is both timeless yet firmly embedded in its pre-internet cultural moment of college radio and indie rock zines. If you had to find a prototypical early 90s indie rock song and couldn't pull from any of the obvious headliners,"Alexander Bends" would be as good a pick as any.
Honorable Mention: Polvo, Cor-Crane Secret LP; Drive Like Jehu, "Bullet Train to Vegas" b/w "Hand Over Fist" 7"
1993: Polvo: Today's Active Lifestyles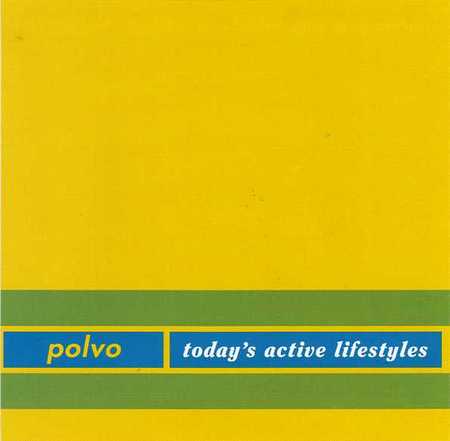 Polvo might've been the best rock band in America for a stretch, merging the dissonant rock of Sonic Youth with complicated rhythms and influences from Asian and Indian music. The result is often called "math rock", but Polvo never feels as cold or impersonal as that genre often gets. Today's Active Lifestyles is Polvo's second full-length, and one of the earliest albums released by Merge. It's a heady mix of fractured and inventive rock music that's both heavy and seemingly always on the verge of collapse.
1994: Polvo: Celebrate the New Dark Age EP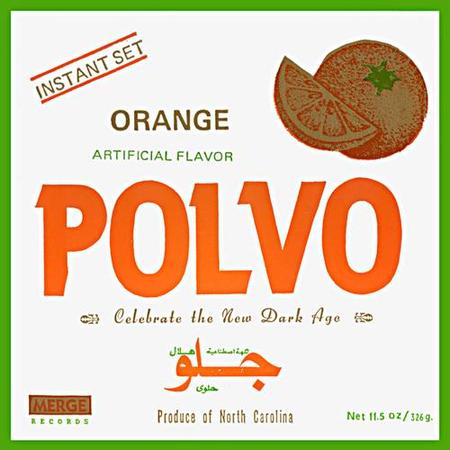 Merge released a lot of great albums in 1994—Superchunk's Foolish, the Magnetic Fields' The Charm of the Highway Strip, the 3Ds'The Venus Trail—but none of them can stand up to Polvo's perfect EP. It's not surprising the band's best work would be an EP—the format lets any band focus like a laser on its greatest strengths, but Polvo in particular is a band that works best in concentrated bursts, where the power of their atonal melodies and droning noise can neither dissipate nor grow redundant. There's no fat on Celebrate the New Dark Age, and the self-referential "Every Holy Shroud" might be this pivotal group's best song.
Honorable Mention: the Magnetic Fields, Superchunk and 3Ds albums mentioned above; Portastatic, I Hope Your Heart is Not Brittle; Archers of Loaf, "What Did You Expect?" b/w "Ethel Merman" 7"
1995: East River Pipe: Poor Fricky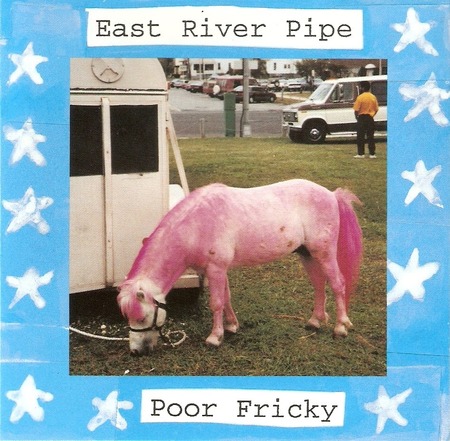 Even F.M. Cornog's upbeat songs, like Poor Fricky's "Here We Go", are drenched in sadness. Between the ethereal guitars, the distant synths and Cornog's yearning voice, Poor Fricky is a beautifully depressed and intimate record from a first-class songwriter. Along with a burgeoning relationship with the Magnetic Fields and 1995 releases from Cornershop and Spent, Merge's still-extant relationship with the New Jersey-based Cornog was proof that the label had fully outgrown its provincial Southeastern roots.
Honorable Mention: Spent, Songs of Drinking and Rebellion; Cornershop, Hold On It Hurts; Superchunk, Here's Where the Strings Come In; Magnetic Fields, Get Lost
1996: Neutral Milk Hotel: On Avery Island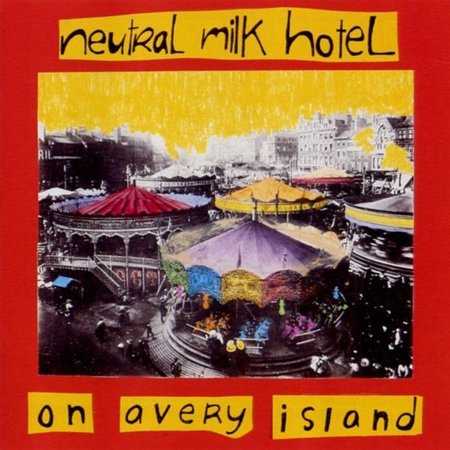 Neutral Milk Hotel didn't arrive out of nowhere with In the Aeroplane Over the Sea. The band's 1996 debut is less cohesive than its more famous record, but it's a noisily beautiful set of songs with some of Jeff Mangum's best lyrics."Naomi" and the one-two punch of "Gardenhead" and "Leave Me Alone" are as good as anything on Aeroplane.
Honorable Mention: Lambchop, How I Quit Smoking; The Karl Hendricks Trio, For a While, It Was Funny
1997: Portastatic: The Nature of Sap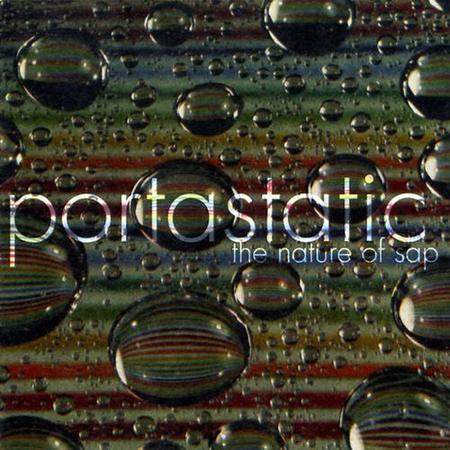 This is the most underrated record from the always underrated Portastatic. The basic songwriting isn't that dissimilar from McCaughan's work with Superchunk, but with the fuzzed out guitars replaced with piano, clarinet and acoustic guitars. It's a downcast jazzy pop record that dabbles with electronic minimalism and features some of McCaughan's best song writing, including the sugary kiwi pop pastiche"Impolite Cheers", and the would-be hit "Spying on the Spies", which could easily be a Superchunk staple.
Honorable Mention: Beatnik Filmstars, Inhospitalable;
1998: Neutral Milk Hotel: In the Aeroplane Over the Sea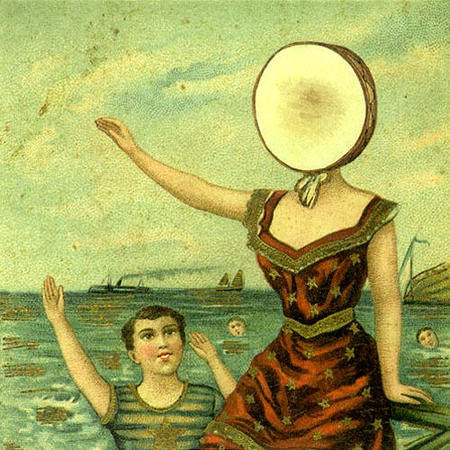 Merge released Neutral Milk Hotel's second album in 1998. It was released to little fanfare and nobody ever heard either the album or the band ever again.
Honorable Mention: The Third Eye Foundation, You Guys Kill Me; Lambchop, What Another Man Spills
1999: Magnetic Fields: 69 Love Songs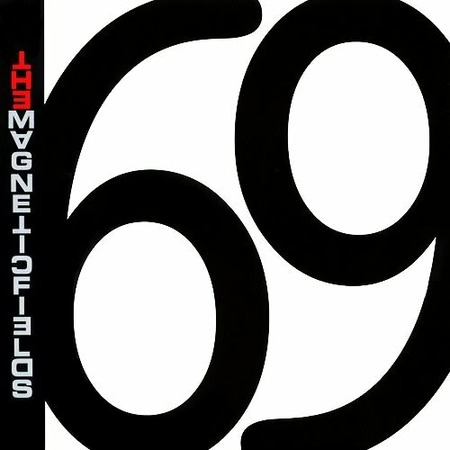 Stephin Merritt's three-disc epic was a crucial breakthrough for both the band and the label, both inarguable proof of Merritt's songwriting skill at a variety of styles and of Merge's ability to successfully release and promote such a massive project. This isn't the best Magnetic Fields record, but it is the most audacious and most overwhelming. It's not a flawless collection of songs but almost a flawless experience, and the batting average is high enough to make up for the strike-outs.
Honorable Mention: The Ladybug Transistor, The Albemarle Sound; The Rock*A*Teens, Golden Time
2000: Lambchop: Nixon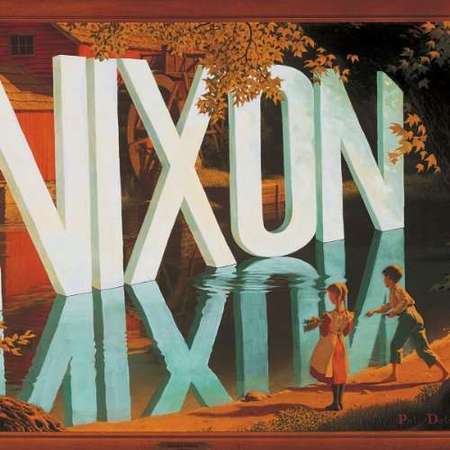 Lambchop was remarkably prolific in its first decade, and more consistent than any band with such a large discography should be. It was also impossible to pin down to any specific genre, least of all indie rock. Nixon, its fourth album in four years, is a smooth collection of loosely R&B inspired chamber pop that got tagged as alt-country or indie rock because of the band's hometown and the label name on the spine, respectively. Kurt Wagner is a masterful, if sometimes indulgent, songwriter, with a knack for abstract lyrics infused with emotional heft by a voice that's both relaxed and tired and deeply lonely.
Honorable Mention: The Rock*A*Teens, Sweet Bird of Youth

2001: Spoon: Girls Can Tell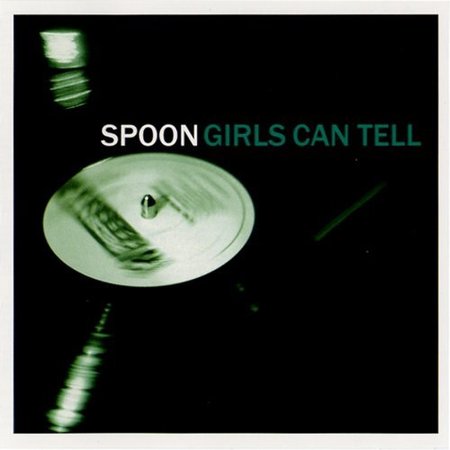 Spoon was an indie rock also-ran who signed to a major label after the alt rock window had already closed, released a shockingly great album that nobody listened to and then got dropped almost immediately. Girls Can Tell, the band's first album back with an indie label, didn't just prove that 1998's major label one-off A Series of Sneaks wasn't a fluke. It confirmed that Spoon had somehow grown into a first-class rock band with an idiosyncratic sound as immediately identifiable as Britt Daniel's voice.
Honorable Mention: The Clean, Getaway;
2002: Spoon: Kill the Moonlight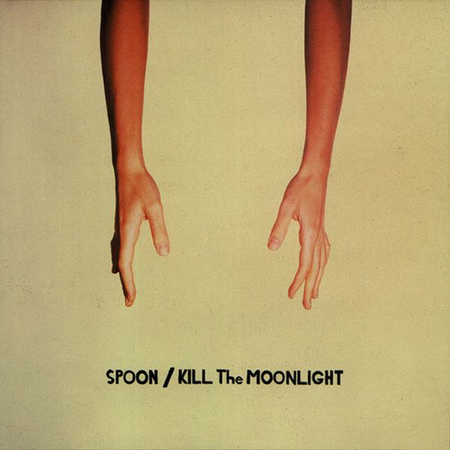 Britt Daniel knows how to sing and write songs, but the power of Kill the Moonlight is in the production. On the minimalist Moonlight you'll hear some of the best use of sonic space on any recent rock record, with crafty use of echoes, separation and panning tricks. Of course that wouldn't mean much if the album didn't feature some of Daniel's best songs, including "That's the Way We Get By" and the ethereal "Vittorio E."
Honorable Mention: Lambchop, Is a Woman; Crooked Fingers, Reservoir Songs EP
2003: Crooked Fingers: Red Devil Dawn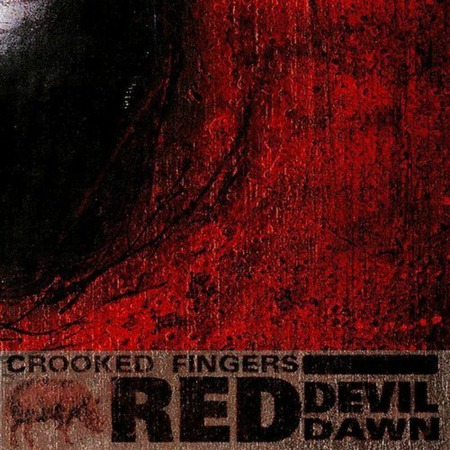 Chapel Hill's Archers of Loaf somehow skipped Merge in the 90s other than one awesome single in 1994. Frontman Eric Bachmann hooked up with the hometown label for the third album from his next project, Crooked Fingers, which eschews the noise and angst of the Archers for a more tuneful and traditional take on songcraft. Bachmann's Neil Diamond croak and Springsteen-ish arrangements reached their peak on Red Devil Dawn, an overlooked gem from an underappreciated songwriter.
Honorable Mention: The Clientele, The Violet Hour; Buzzcocks, Buzzcocks
2004: Arcade Fire: Funeral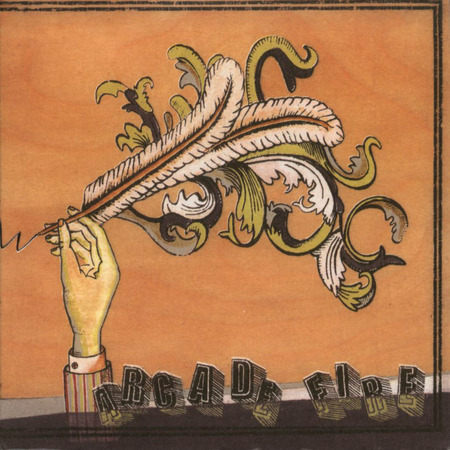 Funeral might be a little overwrought, but who are we to doubt the band's passion? Plus Arcade Fire wrote actual songs beneath all the drama, tapping into the universal discontent of arty teenagers worldwide while paying tribute to such redoubtable influences as Springsteen and the Talking Heads. Funeral quickly made Arcade Fire the biggest band Merge had ever worked with, solidifying the label at the very top of the indie rock industry.
Honorable Mention: Destroyer, Your Blues; American Music Club, Love Song for Patriots
2005: Teenage Fanclub: Man-Made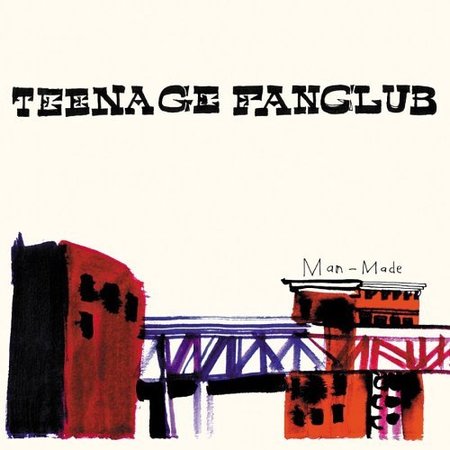 If you were around and aware in 1991 you probably had a copy of Bandwagonesque, even if it was just a dub. Acolytes of Big Star, the Byrds, Badfinger and other power pop pillars whose names may or may not begin with a B, the Scottish band has chased pop perfection on every record since, without ever really making a misstep. Man-Made is another stately collection of craftsman-like power-pop, but with a somewhat dry and clinical production job from Tortoise's John McEntire that creates a nice tension with the traditional Teenage Fanclub sound. It's not an especially great record for the band, but it's the best album Merge released in 2005.
Honorable Mention: Crooked Fingers, Dignity and Shame; Tenement Halls, Knitting Needles and Bicycle Bells
2006: Camera Obscura: Let's Get Out of this Country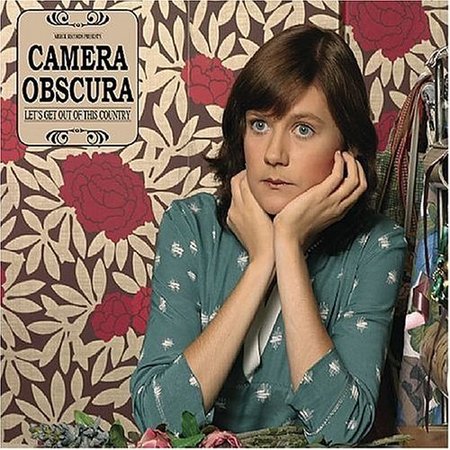 Dogged by undying references to fellow Glaswegian indie-poppers Belle and Sebastian (whose frontman Stuart Murdoch had done some production work for the band), Camera Obscura's gorgeous third album soars on the back of two fantastic singles, the title track and "Lloyd, I'm Ready to be Heartbroken." It's a warm, vulnerable, joyous look at love and the delicacy of personal relationships.
Honorable Mention: Destroyer, Destroyer's Rubies; Robert Pollard, From a Compound Eye
2007: Spoon: Ga Ga Ga Ga Ga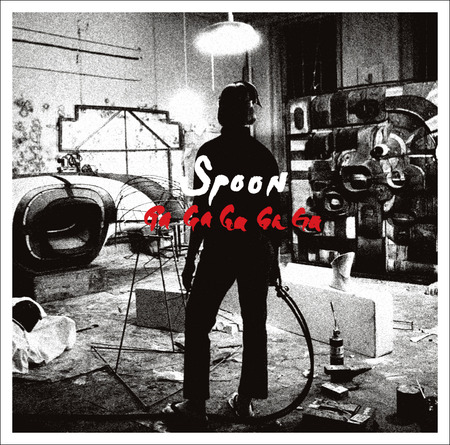 Daniel's voice is still unmistakable, but Spoon largely foregoes its traditional sonic minimalism on Ga Ga Ga Ga Ga. Alternative radio hits "The Underdog" and "You Got Yr Cherry Bomb" are expansively arranged hits that recall Motown and Phil Spector. The band doesn't completely ditch the studio trickery, though—"The Ghost of You Lingers" is a whirring, stuttering ghost of a song.
Honorable Mention: Caribou, Andorra; Oakley Hall, I'll Follow You
2008: Destroyer: Trouble in Dreams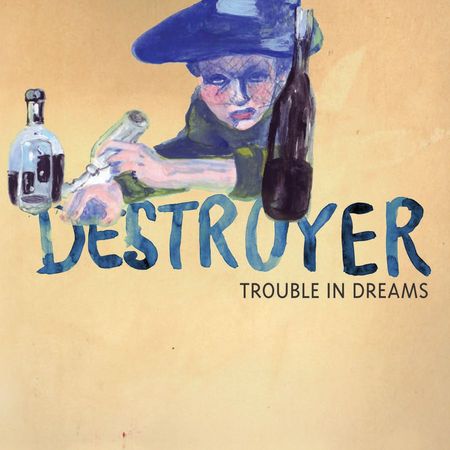 Yet again, it's the luck of the draw. Trouble in Dreams is not the best Destroyer record, but it's the only Destroyer record that came out on Merge in a year where the label didn't release a better record by somebody else. It is a fairly representative Destroyer record, though, a twisting, elaborate, ambitious rock record with erudite lyrics and a confident, theatrical delivery that almost verges on parody. Dan Bejar is a tremendous talent, and Trouble in Dreams is just more proof.
Honorable Mention: Lambchop, Ohio
2009: The Clean: Mister Pop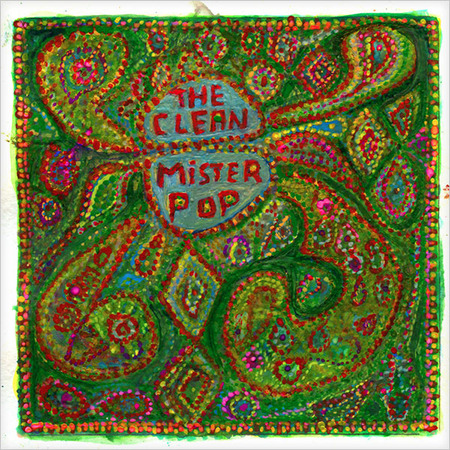 Mister Pop isn't the Clean's best work. You'll find that in the compilations Compilation or Anthology, the latter of which Merge has reissued a couple of times now. Mister Pop is the strongest of their sporadic reunion albums, though, an unassuming collection of pleasantly ragged pop songs with hooks and memorable melodies chugging through the lo-fi fuzz.
Honorable Mention: Polvo, In Prism; The Clientele, Bonfires on the Heath
2010: Superchunk: Majesty Shredding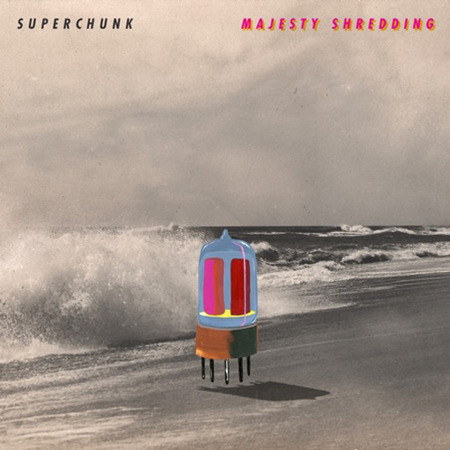 After nine years of occasional singles and a few tours, Superchunk finally returned with a new album in 2010. Somehow it's their best full-length yet. Even their best albums had a bit of filler here and there, but Majesty Shredding is a non-stop blast of high-energy pop power. It's almost like, instead of releasing five albums during that period and then putting the singles on a "greatest hits of the aughts" collection, Superchunk decided to junk every song that wouldn't be a single and release all the hits on a single album. "Learned to Surf", "Digging for Something", "Crossed Wires" and "Everything at Once" are mandatory for even the least committed Superchunk fan.
Honorable Mention: Arcade Fire, The Suburbs; Caribou, Swim; Various Artists, Stroke: Songs for Chris Knox
2011: Times New Viking: Dancer Equired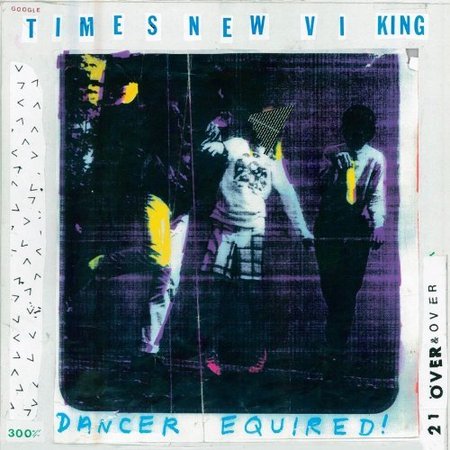 Merge put out some heavy hitters in 2011, but the best record that year came from Times New Viking, an excellent noise pop band from Ohio who had already had stints with Matador and Siltbreeze. Dancer Equired is Times New Viking's most accessibly produced record, but it's still thrillingly noisy, and features the band's catchiest and most assured pop songs yet.
Honorable Mention: Destroyer, Kaputt; Wye Oak, Civilian; Wild Flag, Wild Flag
2012: Mountain Goats: Transcendental Youth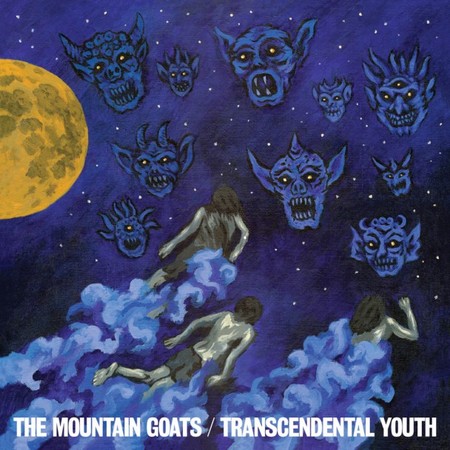 The word "literary" is overused when talking about singer-songwriters, but it perfectly fits John Darnielle's work in the Mountain Goats. Darnielle is a gifted writer with a keen eye for observation, fully fleshing out the characters and settings of his songs with just a few details. Transcendental Youth, a song cycle about various social outcasts in Washington state, is a quietly devastating look at the margins of society. You'll have a hard time not singing along to its catchier moments, no matter how sad the words make you.
Honorable Mention: Bob Mould, The Silver Age; Hospitality, Hospitality
2013: Mikal Cronin: MCII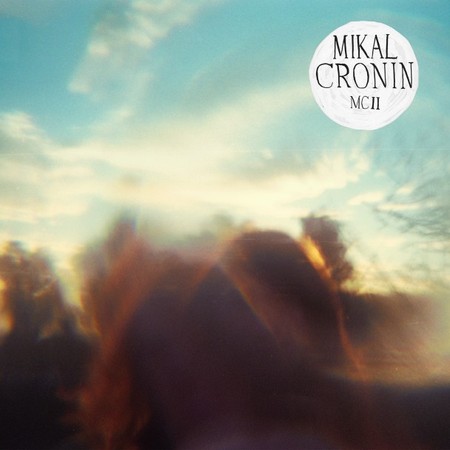 Beneath the tough, noisy exterior of his earlier albums, Mikal Cronin was always a pop guy at heart. His Merge debut cuts back on the grime to reveal a beautiful and surprisingly fragile pop record. Bolstered by strings, acoustic guitars and Cronin's occasional falsetto, MCII reveals Cronin to be as in line with Matthew Sweet as the Oh Sees.
Honorable Mention: Superchunk, I Hate Music; Arcade Fire, Reflektor
Best bets for 2014: Hospitality, Trouble; Bob Mould, Beauty & Ruin; Reigning Sound, Shattered; Ex Hex, Rips
Garrett Martin is Paste's games editor. He's written about music for the Boston Phoenix, the Flagpole, DigBoston and elsewhere.