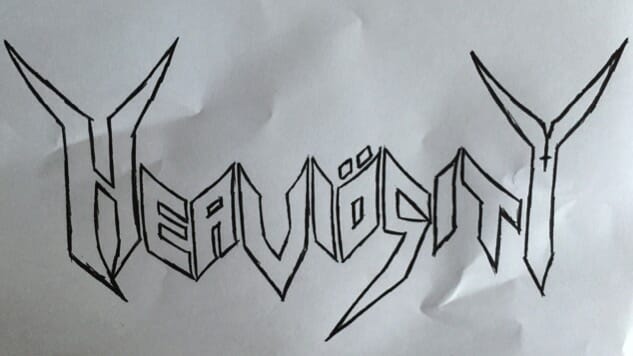 Metallican Do
There's not an album release I remember more vividly than Metallica's Black Album in 1991—25 years ago in August. Goddamn, I'm old.
But before the album came the single, "Enter Sandman" (B-Side: their cover of Queen's "Stone Cold Crazy"). My friends and I bought it on cassette and listened to it over and over. I loved it. More than two decades later if you take away the baggage of the constant radio play, the gazillion records sold, and Metallica cutting their hair (!) and pooping their diapers on a few records since, the riff for "Enter Sandman" is one of their best.
I remember being at a party, and my friends were complaining about the Black Album one minute and banging their heads to it the next. That night sort of exemplifies a lot of people's dysfunctional relationship with Metallica ever since—I hate you! But I love you. Fact is, if the Black Album was released tomorrow—by any band—we'd all be banging our heads to "Through the Never" and "The God That Failed."
Now we have whole new reason to bitch and complain 'bout 'tallica. The band recently released the first single from their forthcoming record, Hardwired…To Self-Destruct, out Nov. 18 on the band's Blackened Recordings.
"Hardwired" is dynamically reminiscent of "Damage Inc.": to the point, galloping riff, barked vocals from Jaymz, who sounds really good here—nary a hillbilly "YEEAAAHHH" or "WHOOOAAAAHHHH" to be heard. Lars' drumming is solid and simple—as it's always been—although the production on the drums sounds a little too Bob Rockish for me. Kirk's solo is unremarkable, but Hetfield's downpicking is as lightning fast as it was in 1983.
Metallica smartly kept the song to three minutes, and it sounds like the rest of the album is gong to be a little tighter than 2008's Death Magnetic, which could've used an editor. I'm looking forward to loving and hating Hardwired…To Self-Destruct. Let's all do it together. See you in November.
New and Approved
SubRosa – For This We Fought the Battle of Ages (Profound Lore)
This is a work of art, dynamic and filled with beautiful twists and spooky turns. And that's just "Wound of the Warden." This record is stunning, and shows a band that is in complete control. Bow.
Inquisition – Bloodshed Across the Empyrean Altar Beyond the Celestial Zenith (Season of Mist)
The new record from longstanding and controversial black metal duo Inquisition. It's one of their best, furthering the band's dark and cosmic black metal with more thought-out dynamics and riffs. Bloodshed (I'm not writing out that goddamn album title again) is filled with head-nodders and head-bangers, but no head-scratchers. No one blends riffs and atmospherics like Inquisition.
Witch Mountain – Burn You Down
I recently had a chance to sit down with Witch Mountain founding members Nate Carson and Rob Wrong, who gave me a sneak peek of the band's new self-released single "Burn You Down," the first to feature vocalist Kayla Dixon and bassist Justin Brown. It's got all the touchstones of Witch Mountain—bluesy riffs, searing and soulful vocals—but there are lots of moving parts. Riffs collapse and reappear in slightly different forms. The drumming is always tasteful, as Carson always knowing just what the song needs (and what it doesn't). Dixon—who has the ability to do anything she wants with that voice—shows restraint and wisdom beyond her years. Yeah, they're a doom band, but they know how to write songs, and they know that dynamics matter. Listen to it on Witch Mountain's Bandcamp page, and buy it on 12-inch vinyl Sept. 16.
Riffs In the Sticks
Last month I bowed before the altar of VHÖL/Hammers of Misfortune guitarist John Cobbett, who I rank among some of the best riffsists in heavy metal. Ever.
That was before I caught VHÖL three times in five days earlier in August. Two of those performances were at Pickathon of all places, the music festival held right outside of Portland, which early on was strictly for pickers and grinners. Over the years the picturesque and beautifully organized festival—which just wrapped up its 17th year—got more adventurous, snagging Future Islands in 2011 and Thee Oh Sees the following year. Ty Segall, Parquet Courts and Black Mountain have also played. But a metal band has never performed at Pickathon.
Needless to say I was as excited to see VHÖL play as I was to see the jaws dropping and the people fleeing. I looked at the hillside where a few black-shirted heshers stood among clusters of REI catalog models and their children. "Oh yeah, this'll be good," I thought. My asshole desire to watch innocent people getting punished by heavy metal riffs was not to be. Instead, people stayed. More people gathered. And a group of lanky and smiling teens formed a moshpit stage left.
"It seemed like most of them had never seen anything like us before," said Cobbett after VHÖL's second Pickathon set. "I think there were a lot of curious people. It was great—especially the young kids that were like 13 years old. That was me!"
There's no doubt that VHÖL made an impression. I felt it. Those kids definitely felt it—I suspect a couple dozen metal bands were formed following those performances.
I caught up with Cobbett after the band demolished the intimate Galaxy Barn at Pickathon. We sat on the hillside overlooking the barn as our kids played below. Cobbett was relaxed, but he was a little preoccupied with he and his partner (and VHÖL bassist) Sigrid Sheie's upcoming move to the country in Montana, after spending his last 29 years in the Bay Area.
"There's really nothing left in San Francisco except homeless people and expensive restaurants. We decided not to wait to get evicted. We have a 2-year-old so we took the bull by the horns," Cobbett said. "I'm expecting, after I get settled in, to have a massive inspiration—a new environment, being surrounded by nature. I'm really looking forward to that."
HEAVIÖSITY: What was your reaction when they asked you to play Pickathon?
John Cobbett: I'd never heard of it. We didn't know what it was, but we were like, "OK, sure." We're in the middle of dealing with a lot of hectic shit, so we didn't really look into it. I didn't realize that it was all this, on this scale. But I'm glad we did it; it was a lot of fun.
HEAVIÖSITY: I'm glad, too. I'm glad everyone was feeling adventurous. You're the first metal band to play.
Cobbett: Yeah, we're the token metal band [laughs].
HEAVIÖSITY: Did you grow up in the Bay Area?
Cobbett: No, I grew up in a lot of places, but mostly Washington, D.C., northern Virginia—that's where I first discovered local music when I was 14 years old. So I was in the whole D.C. punk scene; that's where I kinda hailed from. Obviously, that scene is legendary now, and that changed my life completely. I saw The Bad Brains when I was 14. That blew my fucking mind. The Bad Brains in their prime—'80-'81—holy shit. That amount of energy? If I could bottle that. For a 14-year-old to see The Bad Brains in their prime—that's why I'm still here.
I've been doing music in the underground and working in bars and small venues my whole life. That scene left a very, very strong impression on me. You know when you're that age—14, 15—your neural pathways are just being formed, and they'll form in the shape of whatever you're doing at the time. And what I was doing was hardcore, metal, going to small shows, seeing underground bands, running away from people who wanted to kill us for being the only punk rockers in our town.
HEAVIÖSITY: I put you up there with some of the great rhythm players…like up there, whether you fucking like it or not.
Cobbett: Oh geez, dude…that's a tall order.
HEAVIÖSITY: I know, but over the last few years you've emerged as one of the great players.
Cobbett: I've been working hard to get better.
HEAVIÖSITY: Do you labor over riffs?
Cobbett: Sometimes a riff will pop up fully formed. But a lot of times I'll come up with something I like, record it, and leave it for like a year. I'll go back to it a year later—I've forgotten all about it—and go like, "Oh, that's a nice little riff." Other times I'll write a riff that I think is cool, and I'll develop it across several key changes and have it become a combination between a chord progression and a riff. That way I can build harmonies and melodies over it, with longer structures. Because a riff just by itself is a little thing that cycles over and over again—so I like to fuck around with that.
HEAVIÖSITY: I think "The Desolate Damned" is one of your best.
Cobbett: Yeah, well thank you. That's an odd arrangement. The other thing I stupidly try to do is avoid verse/chorus/verse/chorus/bridge/verse/chorus/coda…I try to avoid that, but I don't try that hard to avoid it. Usually I like to make sure that no two verses are the same—most of the time. A song like "Deeper Than Sky" is a trilogy. Like Beethoven did these sonatas, which were three movements—well, let's do the same thing. I do it with Hammers all the time. The whole first side of "Fields" [from 2008's Fields/Church of Broken Glass] is long piece of music that's actually three movements…so yeah, we do lots of pretentious bullshit like that [laughs].
HEAVIÖSITY: Are you pretty into prog then?
Cobbett: Oh yeah. Old prog. People are always saying, "Oh Dream Theatre!" I've never heard it. I like classic-era Yes. I like King Crimson. Emerson, Lake & Palmer. Of course, Pink Floyd. Some of the German stuff. Goblin. But mostly I listen to thrash…thrash and shit like old Scorps and Judas Priest. I'm an old-school metalhead. And I love punk, too—Dead Boys, Toy Dolls. I have to mention that Discharge and Venom are the two huge influences on VHÖL. If I forgot to mention them before in the bands that I listen to, I'm mentioning them now.
HEAVIÖSITY: That all comes through in your music for sure. And I think Deeper Than Sky is an amazing and special record.
Cobbett: It's kinda what I wanted to do since I was 18. I wanted to do a really powerful thrash metal band with punk and psychedelic overtones. Black Metal by Venom has a lot of psychedelia and a lot of weird atmospherics. I'm looking forward to getting to work on the next one, because I love playing that fucking thrash, man. I love it. The older I get the more I enjoy it.
Getting the Spins
Holy Terror – Mind Wars (1988)
RATT – Detonator (1990)
KISS – Revenge (1992)
VHÖL – Deeper Than Sky (2015)
Metallica – Master of Puppets (1986)
Mark Lore is complaining about the heat over on Twitter.