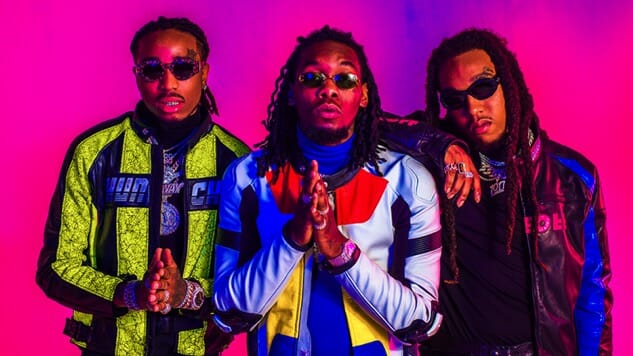 Atlanta hip-hop superstars Migos continue to stoke anticipation for their new album Culture II, due out this Friday, Jan. 26 on Quality Control Music / Capitol Records / Motown Records. The Grammy-nominated trio have shared a new single from their much-anticipated album, appropriately titled "Supastars."
"Supastars," produced by Honorable C.N.O.T.E., is driven by a luminescent piano loop, droning synth accents and Migos' typically melodic, swaggering lyrics. Quavo, Takeoff and Offset sound appropriately on top of the world here, with Quavo announcing on the hook, "Superstars, superstars, superstars out / Brand new cars, we buy the bar now." Cheers.
The celebratory single joins a pair of previous Culture II advance tracks: "Motorsport," featuring Nicki Minaj and Cardi B, which has racked up over 300 million streams since its release last October, and "Stir Fry," produced by Pharrell Williams, which has been streamed more than 30 million times since it dropped in December. All signs point to another massive album for Migos.
On Thursday, Jan. 25, the eve of Culture II's release, Quavo, Offset and Takeoff will perform on The Tonight Show Starring Jimmy Fallon. It will be their second appearance on the late-night show, after they, alongside Fallon and The Roots, performed their viral single "Bad and Boujee" with children's instruments on the show in March.
Only adding to the buzz surrounding the second coming of Culture is Migos' breakout album's continued acclaim. The trio landed Grammy nominations for Best Rap Album and Best Rap Performance for Culture and "Bad and Boujee," respectively, further cementing the album's modern-day hip-hop classic status.
Listen to "Supastars" below (or via your streaming service of choice here), and revisit "Stir Fry" and "Motorsport" while you're at it.