Watch Migos' Martial Arts-Inspired "Stir Fry" Video
Image via Quality Control Music / Capitol Records / Motown Records
Music
News
Migos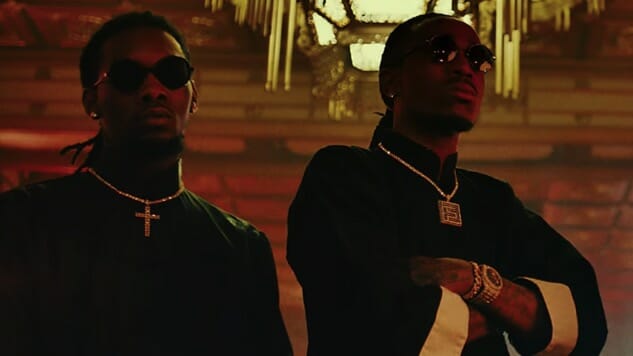 Migos go kung fu in the martial arts-inspired music video for their hit single "Stir Fry" off their latest LP, Culture II, the follow-up to their breakout album, Culture, which garnered a nomination for Best Rap Album at the 2018 Grammys. The rap trio from Lawrenceville, Ga., recently made the song's TV debut on The Tonight Show last week amidst a background of white roses highlighting a red roman numeral II.
The Sing J. Lee and Quavo-directed music video begins with the Migos crew counting yen as they gamble in the back of "Migos Stir Fry Restaurant" alongside "Stir Fry" producer Pharrell Williams. The story turns as a severed hand gets thrown through the window of the restaurant, inciting Migos to fight with a rival crime boss. The fight is broken up between flashbacks of Migos crew members training with wooden practice dummies and the narrative betrayal of a character named Sister 13. The song breaks to highlight an action-packed fight scene in which Migos defeat the rival gang member with a synchronized punch and Sister 13 gets her tongue cut off.
This year, Migos lost out on both of their Grammys to Kendrick Lamar. While the group might've not seen a Grammy win this year, their new video captures the outlandish and likable energy this group emits. Culture II was released last Friday, Jan. 26, featuring singles "Supastars," "Stir Fry" and "Motorsport."
Watch the "Stir Fry" video below and revisit Paste's coverage of Migos performing "Bad & Boujee" with office supplies on The Tonight Show right here.