Militarie Gun Announce Debut Album Life Under The Gun
The announcement is accompanied by new single "Very High" and a video directed by Mason Mercer
Photo by Daniel Topete
Music
News
Militarie Gun
In just under three years of existence, Los Angeles-based rock quintet Militarie Gun have accomplished a lot. In 2020, they put out their debut EP My Life Is Over, only to follow it up quickly with a pair of companion EPs, All Roads Lead To The Gun and All Roads Lead To The Gun II. Add to that a collaboration with Dazy, stops at festivals like Outbreak, Roskilde and 2000 Trees and getting backed by Loma Vista Recordings, and you've got a band headed straight for the top of the mountain.
After the release of the single "Do It Faster" in February, a full record felt imminent. Fast forward to today, and Militarie Gun have officially announced Life Under The Gun, their highly anticipated, 12-track debut arriving June 23 via Loma Vista Recordings. New single "Very High" is punchy power pop on steroids coupled with post-punk fixations and hardcore undertones. Bandleader Ian Shelton's vocals are daring, gargantuan and spell-binding, delivering a sermon on alienation while guitarists Nick Cogan and William Acuña offer chunky, searing chords plump with punk distortion. For an album teaser, the band doesn't overstay their welcome, filling the sub-two-minute track with massive hooks and barbed percussion work from Vince Nguyen.
"'Very High' centers around the desire to escape the embarrassment of day to day life as much as possible. From the lyrics to the video to the cover art of the album, it's about struggling with someone no one else sees, 'I've been feeling very down, so I get very high,'" Shelton says about the single.
Check out the music video for "Very High" (directed by Mason Mercer) and the Life Under The Gun album artwork and tracklist below.
Life Under The Gun Album Artwork: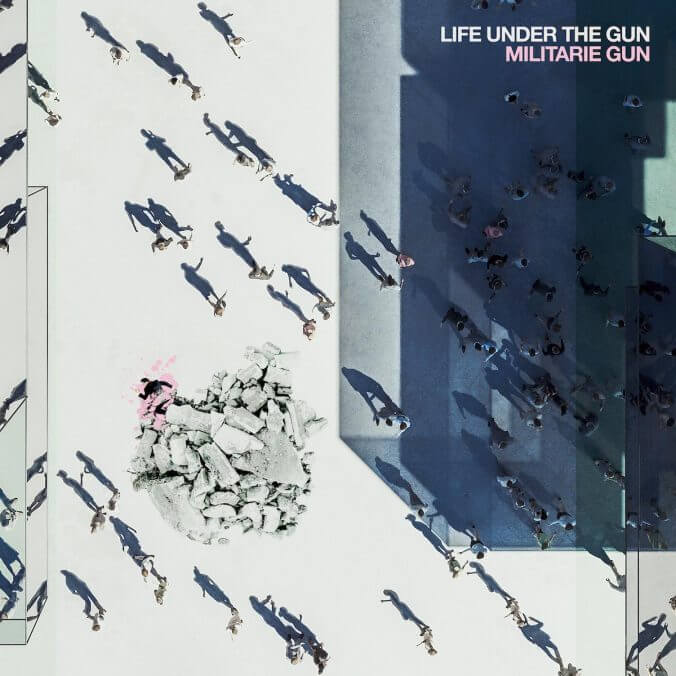 Life Under The Gun Tracklist:
Do It Faster
Very High
Will Logic
My Friends Are Having a Hard Time
Think Less
Return Policy
Seizure of Assets
Never Fucked Up Once
Big Disappointment
Sway Too
See You Around
Life Under The Gun
Militarie Gun's Upcoming Tour Dates:
5/06 – San Pedro, CA @ The Sardine^
5/09 – London, UK @ The George Tavern SOLD OUT
5/11 – Brighton, UK @ The Great Escape Festival
5/12 – Brighton, UK @ The Great Escape Festival
5/14 – Paris, FR @ Le Klub
5/15 – Brussels, BE @ Ancienne Belgique
5/26 – Las Vegas, NV @ Punk Rock Bowling
5/27 – Joshua Tree, CA @ Giant Rock (Desert show)
6/23 – Manchester, UK @ Outbreak Fest
6/24 – Haarlem, NL @ Kliko Fest
7/01 – Roskilde, DK @ Roskilde Fest
7/02 – Rotterdam, NL @ Metropolis Fest
7/03 – Berlin, DE @ Hole44*
7/04 – Cologne, DE @ Gebäude 9 *
7/05 – Haarlem, NL @ Patronaat*
7/07 – Cheltenham, UK @ 2000 Trees Festival
7/08 – London, UK @ Electric Ballroom*
7/09 – Ieper, BE @ Ieper Fest
7/21-22 – Chicago, IL @ The Rumble