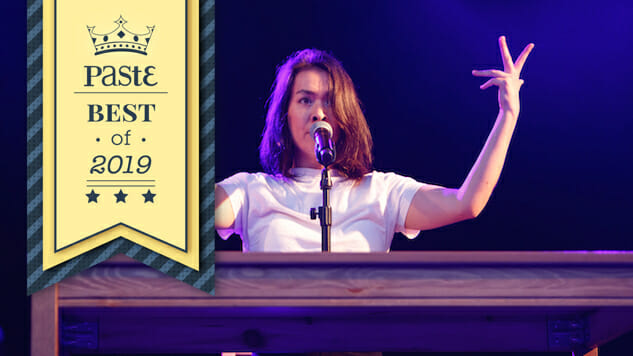 Whether you go to concerts for entertainment, healing or relief from the chaos of everyday life, live music is one of the best communal experiences available to us as music fans and as humans. This year, the Paste staff's favorite shows ranged from indie acts performing in tiny clubs to then-undiscovered gems playing side-stage festival sets to megastars filling up arenas. But each one made us feel something. From hip-hop and rock to country and pop, here are our 15 favorite concerts from 2019.
15. Maggie Rogers
I could liken Maggie Rogers' concerts to church, but that would hardly do them justice. Before her set at Atlanta's Fox Theatre a few months ago, there was an excited chatter buzzing around the room, like every attendee knew she was about to experience something special. Indeed, Rogers leads her crowds in a spiritual experience that ranges from catharsis to witch coven meeting to all-out dance party. It's an appropriate setting to play songs like "Back In My Body" (a crowd favorite) and the fortified "Falling Water." From start to finish, Maggie's show is a physical experience. —Ellen Johnson
14. Tyler, The Creator
Tyler, The Creator's IGOR show went by in a flash. After opening sets from Blood Orange and GoldLink, the rapper/singer appeared on the stage as if by magic, clad in one of his signature suits and angular blonde wigs. The most miraculous aspect of his show is his stamina. Tyler rarely stops moving or sweating, constantly dancing and traversing the stage in an urgent manner while he aggressively spits fire into the mic. I watched the kinetic pit full of super-fans and rabid twentysomethings from a stadium seat, happy to be in the same room as all the madness but relieved to be elevated from the chaos. —Ellen Johnson
13. Charly Bliss
Charly Bliss were one of the most buzzed-about bands to release new music in 2019, and the pop-punk group's live show should be receiving equal hype. This is a band who still plays clubs (though probably not for too much longer), but their sets feel so large and bright, you'll feel like you're singing and dancing at a concert hall. Frontwoman Eva Hendricks is meticulous in her choreography and costumes, often decked out in feathers and glitter while she splays her arms wide and breathes life into the microphone for 90 minutes straight. The Brooklyn-based band's latest record Young Enough steps into synthy pop territory, and it's clear they had a blast shaping the new songs for a live setting. —Ellen Johnson
12. Ohmme
In what might have been my favorite headline show of 2019, Chicago duo Ohmme gave an envelope-pushing performance to no more than a few dozen people. Their 2018 debut album Parts is considerably poppier than their live delivery of these tracks. On stage, multi-instrumentalists Sima Cunningham and Macie Stewart curate an arty, almost theatrical, elegance with their mesmerizing, overlapping pop vocals, cutting guitars and thrashing violin. Their vocal volley in "Water" is downright jaw-dropping, and the spooky build-up of "Grandmother" leads to a thrilling payoff. Ohmme's smooth transitions between folky introspections, hair-raising dynamism and pop uplift make them a unique force. —Lizzie Manno
11. Kacey Musgraves
Early Saturday morning at this year's Bonnaroo, I was sitting in the press tent when I heard what sounded like the opening bars of Kacey Musgraves' "Wonder Woman" bouncing off a distant stage. I leapt from my seat and charged across a field only to find Musgraves and her all-star band warming up for Saturday evening's much anticipated set, flanked by eager fans and early risers who, like me, had correctly suspected the source of that sweet noise. "Wonder Woman" is a back-end treasure from Golden Hour, one that's even more enjoyable to hear live. That 10-minute soundcheck was itself perfection, but the real deal was on a whole other plane of blissed-out elation. The immaculate set marked Musgraves' sixth year in a row performing on the farm, and her third major festival performance this summer after both Coachella and Governor's Ball, where she was met with a screaming mass of NYC music fans. But it's different in Tennessee. I couldn't help but believe her when Musgraves said, "I'm not lying at all when I say that Bonnaroo is my absolute [sic] favorite place to play." It was the perfectly timed golden hour performance of Golden Hour hits, from the uplifting piano ballad "Rainbow" to a plucky rendition of the title track. She wound down the set with an unexpected but delightful cover of The Flaming Lips' "Do You Realize?" and closed out with her disco-infused bop, "High Horse." A shower of globe-shaped balloons rained down on the crowd, rainbows peeked out from every corner and a troupe of drag queens (some of whom were on stilts) emerged for a finale we'll not soon forget. —Ellen Johnson
10. Miranda Lambert/The Pistol Annies
Miranda Lambert released her excellent new album Wildcard this year, and her country star-studded tour supporting the record was one of the more epic live events I witnessed in 2019. Ashley McBryde and Maren Morris opened the show before Lambert sashayed on stage in a glitzy cowgirl getup. She was later joined by the band she helms with Ashley Monroe and Angaleena Presley for the intermediate Pistol Annies set. Again, that's McBryde, Morris, Lambert and the Annies—four of the best acts working in country music—playing one show in one night. How could it not be wonderful? It was nearly four hours long and concluded with the entire group playing one song together on stage, but the highlights were certainly from the Annies' set. "Lonestar" (Lambert), "Hippie" (Monroe) and "Holler" (Presley) have been through the ringer the last few years, as discussed on their honest 2018 album Interstate Gospel, and they're certainly not afraid to share on stage in front of an arena crowd of 10,000 people. The crowd went wild for hits like "Hell On Heels" and "Best Years of My Life." They preached, shouted, sang and soared, proving again that they're one of the best live bands around. —Ellen Johnson
9. Dilly Dally
Toronto's Dilly Dally are a much-needed breath of fresh air in the punk scene. Frontwoman Katie Monks' slightly childish, thoroughly raspy voice is unlike any I've heard before. With a backing of sludgy, fuzzy riffs, Monks vocals cut through like a dagger, and you get this unusual sensation of simultaneous vigor and leisure. Monks' rough barbed wire voice might give you the urge to clear your throat, but it sounds infinitely more satisfying and interesting than singers who lean on cheap vocal effects. Their most recent album, Heaven, may be marked by its bewitching distortions, but their alluring, sassy and heartfelt sides are apparent too. Dilly Dally's grungey punk and near-stoner metal is truly one-of-a-kind. —Lizzie Manno
8. Fontaines D.C.
Irish band Fontaines D.C. appear to be the next big post-punk export from the British Isles. They released their debut album Dogrel on April 12 via Partisan Records, and the five-piece band made their SXSW debut this year with some serious hype behind them. Frontman Grian Chatten doesn't have a rough, throaty punk roar, but his droney, poetic speak-sing packs just as much of a punch. When he's not evangelizing in a distinctly Irish tongue, he wanders anxiously around the stage rather than throwing himself around or into the crowd. Tracks like "Boys in the Better Land," "Too Real" and "Big" were all winners—their gritty social commentary is powerful and their no-frills rock riffs possess a meaty, spring-loaded energy. —Lizzie Manno
7. Mavis Staples
Mavis Staples started singing professionally in 1950, and trying to wrap your head around that while watching her going strong in 2019 is hard work. But it makes sense that the performance on stage can only be the product of seven decades of practice. With a tight band behind her blending a breadth and depth of American music traditions—from Gospel, soul and R&B to Americana and rock 'n' roll, she just draws all the love and goodness from your subconscious until it overwhelms every anxious thought or negative feeling. Ms. Staples is a national treasure, and deserves all the awards and accolades that have been thrown her way. —Josh Jackson
6. Black Midi
No one quite knows what Black Midi are. They're simultaneously an art rock act, a post-punk group, a noise band, a free-jazz ensemble, and an improvisational outfit that's somehow both tight and loose at the same time, amongst a myriad of other descriptors. They're impossible to pin down, but one thing's for sure: they were the best damn thing I saw at SXSW this year. With their members still teenagers or early-twentysomethings, they're already individually some of the most talented instrumentalists around. They more than lived up to the hype as being one of London's best live bands before they even released more than one song. Equal parts beautiful and brash, Black Midi's live set is unlike anything you've ever seen before, one that leaves you in complete awe despite not knowing what you just witnessed. They're a band you have to see live to truly get, one that probably won't make much sense until you're sweaty and bruised from the moshpit. With complex time signatures, whispers, screams, distortion, and extremely unique drumming, they may be hard to nod along to, but you'll walk out knowing that you truly saw something special. They were one of the most talked about groups at SXSW this year, and for good reason—Black Midi laid waste to every stage they stepped onto and damn near burned the city to the ground. —Steven Edelstone
5. Angel Olsen
When people discuss Angel Olsen's new album All Mirrors, our pick for the number two album of 2019, they're usually very quick to mention the strings. All Mirrors is full of lush arrangements featuring what sounds like an entire orchestra. When she set out on the tour behind the record, I wondered how much of those big sounds would be performed live. The answer? A lot. Olsen travels with an incredible band featuring a violinist and cellist, pianist, a handful of guitarists and the rest of her usual lineup. The live performances of these new songs—intense and emotionally visceral—are so stunning that by Act II of her show I was almost bored hearing her older hits like "Shut Up Kiss Me" and "Intern." But don't get me wrong—she absolutely rocks out during those aspects, too. Whether she's cracking jokes alone at the guitar or fronting a band of talented musicians producing swelling sounds, Angel Olsen is poised, confident and dazzling during this tour. I can hardly think of a more essential show supporting an album out this year. —Ellen Johnson
4. Sharon Van Etten
It's no wonder Sharon Van Etten played the main stage (a.k.a. the Peachtree Stage) at this year's Shaky Knees festival in Atlanta. She's an absolute powerhouse in a live setting, leading her band like a true frontwoman at the top of her game. It is curious she played so early in the day (3:40 p.m.)—her commanding set felt worthy of a twilight slot. But in the end, the time or place didn't matter. Watching Van Etten play the songs from her bold new album Remind Me Tomorrow, a record that makes a clear, marvelously executed departure from her earlier folk-leaning material, felt like witnessing an artist fully come into herself. It's not that her new music is better or worse than her first four albums (2014's Are We There makes a convincing case for modern classic status). Rather, it's Van Etten finding power in her new confidence, in her ability to change her sound, which is now frothy with synths and droning drum loops and cathedral-like choruses, and still maintain her gusto. On Friday, she seemed most fortified when playing with a guitar (which she did with her hit "Every Time the Sun Comes Up"). But then again, when her hands were empty, she seemed just as assured—when she sang (read: bellowed, or maybe wailed?) "I know what you're gonna be" to her "Seventeen"-year-old self, I felt every hair on my body actively raise. That Springsteenian tune was our pick for the best song of the year, and Sharon Van Etten is constantly reinventing herself in the best way. —Ellen Johnson
3. Big Thief
There's a strong case to be made that Big Thief were the best band of 2019. Our best albums of the year roundup certainly makes that case as they placed two records on the list, including the highest-ranked album by any band with Two Hands clocking in at number four. The Brooklyn folk-leaning indie rock band's live show is even more raw and spiritual than their gorgeous records. The four-piece plays like they've been playing together since birth—there's a symbiotic relationship and visible compassion for each other that radiates from each song. Lead vocalist Adrianne Lenker has a motherly warmth and raw tenacity, and both are heightened in a live setting. Crowds soak in Big Thief with a silent reverence that's so rare to experience once you reach a certain level of notoriety. If you're disappointed about the legendary artists that you weren't able to see in their prime, Big Thief are one of the few young musical luminaries that could fill that hole—and lucky for us, they aren't playing arenas just yet. —Lizzie Manno
2. Lizzo
Lizzo turns every venue she plays into the Church of Healthy Self-Esteem—and she's a fiery preacher. She's on a body-positive, life-affirming mission to make sure every person in the crowd learns to love themselves like she has, always acknowledging that her self-confidence has been hard won. But it's also just a rowdy party, riling up some of the loudest crowds I've ever heard. It seems like she just appeared out of nowhere, but she's been honing her show over most of this decade, exuding the same energy in her 2016 performance at Daytrotter as she did in her most tour. With a growing arsenal of feel-good singles, the singer/rapper has everything you need to be a superstar: the vocal chops to cover Aretha Franklin, arresting originality (she's a badass on the flute!) and the charisma to make you feel like you're witnessing something truly special in music history. —Josh Jackson
1. Mitski
When Mitski started playing shows earlier this decade, she would simply stand at the microphone and play. By the end of the decade, however, she was pacing back and forth, turning her show into a mesmerizing interactive art piece. Each song had its own specific dance, each lyric a different, calculated move. A basic table and a chair became stunning setpieces, each used to their fullest potentials. She cut her teeth in the DIY venues of Brooklyn where she let her music speak for itself. But just a handful of years later, she bid us farewell with two unforgettable shows on the hallowed grounds at Central Park in September, a testament to her meteoric rise as indie rock's new hero. She held the crowd in the palm of her hands those nights, silencing 5,500 people with absolute ease. It may be some time before we see Mitski return, but she has fully cemented herself as one of her genre's most exciting stars, one that's capable of putting on one of the most unique shows around. —Steven Edelstone