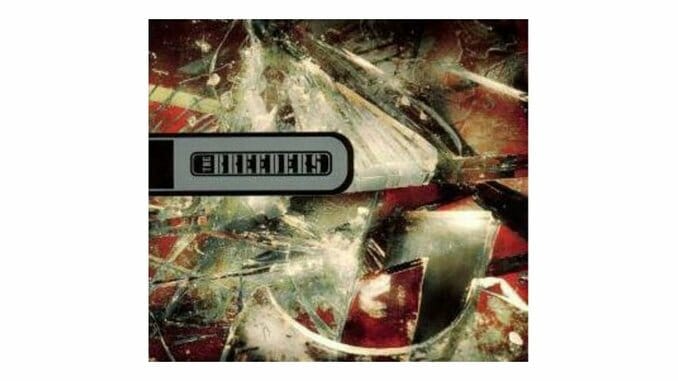 The Deal sisters stumble back into the sunshine for another winning set of delicate heartbreakers
Four songs into Mountain Battles, Breeders singer/guitarist Kim Deal announces in her sweet, pensive hiss, "No council, no grand strategy, no sword to fall on … just the light on my face." This simple statement of purpose comes amidst the gentle minimalism of "We're Gonna Rise," the kind of gorgeously gauzy song that made The Breeders one of the more revered bands of the alternative-rock era.
"We're Gonna Rise" isn't really about the plight of a group that spends five to ten years between albums. It's hard to know exactly what it is about, since Deal's lyrics are as compellingly vague as the music. But the song could refer to Deal and her identical twin sister Kelley's struggles to maintain control of their lives long enough to put out a new set of music on a regular basis.
Let's rewind: The Breeders formed in 1988 as a side project for Kim Deal, the frustrated, bass-playing supporting songwriter for the Pixies who was held back by domineering frontman Black Francis. Deal and another frustrated supporting songwriter, Tanya Donelly of Throwing Muses, recorded The Breeders' outstanding debut, Pod, as an outlet for their pent-up creativity. But the group turned out to be more Deal than Donelly, and the former Muse soon left to form her own band, Belly. Deal worked uncharacteristically quickly at putting together a new Breeders lineup, with sister Kelley replacing Donelly. The result was 1993's Last Splash, a now-classic album that benefited from the post-Nirvana alt-rock boom. It reached No. 33 on the Billboard 200 albums chart and spawned the No. 2 modern-rock hit "Cannonball."
For fair-weather alt-rock fans, that's where the story ended—The Breeders were a one-hit wonder, bound for VH1's "Where Are They Now?" junk heap. The assumption was reasonable, given that they were soon sharing pop gossip columns with Courtney Love, their drug problems and squandered royalties overshadowing any new musical projects. In 1995, while Kelley Deal was in rehab for a heroin addiction, Kim released an album by a new band, The Amps, and then promptly disappeared. Kelley surfaced from rehab a year later with the Kelley Deal 6000, released a pair of albums, in 1996 and 1997 respectively, and then also disappeared. End of story. Or so we thought.
A funny thing happened in 2000, seven years after Last Splash. The sisters announced they'd reformed the band with guitarist Richard Presley and bassist Mando Lopez, both former members of West Coast hardcore band Fear, and punk drummer Jose Medeles. The resulting album, Title TK, was as good as anything The Breeders had ever released. But it was fleeting. Years passed, Deal got back together with the Pixies for some high-profile reunion shows, and The Breeders seemed to be gone again.
Wasn't it Alice Walker who wrote about not being able to keep a good woman down? If that's true, then it's impossible to keep two good identical twin sisters down. What makes the Deal sisters tick is their evergreen naiveté, their willingness to probe life's dark underbelly in a musical haze of bittersweet simplicity that sounds timeless, even downright natal. And Mountain Battles is perhaps their simplest work ever.
The album begins with the whisper-shouted words "I can feel it" in a wash of reverb over clattering, Keith Moon-like drums and occasional backward guitar loops. It comes off like arena rock in a fish aquarium, followed by the minimalist electronic garage rock of "Bang On," which finds the Deals chanting, "I love no one and no one loves me."
The album's sequencing is impeccable, as the band segues into airy atmospherics for "Night of Joy" and "We're Gonna Rise," the album's most tender, melancholy and meditative tracks. The Deals experiment with odd vocal juxtapositions on the gritty "German Studies," a song that makes the angular, Wire-like experiments of younger bands like Bloc Party seem amateurish by contrast. A jazzy standup bass line gently props up the album's spare centerpiece, "Istanbul," which includes the mysterious chanted refrain, "Where you going? To the city. Where you going? Istanbul."
The only real misstep on Mountain Battles is the band's cover of "Regalame Esta Noche," a '60s-era bolero written by Roberto Cantoral of Los Tres Caballeros and recorded by numerous Latin stars, from Javier Solís to José Feliciano. What prompted the band to put their warbly alterna-whisper and weird Spanish phrasing to such a classic is a mystery, but the experiment doesn't work. The song is designed to be sung from the gut, but Deal sings it as if she has marbles in her mouth. By contrast, the sisters' twangy take on their Appalachian folk-like "Here No More" does work, in a sort of Carter Sisters-via-Ohio way.
Mountain Battles closes with its droning title track, which recalls the '70s minimalism of Brian Eno and Robert Fripp. It's an achingly beautiful ballad, its slurred lyrics seemingly expressing deep regret—perhaps for all the wasted time, all those years The Breeders could have spent producing so much more.