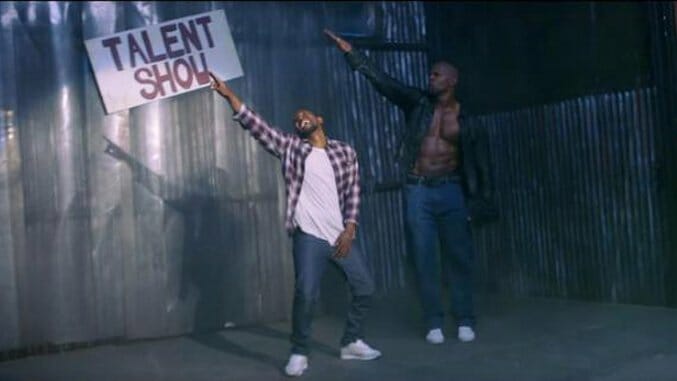 Music videos are going through something of a renaissance era right now. Beyoncé, the true queen of visuals, ushered in a whole new trend with her self-titled visual album in 2013 for which she filmed 17 music videos. As if that wasn't enough, she blessed us with Lemonade, a film to accompany her groundbreaking album exploring relationships and black womanhood. Lemonade even caused the VMA's to revive the best long form video category, making Beyoncé the first artist to receive the award since Madonna in 1991.
Artists are stepping their game up, realizing concert footage will no longer cut it. This has given way to so many music videos that go beyond aesthetic and place a focus on storytelling. Some are even outdoing mainstream films with their original ideas and experimental cinematography. Whether it is the narrative, the characters or the method of storytelling, here are 10 music videos so captivating that they deserve to be adapted into feature length films.
1. The Lumineers, "Sleep on the Floor," "Angela" and "Cleopatra"
Director: Isaac Ravishankara
In 2016, The Lumineers released a trilogy of semi-connected music videos centering around what seems to be the out-of-body experience of three women. While each of the videos, most notably "Sleep on the Floor," could probably inspire their own charming indie flicks, it is the link between the three characters that would create the most interesting narrative. One of the most popular theories among fans and music blogs is that the videos depict the same woman at different stages in her life, exploring what could have happened if she had made different choices. An adaptation with a non-linear timeline that only gives subtle hints that the women are all the same up until a certain point in the film would be extremely intriguing.
2. Naughty Boy, "La La La"
Director: Ian Pons Jewell
What starts off as light hearted quickly turns mysterious in this music video loosely inspired by The Wizard of Oz. The English DJ/producer/songwriter/rapper teamed up with Sam Smith for this No. 1 hit, and while the video's story is grounded in reality, it also plays with some pretty interesting surrealist elements. There would be a lot of room here to experiment with modern themes while tying everything together with the original content of the classic fantasy film.
3. Childish Gambino, "Telegraph Ave ('Oakland' By Lloyd)"
Director: Hiro Murai
Multihyphenate Donald Glover is possibly one of the most interesting creatives in the industry right now, and with credits as a musician, actor, writer and director, it is no surprise that his music videos would wind up on this list. Glover stars alongside Jhene Aiko in the video for "Telegraph Ave," which shines in its stunning cinematography, coloring and location. For a while, it seems that was all there really is to the video, but a rather unexpected ending changes the whole story in a way that could make a really interesting movie. It should be noted that it could also make a pretty bad sci-fi movie (à la Sharknado) but in the hands of the right creative team, like the video's director Hiro Murai who has also helmed several episodes of Atlanta, this could be rich with possibility.
4. Sonder, "Too Fast"
Director: Noah Lee
This music video has a lot going for it, from masterful cinematography to engaging pacing. While the narrative here is fairly abstract and seems to leave a lot up for interpretation, there is a wealth of symbolism that could make exciting source material for a longer film. Plus, considering representation for people of color in science fiction is rare, to say the least, a film like this could be a conversation starter if not groundbreaking for the genre even if it ends up being one of those films that you can watch repeatedly and still never really "get it."
5. Kodaline, "Brother"
Director: Stevie Russell
The video for "Brother" uses the lyrics as a platform to tell a compelling story of the way a young boy is coping with the loss of his older sibling. In addition to the song's heartwarming sentiment, the well done visual effects make the video for "Brother" is emotionally gripping and ripe for additional narrative. It's easy to imagine a longer video as an endearing indie sci-fi flick or an absolutely terrifying psychological thriller. Either way, as long as the filmmakers are able to avoid the pitfalls of the comparable Charlie St. Cloud, we'd certainly watch.
6. Seafret, "Oceans"
Director: Jonathan Entwistle
Offbeat superhero movies are a widely untapped subsect of film, but the "Oceans" video proves they have the ability to be just as good as the summer blockbusters. The story puts a teenage girl at the center of a narrative (which, of course, is a rarity except for Wonder Woman). Game of Thrones's Maisie Williams stars in the video, giving an emotional performance that really brings the character to life. An adaptation could make a pretty compelling coming of age story in a similar vein as Chronicle, but not nearly as dark .
7. Kendrick Lamar, "These Walls"
Directors: Colin Tilley and The Little Homies
We're obviously fans of Kendrick Lamar's music videos (you can check out our ranking of every single one right here). This self-proclaimed "black comedy" takes obvious cues from the Friday movies (Terry Crews even makes an appearance), but "These Walls" surpasses the films in style. The song's funk-tinged instrumentation permeates the video, influencing the color palette, lighting and even the camera technique. The camera almost takes on a personality as it guides the audience through an outrageous party scene, all the while maintaining a loose narrative. There are so many interesting characters in the video that a feature length film would have more time to explore, from Corey Holcomb as the story's narrator to SZA as the fed up tenant that if done right could revamp the genre.
8. alt-J, "Breezeblocks"
Director: Ellis Bahl
Nonlinear storytelling thrives with its mystery and suspense. So, the idea of a story told completely in reverse is a rather intriguing one. At the start of this alt-J video, it's easy to assume that the man is the bad guy, when actually he is fighting for his life. The concept keeps you engaged every second, with the help of the song acting as quite the intense score. With a little depth added to the plot, "Breezeblocks" could inspire a solid Memento-style extended cut.
9. Lykke Li, "No Rest For The Wicked"
Director: Tarik Saleh
We are no longer in an era where interracial relationships in media only exist as plot points, but there is still a conversation to be had around them. Lykke Li explores that in a strikingly powerful way in the video for "No Rest For The Wicked." Between the somber tone of the song, the stunning cinematography and lighting, the pacing of the story and the gripping performances, all of the elements of the video work together beautifully. It is a video that keeps you ruminating even after it fades to black, a sure sign of a narrative that is just begging to be further explored.
10. Michael Kiwanuka, "Cold Little Heart"
Director: David Helman
It is unsettlingly rare that there is a modern narrative about a black person's grief that has nothing to do with any sort of violence, which is one of the reasons the video for "Cold Little Heart" is so striking. The video stars Lakieth Stanfield, the Atlanta star who is among the best up and coming actors right now, as a big brother figure in what seems to be a very positive relationship between the two young men. Stanfield's character seems to have a sort of supernatural connection to the weather that gives way to moving performances from both actors. It's poignant concept set to Michael Kiwanuka's beautiful tune, that is beautifully executed.