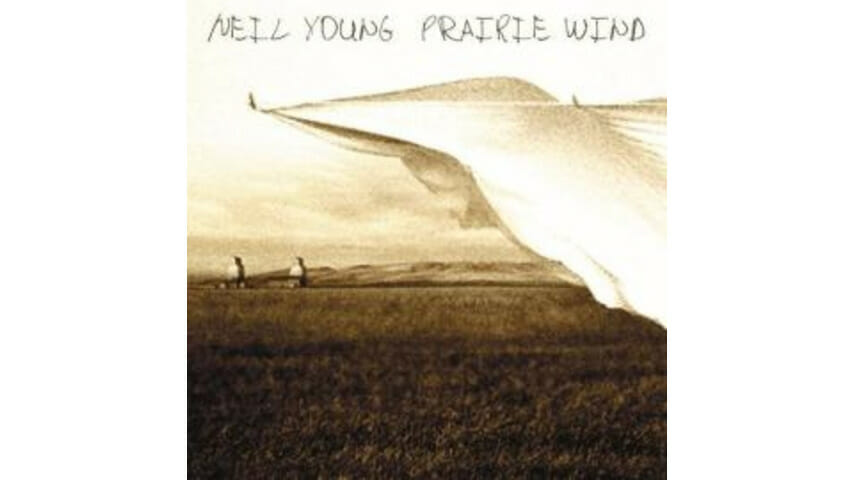 Home on the Range: Uncompromising songwriter sharpens scythe for introspective reaping
Even after carefully poring over the works he's crafted during his four-decade musical adventure; after putting in countless hours with an ear to the wax and bloodshot eyes trained diligently on the ancient rock-crit scrolls, it's still near impossible to pinpoint exactly what Neil Young will do next. That shape-shifter is just as likely to update one of his classic sonic templates as adopt a completely unfamiliar genre, like he did on daring but career-paralyzing albums like Trans and Everybody's Rockin'.
Young might be gut-wrenchingly personal, or he might craft a work of pure fiction like his last record, Greendale, which spun gossipy yarns over stripped-down, bluesy soundtrack music. The album was essentially a more dysfunctional musical version of the play Our Town with Young as narrator. An interesting concept, but with the average song just shy of eight minutes—and without many hooks beyond the old-fashioned storytelling—Greendale got tiresome at points.
Young's newest album, Prairie Wind, promises an entirely different result, right from its first pensive acoustic-guitar plucks. While the pastoral vibe is still front-and-center, the record puts a much greater emphasis on melody and—like its musical and spiritual cousins Harvest, Comes A Time and Harvest Moon—it's quietly brimming with lonesome, countrified folk-rock catharsis.
Given the personal struggles Young has faced this year, catharsis certainly seems in order. In March he was diagnosed with a potentially deadly brain aneurysm. Instead of going immediately into surgery, the songwriter suddenly felt the creative juices flowing for the first time since he cranked out Greendale, and he wasn't going to miss his muse if it meant his life. Conveniently, he already had studio time booked in Nashville. So he hopped on a plane and on the way penned Prairie Wind's lead track "The Painter," a nostalgic portrait of the creative process and a quiet examination of the past, the future, the choices we make in life, the wisdom that comes with hindsight, and—finally—a treatise on loyalty and friendship, even in death.
Young plowed through the sessions, writing, recording and arranging at breakneck pace, sometimes on the fly. As soon as the tracking was finished, he underwent surgery for his aneurysm. The operation was successful, but in a few weeks he faced another trying scenario. His 87-year-old father—with whom he was very close—passed away. With all this forced staring into the Grim Reaper's gaunt face, it's no wonder Young seems more reflective these days.
But Young's not as cryptic as a Dylan or a latter-day Tom Waits; it doesn't take long to see what most of Prairie Wind's songs are about—Art, Life, Death, God, Friends, Family, Elvis, Politics. It's not a bad start for a simple folk-rock album in these strange times. With disasters erupting all over—suicide bombings, tsunamis, earthquakes, mudslides and hurricanes, plus missing Soviet nukes, the Avian Flu, plague-infected mice on the loose in New Jersey and bickering politicians on both sides of the aisle, pointing fingers at each other instead of the way to possible solutions—things start looking a bit freakishly apocalyptic. So it seems like the perfect time for an album that makes you slow down and start thinking seriously about the world. Perhaps Young's confrontation with his own mortality caused him, inadvertently, to make a perfect record to accompany our own grappling—yeah, that's the ticket, a mortality-confrontation soundtrack.
Prairie Wind plays like a whispering air-raid siren—we better get our shit together and start living the way we think is right, start paying attention to the relationships we take for granted, start going headlong after those dreams and not just sitting around talking about 'em over pints 'cause, dammit, we might not make it through tomorrow. But wait just a minute. It's not so carpe-diem simple. You have to choose wisely. Young sings, in his trademark quiver, "If you follow every dream, you might get lost." So if you can't find your way or your journey stretches you too thin, you can—like the record suggests—always consider getting back to your roots.
Homesickness and returning home have always been prominent themes for Young—all the way back to songs like "Everybody Knows This Is Nowhere" ('69) and "Goin' Back" ('78). The importance of family—and the sense of belonging and normalcy family can provide—lies at the heart of Prairie Wind, which is dedicated to Young's father. Considering his lyrical canon, it's safe to say Neil Young believes in the healing power of Home—unsurprising for someone who's probably spent more of his life touring than he'd care to remember. A good home is an anchor, a respite from the madness of the road, a place to get your head together.
After the trials and tribulations he's faced in his life, has Young finally found that elusive "Heart of Gold" he was searching for when he recorded Harvest in 1972? Listening to Prairie Wind—an album that came pouring from the soul of a man standing, for a moment, on the edge of the abyss—you get the impression that if he hasn't already, he's pretty damn close.