10 New Albums to Stream Today
Pop icons, post-grunge and Parsnip, oh my!
Photos by Sarah Cass, Oliva Bee, Stephanie Keith/Getty
Music
Lists
New Albums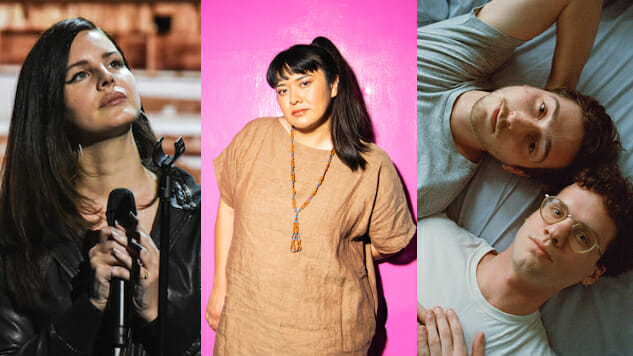 Alright, Taylor time is over. Lana Del Rey is back today with her first new album since 2017's Lust For Life, and we have much to discuss. There's no time to chat about any other pop albums, except for, of course, the new records out today from 2000s heroes Natasha Bedingfield and Sheryl Crow. Now those, we have time for. In other release news, indie acts Black Belt Eagle Scout, Boy Scouts (not related) and Parsnip all have new albums out today, as does the inimitable rocker Ezra Furman. We can also finally get our hands on the long-awaited new album from Chicago duo Whitney. Keep scrolling to hear all the best new music out on Aug. 30.
1. Black Belt Eagle Scout: At the Party With My Brown Friends
Black Belt Eagle Scout's 2018 debut album, Mother of My Children, opened with a gripping charge of overdriven power chords. By comparison, At the Party With My Brown Friends, the sophomore release from the artist born Katherine Paul, introduces itself with clean, finger-plucked arpeggios. The contrast speaks volumes: Guitar lines with more than a pinch of distortion are infrequent on At the Party With My Brown Friends, thanks in part to Paul favoring traditional song structures and modest tempos instead. —Max Freedman
2. Boy Scouts: Free Company
Taylor Vick's voice is heavenly. Few songwriters have emerged this year as instantly soothing and comforting as the ANTI- signee. And yes, the Jay Som comparisons for Vick's Boy Scouts project have probably been thrown out there already, but they both come from the same Oakland scene and make music that feels humble, immediate and true to both them and ourselves. In fact, Boy Scouts will even be supporting Jay Som on tour starting in September. Songs like "Expiration Date" and especially "Get Well Soon" show Vick to be her own palpable songwriting force and that Boy Scouts is undoubtedly one of this year's notable revelations. —Adrian Spinelli
3. Ezra Furman: Twelve Nudes
Following his 2018 LP Transangelic Exodus and his soundtrack for Netflix's Sex Education (where he and his band also appeared in an episode), Ezra Furman has unveiled an even more vociferous record, Twelve Nudes. "This is our punk record," Furman says. "We made it in Oakland, quickly. We drank and smoked. Then we made the loud parts louder. I hurt my voice screaming. This was back in 2018, when things were bad in the world. The songs are naked with nothing to hide." Twelve Nudes steps on the gas pedal and leaves skid marks as distorted guitars rumble and Furman's gravelly howls condemn white supremacy, abusers and those who wage war. —Lizzie Manno
4. Lana Del Rey: Norman Fucking Rockwell
As is Del Rey's way, the album art for Norman Fucking Rockwell screams "Americana." We've got the stars and stripes, a new comic strip-inspired logo and Jack Nicholson's grandson, Duke. Because hey, why the hell not? The amusingly titled follow-up to 2017's Lust for Life is finally out today and features contributions from Jack Antonoff, Zach Dawes and old Lana standby Rick Nowels. Included in the tracklist are the previously released cuts "Mariners Apartment Complex," "Venice Bitch," "Hope Is a Dangerous Thing for a Woman Like Me to Have—but I Have It" and a cover of Sublime's "Doin' Time." —Drew Novak
5. Natasha Bedingfield: Roll With Me
For nine whole years, "the rest" was "still Unwritten." But now, finally, pop hitmaker Natasha Bedingfield (you also might remember her from 2008's inescapable "Pocketful Of Sunshine," or at least from that Easy A scene) is back with her fourth studio LP and first since 2010's Strip Me. This time around, she recruited all-star producer Linda Perry for the project. "Through so much of my life, music has been the thing that helps me to have faith and keep believing in the positive," Bedingfield said in a statement. And "Unwritten" has been the thing that has helped us to "Live your life with arms wide open" these past 15 years. —Ellen Johnson
6. Noël Wells: It's So Nice!
Forget triple threat—we need a number to encompass all of Noël Wells' talents. The actress, comedian, singer, writer and director is releasing her debut solo album today. It's So Nice! arrives eight months after the former Saturday Night Live cast-member shared the record's first single, the lacy and lovely "Sunrise." There's more loveliness where that came from, but the Master of None actress has a dark side, too. One of the lead singles is called "Sad Girl Blues." Hashtag we can relate. —Ellen Johnson
7. Parsnip: When the Tree Bears Fruit
Australian quartet Parsnip are releasing their debut album When the Tree Bears Fruit, following the release of a couple 7-inch records from the past two years. Maybe it's not surprising that a young band named after a root vegetable make music that sounds whimsical, but that doesn't diminish their joyful catchiness. Their single "Lift Off" has waggish keyboards and jubilant shared vocals, interjecting with colorful shouts of "Ba-da-bup-ba!" Meshing garage-y guitars, carefree twee-pop vocals and oddball keyboards, Parsnip gallivant in a strange, kaleidoscopic field of punk-pop, and you'll want to grab your overalls and join them. According to a press release, their nursery rhyme-inspired full-length When the Tree Bears Fruit is "just over half an hour of absurd, understated energy." —Lizzie Manno
8. Sheryl Crow: Threads
Assisted by not one, but two female powerhouses, Sheryl Crow's "Prove You Wrong" features none other than the legendary Stevie Nicks and rising country-pop star Maren Morris. The single is one of many group efforts on Crow's new collaboration album Threads, out today via The Valory Music Co. With soaring vocals from all three singers, this song showcases the prowess of two music pioneers and Morris, who is carving her own way in the country genre. Other singles from Crow's new album include "Live Wire," which features Mavis Staples and Bonnie Raitt, "Tell Me When It's Over" featuring Chris Stapleton and "Redemption Day," which reworks Crow's 1996 song of the same name while featuring vocals from Johnny Cash's version of the song, released after his death in 2003. —Molly Schramm
9. TOOL: Fear Inoculum
You either love them or you don't, and there aren't many opportunities to switch from one side to the other. Here's a rare one: Just a few months after unleashing their discography on Spotify and Apple Music, TOOL are releasing their first new studio album since 2006's 10,000 Days. You can purchase the latest from this prog-rock/art-metal/post-grunge/whatever-you-want-to-call-it band in a deluxe, limited-edition CD version which features a rechargeable screen with exclusive video footage. Some would call that extra—we'd just call it TOOL. —Ellen Johnson
10. Whitney: Forever Turned Around
Forever Turned Around marks the very welcome return of a wonderful band. A lot has changed for Julien Ehrlich and Max Kakacek in the three years since the arrival of their debut Whitney album Light Upon the Lake in 2016. They spend more time on the road than at home, juggle relationships with one another and others and balance the demands of indie fame. Thusly, their sophomore release, Forever Turned Around, wasn't begotten in the heartbroken daze of a Chicago winter. It was made everywhere. Nothing about Forever Turned Around feels crammed or cold—it's just as emotional as Light Upon the Lake, but there's more restlessness to it. The task of putting together a sophomore album can be daunting, but when you've got two friends like Ehrlich and Kakacek in charge, the results feel more freeing than labored-over. —Ellen Johnson