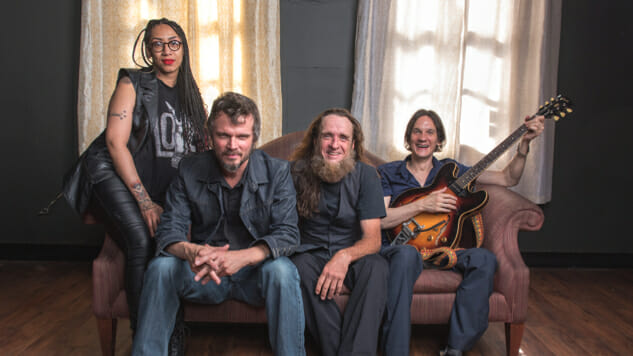 The tenth album from North Mississippi Allstars, Up and Rolling, was inspired by a forgotten roll of film. Shot by Texas photographer Wyatt McSpadden, the images documented a Sunday in 1996 when Luther and Cody Dickinson showed the photographer around their native north Mississippi—a month later, the Allstars made their Memphis debut, using their father Jim Dickinson's roots music concepts as a springboard for experimentation, and the rest is history. Over two decades later, after McSpadden rediscovered the photos he'd taken and tracked down the Dickinson brothers in 2017, those timeless images inspired the band to transmute those memories into music.
Our first taste of that music arrives today, June 26, in the form of Up and Rolling's first single, premiering right here at Paste: a soulful rendition of The Staple Singers' classic "What You Gonna Do," featuring the great Mavis Staples herself. "Mavis is my queen and it is an honor to be associated with her in any way," says Luther. "She is a hero and I will always keep on marching in her name." The rest of the album's 12 tracks, produced by the Dickinsons and recorded at their family's The Zebra Ranch studio in Independence, Miss., feature guest appearances from Jason Isbell, Cedric Burnside and Duane Betts, with Carl Dufrene on bass and Otha Turner's granddaughter, Sharde Thomas on fife and vocals. The whole kit and caboodle comes out Oct. 4 on New West Records.
"What You Gonna Do" originally appeared on The Staple Singers' essential 1965 album Freedom Highway, which opened Luther's eyes wide as a young roots musician. "Freedom Highway became one the the records that changed my life," he recalls. "Pulled from my father's record collection, this music recorded live in a Chicago church, transported me into a live church service with The Staples Singers with drums and bass! This did not sound like my grandmother's Baptist church. This gospel was so beautiful, yet funky. "What you Gonna Do?" is the bluest gospel song I have ever heard."
North Mississippi Allstars' new rendition of the song stays true to that blue while retrofitting it with what Luther calls "the sound of modern Mississippi," expanding on the blues guitar-driven original with funky riffs, lively organ and shuffling percussion. Staples' singing proves a comforting presence on the song, even as she asks, "What you gonna do / death comes creepin' in your room? / Oh my lord, oh my lord / what shall I do, what shall I do?" It's an impossible question to answer, but Staples is unafraid, lifted up on a rising tide of timeless instrumentation that sounds unmistakably like home.
And as Luther also recalls, the Freedom Highway track is interwoven with the cultural fabric of his home state in ways that transcend music:
As a young Mississippi musician seeking enlightenment, I cherished the message, history and wisdom in the lyrics of Freedom Highway. Sadly, I was learning more about American history and the civil rights movement studying folk music; blues, gospel and protest songs, than I was from my Mississippi public school education. The Staples Singers' message influenced me and helped me form my identity as a freedom rocker. I wanted to keep on marching and break free of history to help create a peaceful reality. The effect The Staples Singers had on this young kid from Mississippi, decades later, proves the transcendental power and purpose of folk music. I would have never written "Living Free" [another track from Up and Rolling] without the Staples example of singing what one believes to be true and leading by example.
Up and Rolling will be available via digital retailers, as well as on CD, standard black vinyl, and black and white split-colored vinyl exclusively at independent retailers.
Listen to "What You Gonna Do" below, see the details of Up and Rolling further down and keep scrolling for North Mississippi Allstars' tour dates. You can preorder their new record right here.
Up and Rolling Tracklist:
01. Call That Gone
02. Up and Rolling
03. What You Gonna Do? (feat. Mavis Staples)
04. Drunk Outdoors
05. Peaches
06. Mean Old World (feat. Jason Isbell and Duane Betts)
07. Out on the Road (feat. Cedric Burnside)
08. Lonesome in My Home
09. Bump that Mother
10. Living Free
11. Take My Hand, Precious Lord (feat. Cedric Burnside)
12. Otha's Bye Bye Baby (feat. Otha Turner)
Up and Rolling Album Art: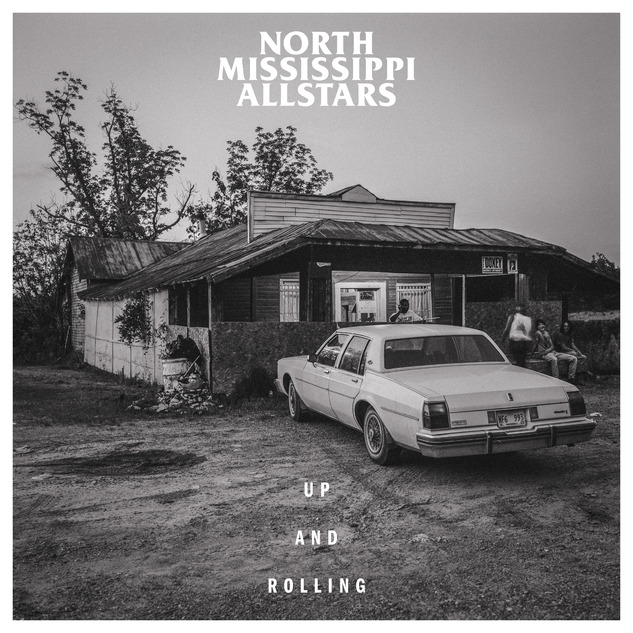 North Mississippi Allstars Tour Dates:
July
04 – Charlotte, N.C. @U.S. National Whitewater Center
05 – Steamboat Springs, Colo. @ Steamboat Free Summer Concert Series
06 – East Moline, Ill. @ Mississippi Valley Blues Festival
11 – Baltimore, Md. @ Modell Performing Arts Center at The Lyric
12 – Jim Thorpe, Pa. @ Penn's Peak
13 – Bouckville, N.Y. @ The Yard @ Ray's Brothers BBQ
14 – Hampton Beach, N.H. @ Hampton Beach Casino Ballroom
16 – Huntington, N.Y. @ Paramount Theatre
17 – Glen Allen, Va. @ Innsbrook After Hours/Innsbrook Pavilion
19 – Nashville, Tenn. @ Ryman Auditorium
20 – Birmingham, Ala. @ Avondale Brewing Company
27 – Fort Smith, Ark. @ Peacemaker Music & Arts Festival
August
01 – St. Louis, Mo. @ Off Broadway
10 – Vineyard Haven, Mass. @ Beach Road Weekend
17 – Montgomery, Ala. @ The Hog Days of Summer
31 – Copper Mountain, Colo. @ Copper Mountain Music Festival
September
01 – Hunstville, Utah @ Blues, Brews, and BBQ at Snowbasin Resort
07 – Jasper, Ala. @ Foothills Festival
15 – Sonoma, Calif. @ Harvest Music Festival
21 – Gulfport, Miss. @ Chillin' on the Gulf Music Festival
October
04 – Portland, Ore. @ Aladdin Theater
05 – Seattle, Wash. @ Nectar
10 – San Juan Capistrano, Calif. @ The Coach House
November
01 – Asbury Park, N.J. @ Stone Pony
02 – Brooklyn, N.Y. @ Brooklyn Bowl
03 – Fairfield, Conn. @ The Warehouse
06 – Buffalo, N.Y. @ Buffalo Iron Works
07 – Ithaca, N.Y. @ The Haunt
08 – Portland, Maine @ Port City Music Hall
09 – Boston, Mass. @ Brighton Music Hall
10 – Hartford, Conn. @ Infinity Hall Hartford
13 – Washington, D.C. @ The Hamilton Live
14 – Philadelphia, Pa. @ World Cafe Live
15 – Millvale, Pa. @ Mr. Smalls Theatre
16 – Cohoes, Pa. @ Cohoes Music Hall