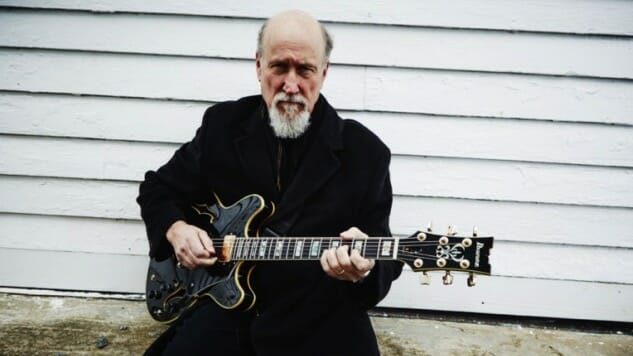 Welcome to Notes From New York, a monthly jazz column by Bill Milkowski that includes observations on the scene along with interview snippets, gossip and gig information.
SCO GOES COUNTRY
Perennial poll-winning guitarist John Scofield came up playing with jazz legends like Stan Getz and Chet Baker, Billy Cobham and Miles Davis before launching his own remarkable solo career in the mid-'80s. Over the decades, while recording for the Enja, Gramavision, Blue Note, Verve and EmArcy labels, the Connecticut-born six-stringer has shown an infinite capacity to swing while also demonstrating an authentic feel for funk, blues and New Orleans second line grooves. His recent collaborations with jam band pioneers Medeski, Martin & Wood, Phil Lesh & Friends and Warren Haynes' Gov't Mule have also revealed his penchant for reaching out to new audiences and exploring new musical avenues. On his latest Impulse! recording, Country for Old Men (the title is a wry reference to the Coen Brothers' 2007 movie No Country for Old Men), the guitar great applies his signature chops to faithful readings of the George Jones classic "Bartender's Blues" along with Merle Haggard's "Mama Tried" and Dolly Parton's "Jolene." Elsewhere on this surprising release, Scofield and cohorts (bassist Steve Swallow, keyboardist Larry Goldings, drummer Bill Stewart) take liberties with some country classics, like their unabashedly swinging renditions of Hank Williams' "I'm So Lonesome I Could Cry" and the Carter Family staple "Wildwood Flower."
The esteemed jazz guitarist reflects on his new musical direction on Country for Old Men: "I always wanted to do a country album. Being a young guitarist in the '60s, I checked out all kinds of music, and all kinds of music could be found on regular AM top 40 radio. The better musicians I met when I was a teenager would talk about jazz but also about country and bluegrass as higher forms of playing music. A lot of people were checking out Merle Haggard & The Strangers and Buck Owens & His Buckaroos. There was some serious playing going down with those bands but also just the songs and the great singing in the bluegrass tradition were very attractive to me too."
He explains that George Jones' soulful country singing had an impact on his own guitar phrasing as a jazz player. "For me and a lot of other people, actually, George represents the highest level of a certain kind of real down-home singing. His use of the melisima effect — all those soulful little extra notes — just blows me away. And it's not just George but the whole deep country sound that I love and feel at home with, actually. My mother was from the Deep South and I grew up hearing that sound on her voice so I felt very at home with the way those songs were sung by George Jones and others. You can hear country in my playing and also in my compositions like 'Best Western' (from 1984's Electric Outlet) and 'Wabash' (from 1987's Loud Jazz), which is based on 'Wabash Cannonball.' And I also recorded Charlie Rich's 'Behind Closed Doors' (on 2007's This Means That), which is one of the greatest country ballads. It's just so much fun to play like that. Some of these country songs allow the swing to happen and for real jazz to come about. And I really like that style where the two can come together."
KURT ROSENWINKEL'S NEW VENTURE
One of the leading lights of contemporary jazz guitar and perhaps the most influential six-stringer of his generation, Kurt Rosenwinkel has enjoyed a successful career which has seen a slew of acclaimed releases on the Criss Cross, Verve and World of Mouth labels. The guitarist, who resides in Berlin, was in town in early September for a week-long engagement with his new trio at the Village Vanguard with the incredible Italian bassist Dario Deidda and drummer Lawrence Leathers. Following one Vanguard set, Rosenwinkel intimated that he has formed his own label, Heartcore (named after his 2003 Q Tip-produced album for Verve) and will be releasing his new album, Caipi, in February. The guitarist plays all the instruments (bass, drums, keyboards, lead vocals) on this very personal and compelling project, which features contributions from special guests Eric Clapton (on "Little Dream"), his former sax-playing partner Mark Turner (on "Casio Escher" and "Ezra"), Brazilian singer Pedro Martins ("Kama") and Amanda Brecker (daughter of Randy Brecker and Eliane Elias) on background vocals throughout. Ten years in the making, Caipi is easily the most revealing and fully self-realized recording that Rosenwinkel has done to date. "The prospect of starting my own business and taking control of my own career is a very liberating feeling," he says. "I just didn't want to have gate-keepers, anybody who would be telling me what they thought I should do artistically. I make a lot of different kinds of music and I didn't want to limit my musical projects by being on a certain type of label. And I realized that I was in a position where I could start my own label and be able to do any of the projects that I want to do musically." Regarding the heavy presence of vocals on the album, the acclaimed six-stringer says, "I may appear to be more of a guitarist than I consider myself to be. I think this record really represents the balance, for me, of song and singing, playing and soloing. But this is really how I hear my music to be, so I'm so happy to be putting it out now."
GOODBYE TO MISHA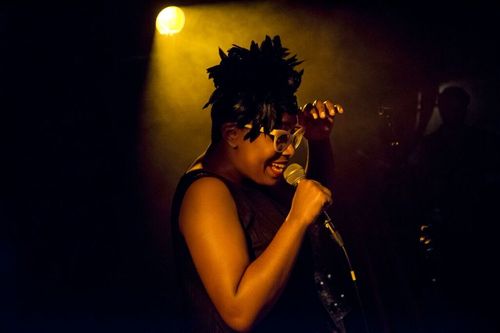 Photo by Aidan Grant
Bubbly impresario Misha Katsobashvili burst on the scene four years ago with his inaugural Hot Jazz Festival, a celebration of music from the 1920s and 1930s played by some of the city's finest practitioners. Hailing from Tbilisi, Georgia, the dashing Katsobashvili could always be heard yelling "Opa! Opa!" from the back room of the many venues where he booked hot jazz groups around town, like Shenghai Mermaid, 54 Below and Mehanata Bulgarian Bar. It was at the peak of his notoriety on the scene that Katsobashvili decided that Misha must die. And so it was arranged, on the evening of Aug. 31, that the Georgian impresario had a jazz funeral for 'Misha' on the Brooklyn Bridge, complete with the Tuba Skinny Brass Band and a whole crew of friends and entertainers in costume second-lining behind a makeshift coffin in traditional New Orleans funeral style. Katsobashvili announced that he is henceforth to be addressed as 'Michael.' As he explained: "Misha passed away quietly in my sleep. Like a loyal dog, Misha has served me and many others well over the past five years, so it's only proper we give Misha a fitting send-off."
Predictably, Katsobashvili's 4th annual Hot Jazz Festival, held on Sept. 25 at the McKittrick Hotel (home of the immersion theater production Sleep No More), was a rousing success. Highlights of this 12-hour hot jazz marathon included singer Cecile McLorin Salvant (pictured above) channeling the spirit of 1920s blues diva Bessie Smith with piano accompaniment from Aaron Diehl, trombonist Wycliffe Gordon paying tribute to Louis Armstrong with an all-star band featuring pianist Diehl and clarinetist Evan Christopher, New Orleans-born rising star singer Sasha Masakowski with her Sidewalk Strutters conjuring up real-deal second line grooves from the Crescent City, Dan Levinson's Gotham SophistiCats featuring singer Molly Rayn, Brian Carpenter's Ghost Train Orchestra and burlesque dancer Dylicia la Chatte recreating Josephine Baker's infamous banana skirt dance from the Folies Bergère in Paris, circa 1926.
THE BLUE NOTE EXPANDS ITS EMPIRE
Former Knitting Factory founder Michael Dorf opened his City Winery club in 2008 in lower Manhattan. Billed as Manhattan's first fully functional winery, restaurant, music venue and private event space, it succeeded by booking veteran singer/songwriters like David Crosby, John Hiatt, Marshall Crenshaw and Steve Earle interspersed with jazz artists like Mose Allison, Roswell Rudd and the Preservation Hall Jazz Band. In 2012, Dorf expanded his company by opening a City Winery in Chicago and in 2014 he opened another branch at the historic Napa Valley Opera House in California wine country. Exactly one year after opening, the Napa Valley enterprise closed and was immediately picked up by Steven Bensusan, owner of the Blue Note empire, which has clubs in New York, Honolulu, Tokyo, Nagoya, Milan and Beijing. Let's see if the wine mecca can support the big-name jazz artists who frequent the Blue Note network.
SEEN ON THE SCENE
Avant garde darling Mary Halvorson joining with fellow guitarists Nels Cline and Joe Morris for a series of searing improv duets at The Stone as part of Halvorson's week-long residency at John Zorn's Lower East Side club; Cameroonian bassist-singer-producer Richard Bona premiering his new band Mandekan Cubano in celebration of the first anniversary of his East Side club Bonafide; Tenor sax titan Eric Alexander swinging with his working quintet consisting of veteran 80-year-old hard bop pianist Harold Mabern, bassist Phil Palombi and drummer Joe Farnsworth at An Beal Bocht, an Irish pub in the Bronx that features jazz one night a month; Eternally youthful free jazz drummer Barry Altschul (a member of the group Circle with Chick Corea, Dave Holland and Barry Altschul from 1969-1970) leading his 3Dom Factor with bassist Joe Fonda and rising star tenor saxophonist Jon Irabagon (a member of Mary Halvorson's octet, Dave Douglas' quintet, Rudy Royston's 303 and Moppa Elliott's Mostly Other People Do The Killing) at the Cornelia Street Cafe.