Exclusive: Watch Oberhofer's Video for BoJack Horseman Soundtrack Cut "Sea of Dreams"
Image via Lakeshore Records
Music
Video
Oberhofer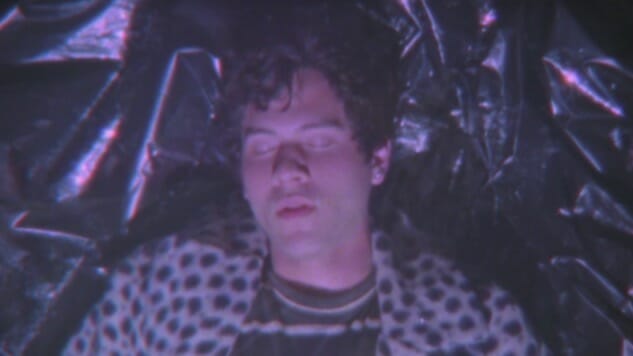 If you're any kind of BoJack Horseman fan, you'll likely never forget Oberhofer's "Sea of Dreams." The song played at the end of the largely silent "Fish Out of Water"—Paste's pick for the very best TV episode of 2016—replacing the show's traditional end theme and putting the perfect finishing touch on a superlative piece of television. Now, with the impending release of BoJack Horseman (Music From The Netflix Original Series) and return of BoJack Horseman itself, Paste is proud to premiere the video for Oberhofer's integral piece of the show's soundtrack.
The "Sea of Dreams" video is a hazy, lo-fi affair that grows increasingly surreal as it floats along. "You'll find me in a sea of dreams," sings frontman Brad Oberhofer, supine on a slick, black tarp and clad in a leopard-spotted coat, putting on a whimsical one-man show. The subtly fantastic video matches wonderfully with "Sea of Dreams" itself, a piano-driven anthem that feels at once both sad and celebratory—a bittersweet mixture that perfectly epitomizes BoJack Horseman.
Oberhofer had this to say about the song and show's connection:
"I've always had a deep affinity for cartoons. Most of the cartoons I grew up watching seemed to embody more truth than non-cartoon television programming. I'm proud to have this song affiliated with an episode of television I not only find hilarious in many ways, but also that surfaces truth through light of the humor in BoJack's world. I feel honored to be a part of this soundtrack."
As for the making of the "Sea of Dreams" video itself, Oberhofer added:
"This song is deeply personal. Austin, the director assembled a group of his friends at film school at University of Texas in Austin, to build the set, and film and edit the video. This entire project was a labor of love for all parties involved, and it was inspiring to watch Austin and his crew of hilarious, clever and simultaneously focused friends work together."
BoJack Horseman returns to Netflix for a fourth season on Sept. 8, while BoJack Horseman (Music From The Netflix Original Series) is due out digitally on Sept. 8 and on CD Sept. 29 via Lakeshore Records. Watch the "Sea of Dreams" video above, and listen to an Oberhofer session from the Paste Cloud below. Further down, find the BoJack soundtrack tracklist and album art.
BoJack Horseman (Music From The Netflix Original Series) Tracklist:
01. BoJack's Theme (feat. Ralph Carney) – Patrick Carney
02. Horsin' Around Theme – Jesse Novak
03. A Horse With No Name (feat. Michelle Branch) – Patrick Carney
04. Mr. Peanutbutter's House Theme – Jesse Novak
05. I Will Always Think Of You – Jane Krakowski and Colman Domingo
06. Get Dat Fetus Kill Dat Fetus (feat. Daniele Gaither & Manus Dunbar) – Jesse Novak
07. Kyle and The Kids (feat. Carrick Moore Gerety) – Jesse Novak
08. Stars (Live at Montreux) – Nina Simone
09. Back In The 90's – Grouplove
10. BoJack's Theme (Full Length) [feat. Ralph Carney] – Patrick Carney
11. Seaport – Jesse Novak
12. Hallway – Jesse Novak
13. Kelsey Apology – Jesse Novak
14. Chasing Kelsey – Jesse Novak
15. Seahorse Birth – Jesse Novak
16. Post Birth – Jesse Novak
17. Baby Seahorse and Convenience Store – Jesse Novak
18. Shark Chase – Jesse Novak
19. Darkness and Tunnel – Jesse Novak
20. Fan Section – Jesse Novak
21. Factory – Jesse Novak
22. Flying – Jesse Novak
23. Seahorse Reunion – Jesse Novak
24. Final Kelsey Pursuit – Jesse Novak
25. Sea of Dreams – Oberhofer
BoJack Horseman (Music From The Netflix Original Series) Album Art: