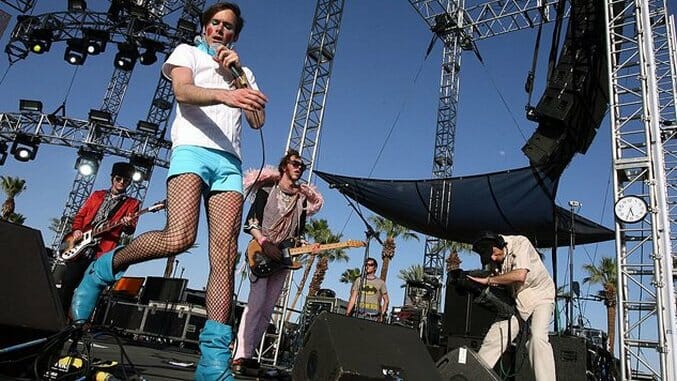 Of Montreal, the psych-jam band not actually from Montreal, makes music like a freak show house band. The only question is what kind of freak bandleader Kevin Barnes chooses to be at the exact moment of questioning. Since as far back as of Montreal's 1997 debut, Cherry Peel, the Athens, Ga. band has been taking powerful swings at every adjacent rock prefix, from '60s skiffle to glam alter egos. Throughout the band's 20-year career, a string of constants remains—the funky, rubber band bass lines, Barnes' nasally, boyish vocals, the cluttered lyrics that paint portraits of unsteady people and more.
The finest balance of this personal anxiety and flamboyant pageantry can be found on Hissing Fauna, Are You the Destroyer?, which celebrates its 10 year anniversary with a reissue due out tomorrow. Written in a state of isolation as of Montreal's public recognition began to grow and Barnes's relationship with his wife began to falter, it is the catchiest depiction of a man flipping every switch he can and praying that the plane doesn't crash.
In honor of this reissue, we combed through of Montreal's 14 studio albums to pick the 20 best tracks most emblematic of their bombastic freakiness.
20. "It's Different for Girls"
The intentions of "It's Different for Girls" make it an admirable entry in of Montreal's extensive catalog. Barnes' idiosyncratic way of approaching sexism (presumably inspired by his then-wife and 11-year old daughter) approaches something fundamental, while dodging a Matt McGorry-esque level of posturing. Still, and throughout, "Girls" embodies of Montreal's sonic template of being softly danceable to the point of being nearly tongue-in-cheek. —Zane Warman
19. "She's a Rejector"
"I knew, to some degree, that… the focus of the album would be our break up," Kevin Barnes' now ex-wife Nina Grøttland says about Hissing Fauna… in of Montreal's 2014 documentary The Past is a Grotesque Animal. "I remember him coming out and asking, 'What did you think?' and 'Oh God that hurts. That hurts like hell, but oh my god it's so good.'" "She's a Rejecter" represents one of the most direct responses to the unraveling of their contentious relationship; it's a clear example of Barnes' honest songwriting, truthful almost to a fault. The track is perhaps the most straightforward rock song on Hissing Fauna with Barnes' voice wailing like a modern day Tom Verlaine. Rejection and personal crisis are two common lyrical themes throughout of Montreal's mid-era material and they're both on full display here. —Steven Edelstone
18. "Sex Karma"
It's both a rarity and a relief when an of Montreal song can be plainly fun without the quiet urge to run to check a vocabulary book. On paper, Barnes and Solange sound like an odd couple, especially now with A Seat at the Table being rightfully present in people's minds. The band's bass-bouncing formula is adorned here with colorful, ringing strings and Solange's stratospheric range makes their playful chemistry irresistibly energizing. —Zane Warman
17. "She Ain't Speakin' Now"
"She Ain't Speakin' Now" exemplifies the dynamics on Lousy with Sylvianbriar and also illustrates one of the few times that Barnes has ever fully committed to a song concept. Carried away by the fear of his wife and daughter dying, the tone alternates between softly-strummed acoustic guitars and cracking and wiry electric leads. Meanwhile, Barnes's last-rites whispers seem to convey strength and paranoia in equal measures. It's a testament to the band's reflexiveness that they write precise, straight-ahead rock with the same depth as they can obtuse funk. —Zane Warman
16. "Bunny Ain't No Kind of Rider"
The intro to this song is a little jarring (unless you like the sound of static and laser beams), but as soon as that groovy bass line cuts through it's clear this is an of Montreal song. Kevin Barnes plays with the darker side of his psyche on Hissing Fauna, Are You the Destroyer?, and this track is a great example of how he can meld dark and light into three minutes and 50 seconds of ominous, yet still infectious music. And the message here is great: Don't we all need a lover with soul power? — Katrina Nattress
15. "Coquet Coquette"
"Coquet Coquette" jumps out of False Priest, the band's uneven foray into R&B. Of Montreal is at their most alluring here, without an overload of synthetic sounds. The song's stamping guitars and slinking bass stand up against Barnes' preening vocals. The frustrated feelings of lipstick-smeared lust are given a satisfyingly melodramatic payoff when the song finally spirals into distressed, overlapping stabs of alien synths and crushing drums. —Zane Warman
14. "Oslo in the Summertime"
The Sunlandic Twins marks of Montreal as more of a solo project for Kevin Barnes, and "Oslo in the Summertime" reflects this more singular viewpoint and his isolation while recording in Norway. "Oslo in the Summertime" makes Barnes a stranger in a strange land, a tourist trying to fit in amongst the gorgeous people who speak a language he hardly knows. This solo journey is one of of Montreal's most jarring tracks on off The Sunlandic Twins, as Barnes distorts his voice in unusual ways, over a synth that is constantly fighting for attention. The result is a despondent uncertainty that Barnes captures by keeping his audience just slightly uncertain throughout "Oslo in the Summertime." —Ross Bonaime
13. "Lysergic Bliss"
Though never quite accepted as a fully psychedelic band, Of Montreal took an unexpected turn with "Lysergic Bliss," a track from their 2009 album Satanic Panic in the Attic. The title alone suggested some sort of hallucinogenic indulgence, and in truth, its extreme giddiness found the title ringing true. The lyrics provide very little enlightenment ("I'm dizzy from her kiss / So vertiginous lost in lysergic bliss"), but no matter. Despite an ominous opening, the melody's sway and flow puts things in euphoric realms up until the end. An unexpectedly freaky coda brings in Beach Boys-like harmonies, a steady backbeat and a dizzying dissolve into the final fade. —Lee Zimmerman
12. "Requiem for O.M.M.2"
As the opening track to The Sunlandic Twins, "Requiem for O.M.M.2" is a poppy, more upbeat version of many of the themes Barnes would go on to cover in their best album, Hissing Fauna, Are You the Destroyer. "Requiem for O.M.M.2"'s bleak story of young love that can't leave your memory is masked by the playfully distracting guitar and the catchiness of the track. "Requiem for O.M.M.2" is of Montreal attempting to hide the pain with sugar, a tactic that they thrive with the further they get in their career. —Ross Bonaime
11. "The Party's Crashing Us"
"Oh, well, we made love like a pair of black wizards!" Barnes sings midway through "The Party's Crashing Us." The line floats over a funky synth intro riff, proving once again that he's the king of inserting weird inside jokes into a song that's actually intensely serious. This time, Barnes sings about his relationship with Nina Grøttland as their relationship hits new heights. "And all those ugly days / That made us so sick / They are just fossils now," wails Barnes; "The Party's Crashing Us" is an optimistic song, written just after his relationship would be turned upside down with the birth of his daughter Alabee. Confusion and emotional chaos would dominate much of Barnes' lyrics after The Sunlandic Twins, but for one of the last times, he's in a happy place filled with partying, sex and dancing. —Steven Edelstone
10. "Id Engager"
"Id Engager" is the last song off of Montreal's most scattered collection, Skeletal Lamping and the funky track shows Kevin Barnes at his most honest and horniest. The track is a warning to women everywhere—"He's just a slutty little flirt and sister, he's only gonna hurt you"—before whispering, "Watch yourself." Barnes may not have the answers when it comes to maintaining his relationship with Nina Grøttland or dating in general, but he somehow always finds a way to make a song danceable enough to forget about it all. —Steven Edelstone
9. "The Past Is a Grotesque Animal"
For a band whose aesthetic is usually a psychedelic party, "The Past Is a Grotesque Animal" is a dark turn unlike anything else in the band's discography. Chronicling the destruction of frontman Kevin Barnes' marriage, "The Past…" is a 12-minute journey through love lost and the contradictions of a relationship crumbling, yet attempting to hold it together ("how can I explain I need you here and not here too"). "The Past…" builds in tension and fear, until Barnes and his love are tearing their home and each other apart, alluding to "Who's Afraid of Virginia Woolf?," but coming to the conclusion that no matter how much destruction they do each other, they'll always be linked to each other. "The Past…" is a heartbreaking magnum opus for the band, a journey that takes the listener through every possible emotion at the end of love. —Ross Bonaime
8. "Gallery Piece"
Kevin Barnes has long been interested in exploring themes of gender identity in his songs and "Gallery Piece" might be the pinnacle of his signature flamboyance. On stage, the theatrical Barnes is no stranger to performing in drag and "Gallery Piece" serves a bullhorn for embracing sexual orientation. It's a love song in every sense, one of gushing, giddy, infatuated and highly sexual love ("I wanna turn you on / I wanna make you cum / Two-hundred times a day"), but it's also one of Barnes' defining moments of embracing the queer-positive themes in his music ("You see that sculpture on the hill? / That's where she queered me out / Forever"). The drum beat is akin to a house DJ's after midnight set, lights flashing, drinks spilling, everyone dancing, and of Montreal's live set—a necessary companion to Barnes extensive discography—might as well take you to that very club. —Adrian Spinelli
7. "Bassem Sabry"
The volcanic, distorted guitars that open "Bassem Sabry" let listeners know of Montreal's tolerance for sycophants is low. Named after an Egyptian activist whose fatal fall from a balcony is still under suspicion, the lyrics are rife with the spit-in-your-face attitude of indignant protest. Combined with a '70s organ and Niles Rogers-like guitar riff, it's easy to imagine Barnes constricting himself with his microphone cord as he struts around a ramshackle stage, surrounded by hippies, summing the song up with "insecurities of men messing everything up again." —Zane Warman
6. "Disconnect the Dots"
As a pure pop song, "Disconnect the Dots" is a force to be reckoned with. As one of the simpler songs Barnes has written lyrically, "Disconnect the Dots" is perfected bliss, from its opening handclaps and triumphant guitar to its trippy fade out that challenges the listener to quit humming along anytime soon. "Disconnect the Dots" ironically is one of the first times of Montreal was able to connect all of its disparate sounds and ideas into one cohesive gem, a powerful blast of excitement that showed the pop brilliance of the band. —Ross Bonaime
5. "Heimdalsgate Like a Promethean Curse"
As time progressed, Kevin Barnes's lyrics became more and more personal and by the time Hissing Fauna came around, he seemed to be sharing everything, using music as therapy to get through the weightiest issues he was dealing with. "Heimdalsgate Like a Promethean Curse" represents of Barnes at his most drearily honest; the track addresses his descent into anxiety and chemical depression, begging "Nina twin" or someone or something else out there to turn it all around for him. The chemicals that originally put him deep in crisis-mode are perhaps his only way out, though he's fearful that they may affect his writing as he sings, "Chemicals, don't strangle my pen." He needs help, but as always, buoyant synth melodies may have been his best way out, hoping that music, not chemicals, is what will finally get his mood shift to shift back to good again. —Steven Edelstone
4. "Fugitive Air"
Barnes has said that of Montreal's opening tracks are crafted to set the tone for the album, so it makes sense that "Fugitive Air" would introduce Lousy with Sylvianbriar as the band's most unrepentantly spiteful record. Its lyrics have their fair share of scatterbrained and surreal images, but Barnes throws out cutting barbs ("What he thinks I owe him is his former life but / How can I unmake someone else's mistakes?") over a sharp, twangy slide guitar. The wily, alt-country gristle is the band's most realized musical territory scouting, and "Fugitive Air" sees it applied with a critical amount of bitterness. —Zane Warman
3. "Suffer for Fashion"
The first track off Hissing Fauna, Are You the Destroyer? gives the false impression that this album is going to be as upbeat and fun-loving as the of Montreal material that came before it. The initial explosion of synths, guitar, percussion and Kevin Barnes's squealing vocals is such a delightful way to begin a record that ended up being one of the darkest Barnes has ever produced. — Katrina Nattress
2. "Wraith Pinned to the Mist and Other Games"
This is the song that put of Montreal on the map (no one will ever forget that Outback Steakhouse commercial) and for good reason. Kevin Barnes has a knack for creating eccentric electro-pop and was doing it before it was cool. "Wraith Pinned to the Mist and Other Games" came out in 2005 and served as one of the singles off The Sunlandic Twins, of Montreal's seventh LP (yes, in 2005 of Montreal had already released seven albums). That bass line is too good, and if the chorus doesn't get stuck in your head, then who are you even? Plus, the animated video is just too cute (in a really morbid sort of way). — Katrina Nattress
1. "Gronlandic Edit"
As the song's opening lines would suggest, Kevin Barnes is indeed a "nihilist with a good imagination." At least this iteration of himself is parallel to the chameleon-like frontman metamorphosing midway through 2007's Hissing Fauna, Are You The Destroyer? Fittingly, "Gronlandic Edit" is the point in the album, where Barnes' character is breaking through its egg shell-like constraints of structured norms surrounding him. He rejects the religious dogma he was raised on, in rather passive passion, managing to deliver a song about apathy with vibrancy and color. Still, "Gronlandic Edit" is the very figment of Barnes's alter-ego, Georgie Fruit—the '70s disco icon living within Barnes—and of of Montreal's entire story arc owes itself to this ideation. Barnes and company's execution on stage, with their charming flamboyance, is simply a hallmark of this band. —Adrian Spinelli