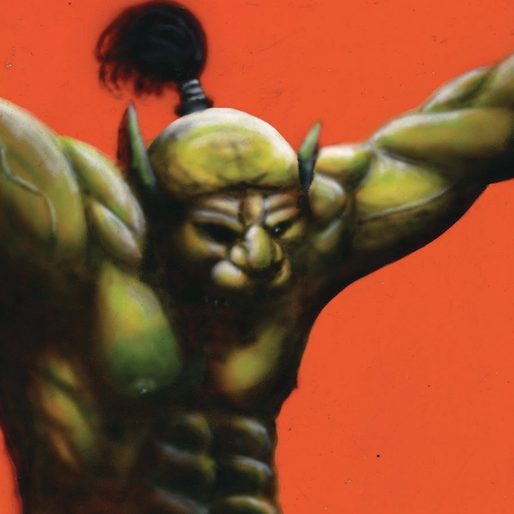 The first sound you hear on the new Oh Sees album is a squeaky toy. The last is the album's lead single, which at 21-minutes-long is one of the longest lead singles in recent memory.
In between is the kind of wild musical ride we've come to expect from this long-running, hyper-prolific garage-punk project, which has released 22 full-length studio albums and a bunch of other stuff since 2003. On Face Stabber, Oh Sees continue their recent exploration of progressive rock, heavy soul and seemingly endless jams.
Like the rest of Thee Oh Sees' catalog—the band changed their name to simply Oh Sees in 2017—the new album churns, burns and thwacks around founder and core member John Dwyer, whose inventive guitar playing and unconventional vocals have long been key components of the band's style. Also elemental: A muscular and dynamic low end, provided here by bassist Tim Hellman and two drummers, Dan Rincon and Paul Quattrone. The unique lineup will make you wonder, "Why don't all rock bands have two drummers?"
As the squeaky toy fades into the background, that rhythm section takes over the opening track, "The Daily Heavy," laying down a foundation that sounds like a train barrelling through a cave as Dwyer solos and mumbles about who knows what. "The Experimenter" is more compact, sporting a couple melodic ideas that give off '70s cop show theme song vibes and a bracing polyrhythmic coda. The title track is sweet, then brutal, then sweet, then brutal, then a minute of birds chirping or maybe just high-pitched synth squiggling. It doesn't really matter—it's a welcome case of whiplash either way.
Elsewhere, "Snickersnee" and "Fu Xi" showcase the band's catchier side, the former alongside a loping funk track and the latter against a full-blown prog-rock instrumental. "Psy-Ops Dispatch" benefits from Tomas Dolas' gleaming organ textures and borrows a riff from "I Shot the Sheriff" before following its own path. "S. S. Luker's Mom" sounds like the Reverend Horton Heat fighting off fits of jazz.
Meanwhile, "Gholü" and "Heart Worm" are Oh Sees throwbacks—two-minute fuzz-punk blasts that serve as reminders of Dwyer's deep roots in the West Coast psych-punk scene. Those two tracks, however, serve as contrasts to Face Stabber's two ultra-long jams, the 14-and-a-half minute "Scutum & Scorpius," which zigzags a couple of times before settling into an unremarkable mid-paced groove, and the aforementioned 21-minute closer "Henchlock," which meanders pleasantly but lacks the band's trademark power, never really gathering momentum. And 21 minutes is simply too long for a song to go nowhere.
Both of the extremely lengthy songs are proof that if Dwyer wanted to, he could retool The Oh Sees into a full-fledged jam band and probably find fertile ground on the lucrative jam-band circuit. But that's not what they're best at.
Oh Sees' most obvious strength has always been their own restlessness and commitment to exploration, and as Face Stabber's dozen other tracks ricochet between super-potent pysch, punk, noise and funk, they prove that this is still one of the very best and most adventurous rock bands on the planet.